If you are not the biggest fan of bright and colourful flowers, perhaps rustic greenery wedding theme is for you! Something more simple and natural. A more organic approach when it comes to wedding decoration and overall vibes. Your groom may also like this romantic rustic approach more than the over-the-top style you see at many weddings.
What's A Rustic Wedding Theme?
Think natural elements like luscious greenery and earthy decor for your special day. A more raw and bohemian vibe with simple green leaves rather than a traditional wedding style with super vibrant flowers.
For a rustic theme wedding, you and your bridesmaids may wear a leafy headpiece with a mixture of wild greenery. You girls may hold a simple botanical bouquet with baby's breath as you walk down the aisle. There may be hanging vines and leaf garlands from the ceiling at the barn reception. Your wedding guests may find their seats with greenery place cards and escort cards at the table.
Honestly, the options are endless when it comes to having a rustic theme wedding. If you are looking for some greenery ideas, we've got you covered for your special day. Without further ado, let us show you some rustic greenery wedding theme ideas!
7 Rustic Greenery Wedding Theme Ideas for Your Big Day:
1, Greenery Bridal Headpieces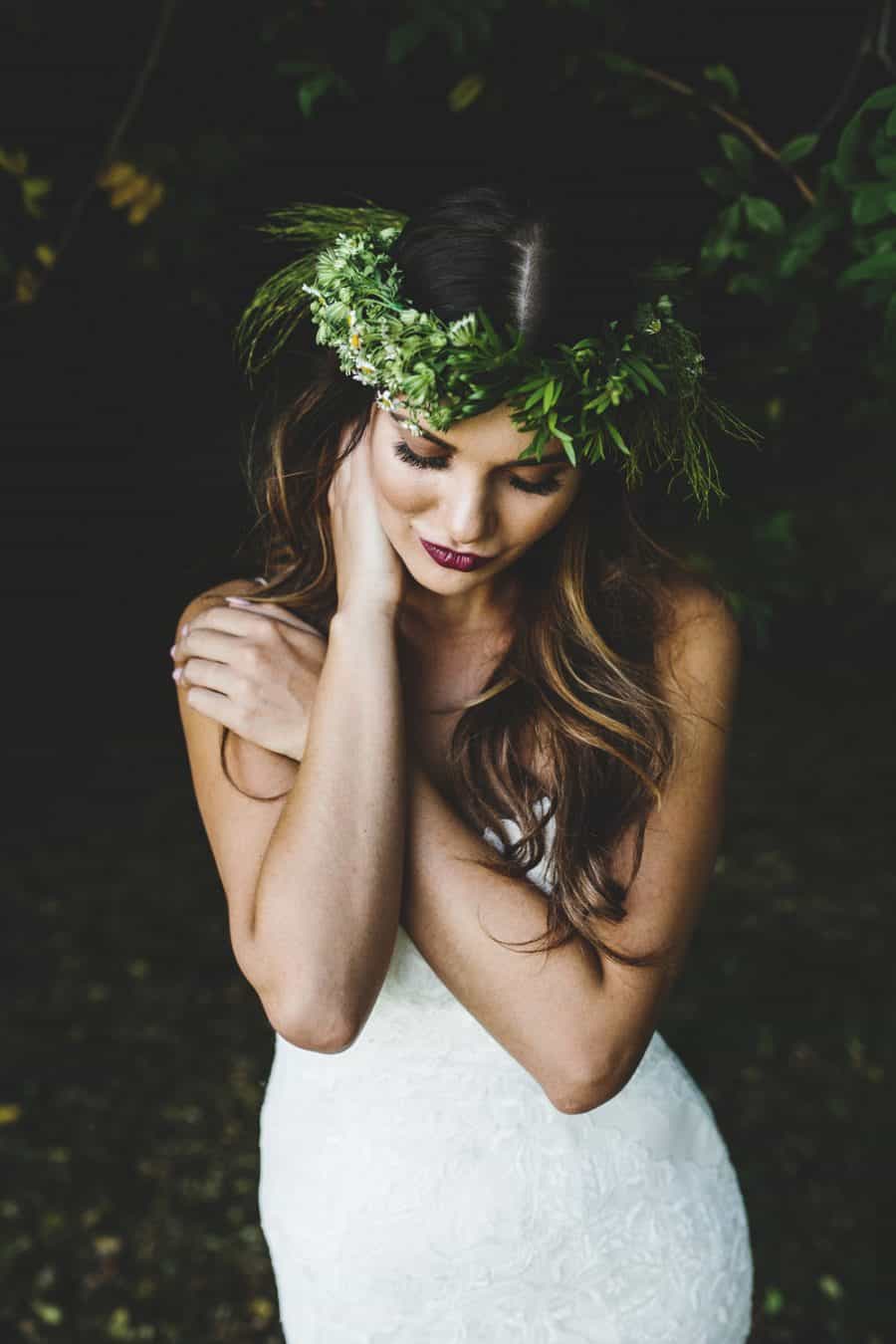 Photo: Unknown | Dress: Grace Loves Lace
We really love how this leaf crown doesn't take away the bride's beauty but simply compliment her with its rawness. There's something about these greenery crowns that makes us feel all warm and fuzzy.
2, Greenery Wedding Bouquets
These beautiful organic bouquets are must-have's for your greenery wedding if you want to go all green and save yourself a bit of money! We love how they go so perfectly with these bohemian bridesmaid dresses here…
3, Greenery Hanging Vines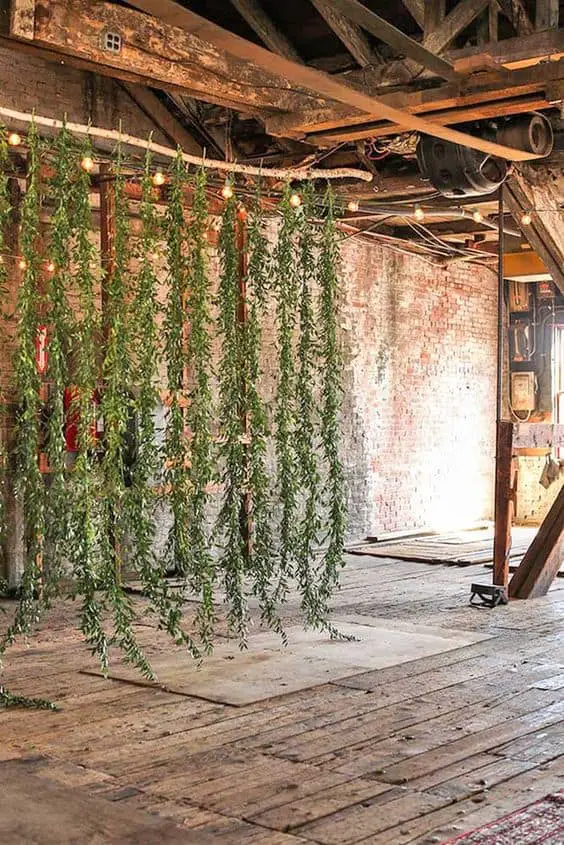 Hanging vines can get a bit expensive when you need a whole lot of it for your wedding. What you can do is go with the artificial leaf garlands instead to create the greenery effect.
You can get similar vine hanging sets to hang them from the ceiling in the barn.
This bride had this white rose/peony hanging down as a centrepiece, slightly different to the previous one but also so gorgeous combining with other kind of greenery!!
For some similar artificial white flowers and tropical palm leaves, you can check them out at Amazon HERE.
4, Eucalyptus Rustic Garlands
Not only are these rustic eucalyptus garlands great as wedding decor, they are also amazing as photo props!
5, Greenery Place Cards and Escort Cards
This is our absolute favourite! We love how cute these greenery escort cards look and how you can easily do it yourself if you are into DIY… Just get yourself some wooden pegs and small pieces of greenery to decorate your calligraphic cards.
6, Greenery Table Decor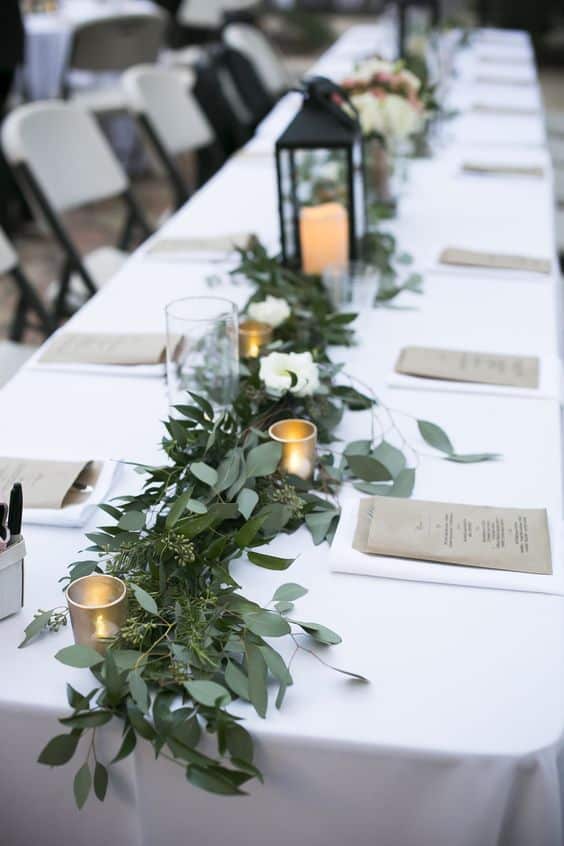 LOVE LOVE LOVE these minimalistic leafy centrepieces and table runner, not to mention that Mr + Mrs chair decor. Just stunning! You can easily do it yourself or ask your wedding florist to help you with it.
You May Also Like: Our Favourite Vineyard Weddings at Yarra Valley Victoria Australia
7, Surrounding
Alternatively if you want a greenery wedding, you can also pick a place that is already full of greenery. How gorgeous is Glasshaus from Melbourne Australia? We imagine this is probably what heaven would look like.
Hope you found this blog post helpful and got some ideas on how you can decorate your rustic greenery theme wedding! Let us know your favourite bohemian decor inspiration in the comments below.
Related Posts:
Want more rustic greenery wedding ideas? Check out our "Greenery Weddings" board on Pinterest here.
Looking for the perfect white dress?