FTC disclosure: This post contains affiliate links, which means we may receive a commission for purchases made through the links.
If you are struggling to think what to get for the men in your life, a watch is always a good idea as a gift! You can never go wrong with a nicely designed watch. Not only is a watch a thoughtful gift, it's also a very timeless gift for your loved ones.
Are Men's Watches Good Wedding Gifts?
Yes, 100%. When it comes to a wedding gift, we believe a watch is a great gift for the men in your life whether it be your groomsmen, groom or father of the bride. The reason why watches make the best wedding gift is that they are all things classic, practical and stylish!
For many men, wearing a watch makes them feel more attractive and smarter. What's not to love about that if it gives you more confidence, right?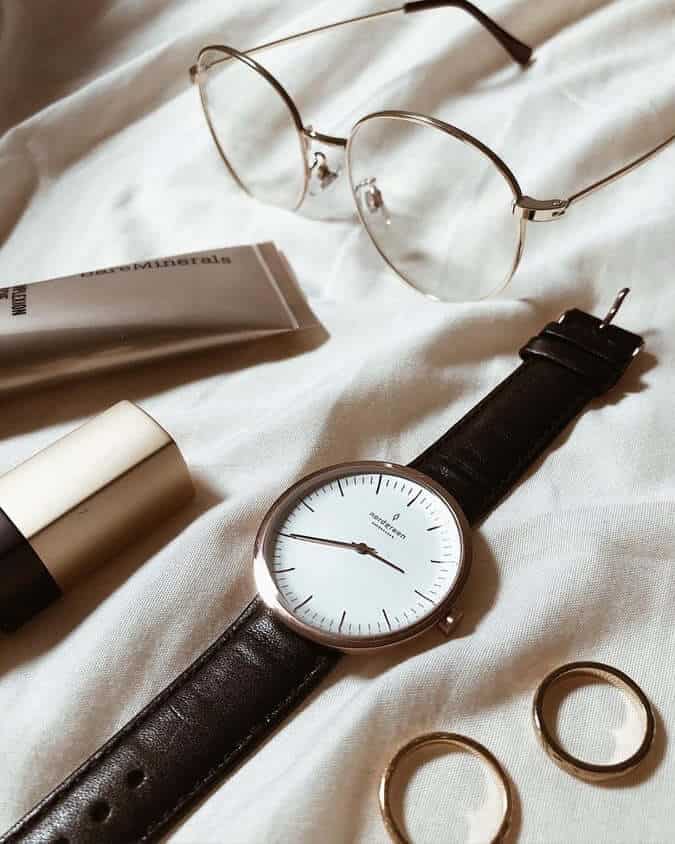 What is The Meaning if You Give a Watch as a Gift?
When you give someone a watch as a gift, you are saying that they are special to you. Purchasing a watch isn't a quick buy, rather it requires much thought. In other words, it takes time and effort to choose the right one that suits the person. The fact that you are reading this means that you are doing some research about buying a watch for them (and that takes time!).
In addition, a watch is something that you wear often so you are saying that you want to be present in their everyday and want to be remembered.
Are you looking for a nice watch for your loved ones as a wedding gift? Well, you are at the right place! We created this blog post so that you can find the perfect watch for the important men in your life.
Which is The Best Website to Buy Men's Watches?
We recently came across some sleek yet sustainable watches from Nordgreen, Scandinavian watches designed in Denmark. We absolutely love their minimalistic design and craftsmanship.
More than that, they constantly give back to the community which makes "you feel good not just about the watch you buy, but about what your watch stands for".
Nordgreen's Giving Back Program includes three great causes:- to provide clean water, educate the future and protect the rain forest in different parts of the world.
If you live a vegan lifestyle, they also offer the option of having vegan leather straps for your watch! What's not to love about Nordgreen?
Without further ado, let us show you some gift ideas for your men:
Men's Silver Watches for Groomsmen Gift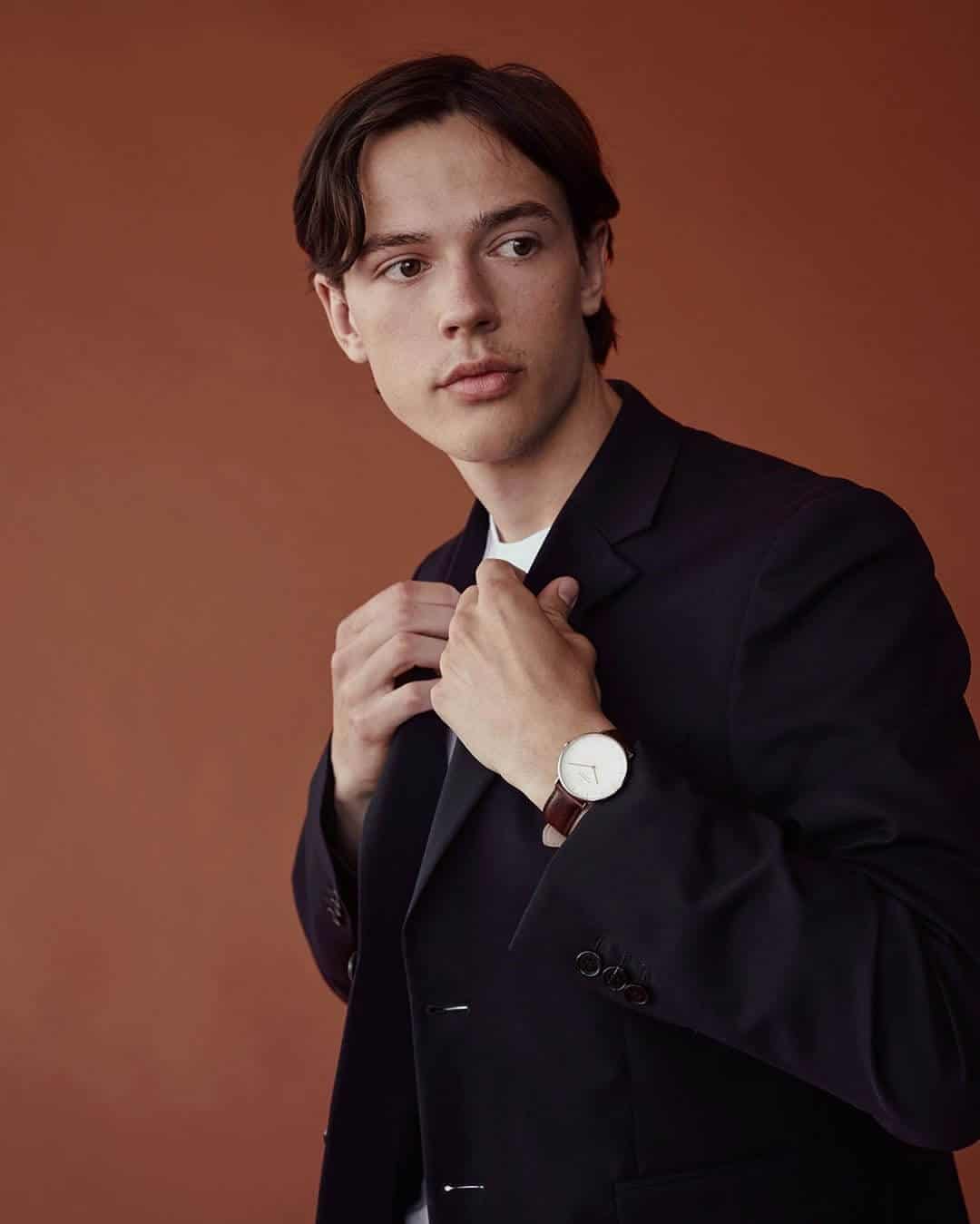 Get this Men's Silver Watch at Nordgreen
Big Men's Watches for Groom on Your Wedding Day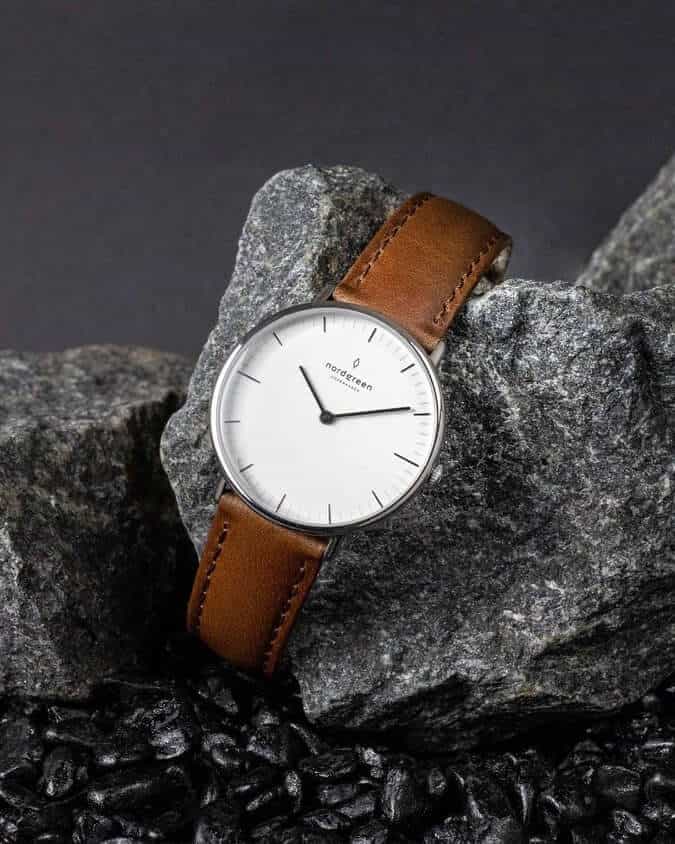 Get this Big Men's Watch at Nordgreen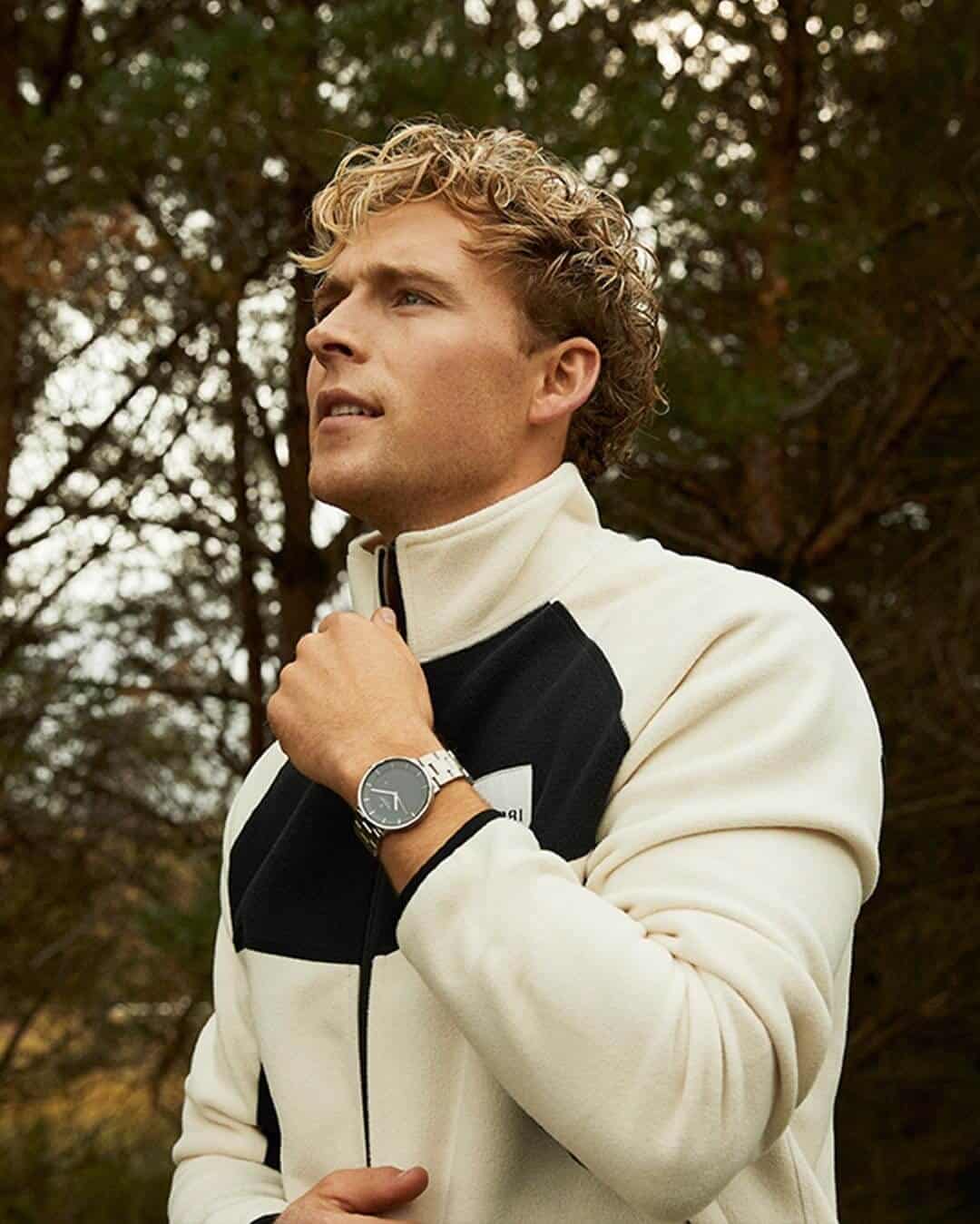 Buy this Stainless Steel Men's Watch at Nordgreen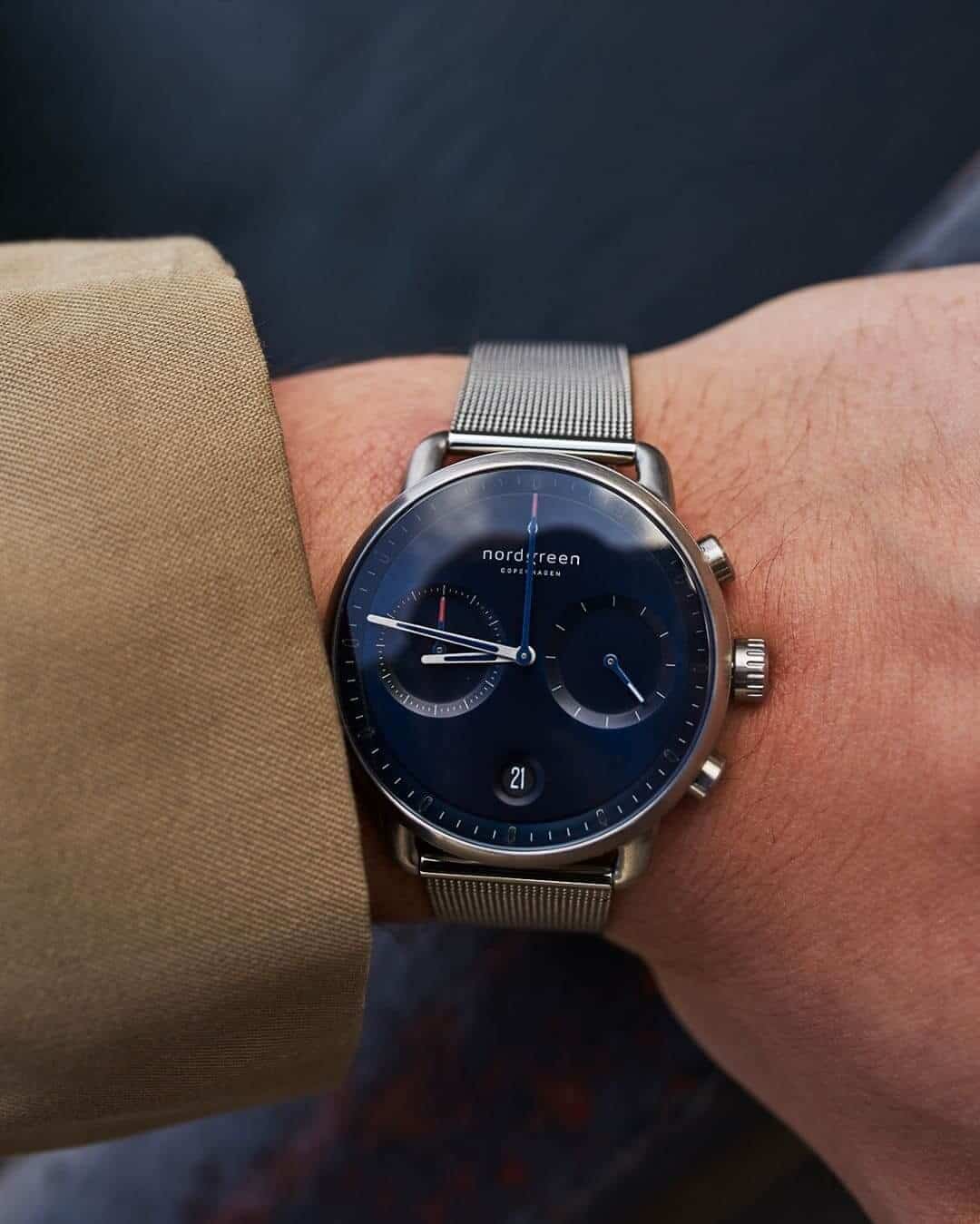 Get this Oversized Men's Watch at Nordgreen
Large Face Men's Watches for Father of the Bride

Get this Large Face Men's Watch at Nordgreen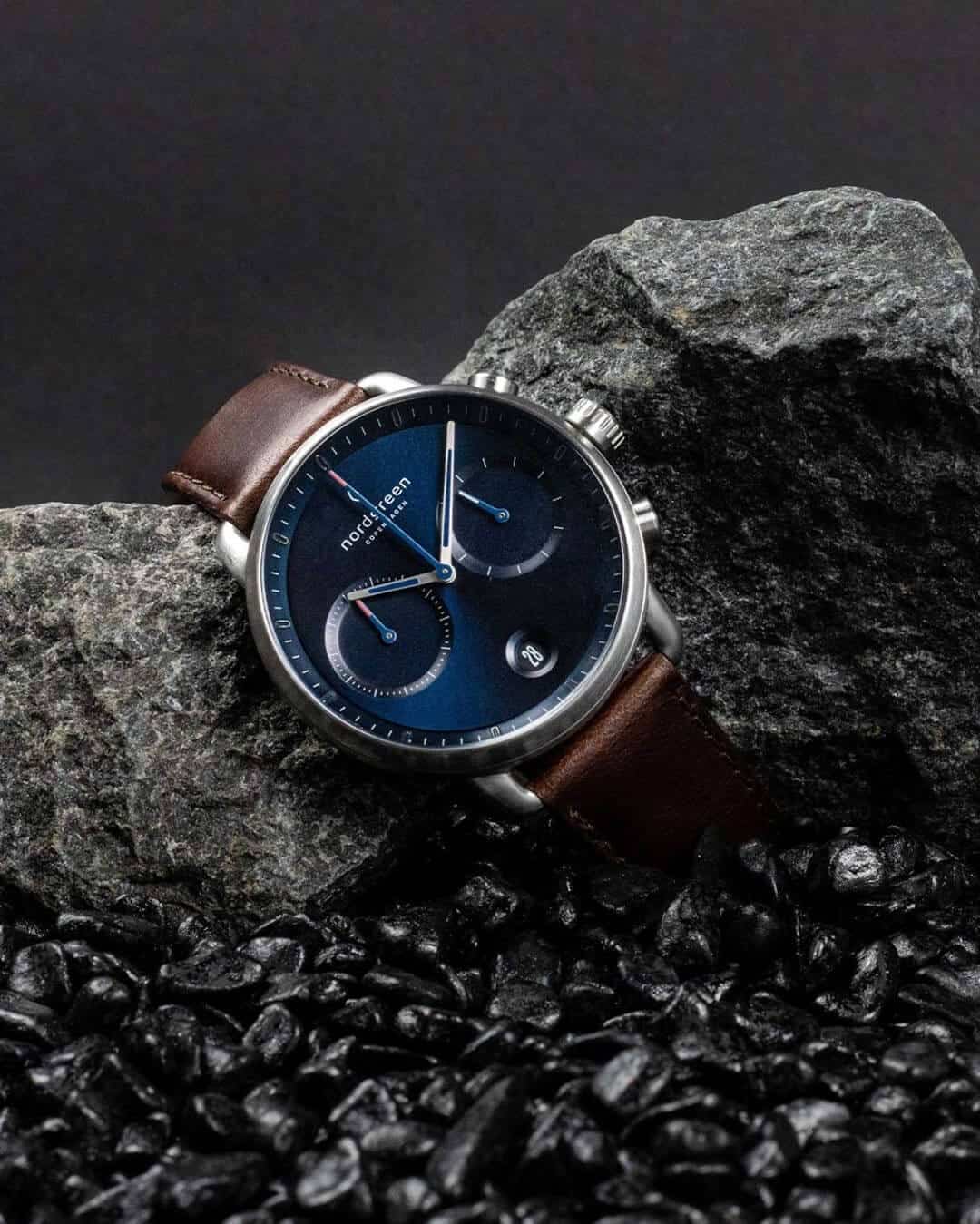 Get this Large Dial Men's Watch at Nordgreen
You May Also Like: What Do You Get a Bride for Her Bridal Shower?
Nordgreen Pioneer Watch Review
Before reading this blog post, you may or may not have heard of this watch brand and that's totally ok. However if you have kept scrolling on, then perhaps you are getting interested about Nordgreen Watches and you are thinking to yourself "Are Nordgreen watches actually good?".
Nordgreen recently sent us their Pioneer watch to review and before we move any further, let's just be clear that we are no experts in watches but we do love a good watch. That's why we decided to do this review!
When they first approached us about their watches, we immediately checked out their website and saw some beautifully designed watches by Jakob Wagner! We were particularly drawn to the men's watches as we love the bigger and tougher look.
You may be thinking "Can a girl wear a men's watch?" – we say 100% yes! First of all, you should be able to wear whatever you want. And secondly, we find that Men's watches are more stylish and tend to look better in some outfits anyway!
Let's continue with our Nordgreen Pioneer Watch Review, shall we?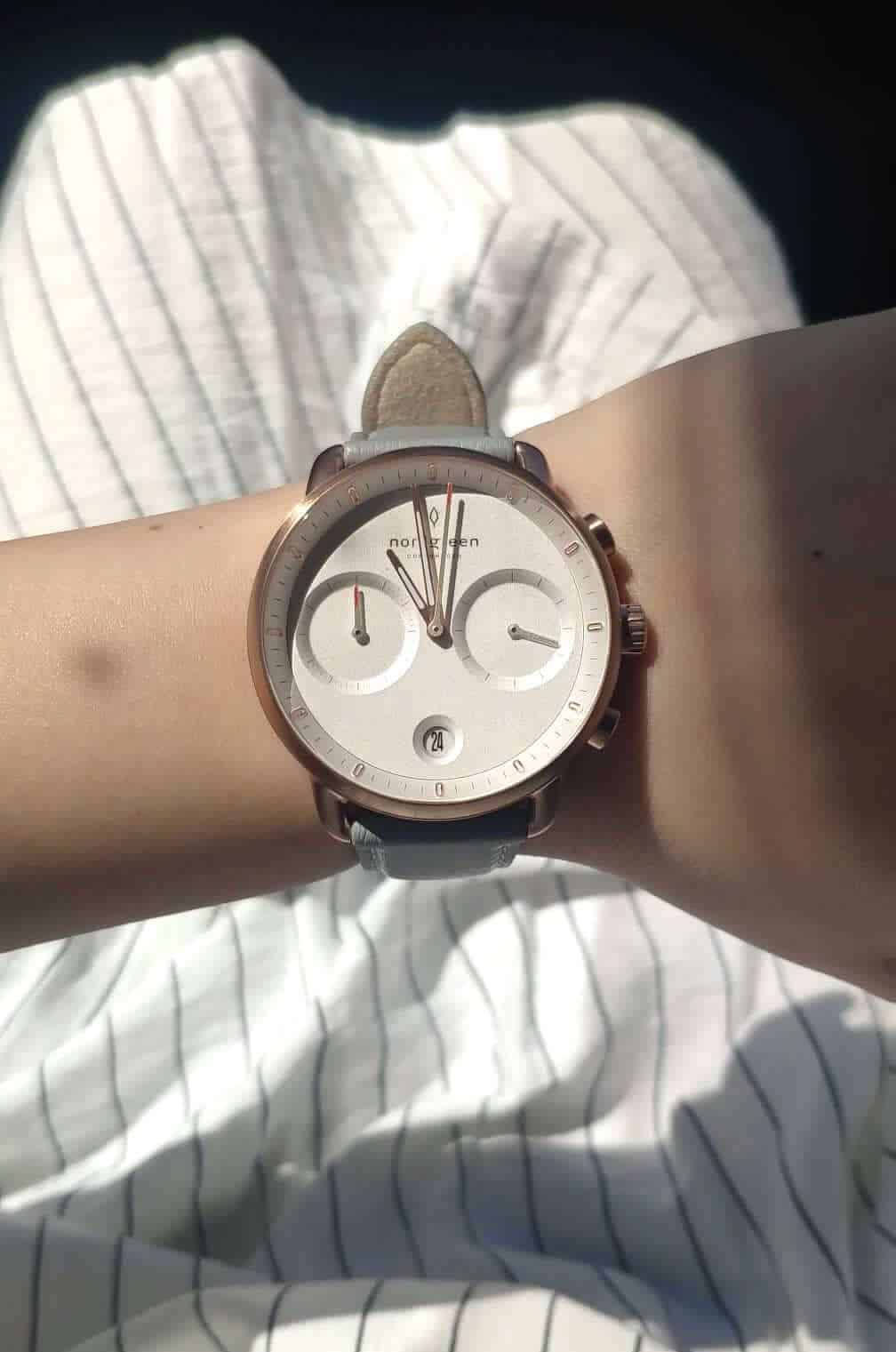 Get this Rose Gold Watch at Nordgreen
We definitely had a tough time choosing one design but we ended up going with the Nordgreen Pioneer Watch with white dial and dove grey vegan leather strap.
Ok, we can't stop looking at it! When we first opened the box and saw the watch, we were very drawn to the dome sapphire crystal glass which gives it a very elegant and high end look. It's seriously so pretty!
Although it's a men's watch, we love how the combination of the rose gold colour and dove grey leather strap still gives us that feminine feel. What's even more amazing about their straps is that it's easily interchangeable so that you can change the style whenever you want to suit your outfit of the day. Not to mention the vegan leather feels absolutely amazing!
Yes, Nordgreen makes really beautiful minimalist watches but more than that they are a brand that gives back. They are big on sustainability with their packaging and they believe in making a difference in the community.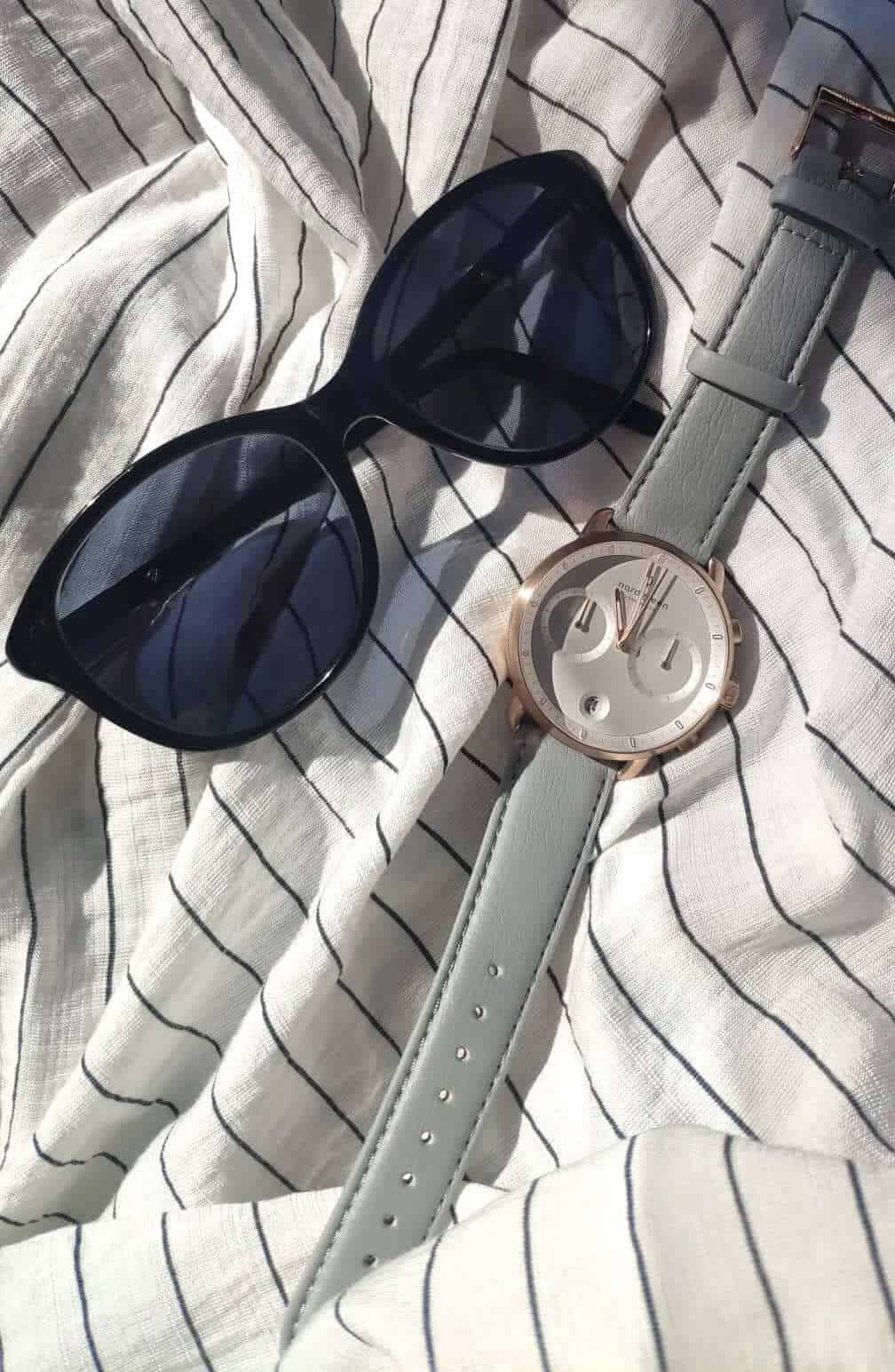 Get this Rose Gold Watch at Nordgreen
If you are into men's watches like us, these Nordgreen watches definitely look incredible on women as well. Be sure to check them out! We can't recommend their watches enough.
All that to say, we hope your question for "Are men's watches good wedding gifts?" has been answered as we 100% think men's watches make the most wonderful wedding gifts for your groom, best man, groomsmen and all the men in your life!
Related Posts:
Looking for a nice men's watch?