"Where can I buy the perfect diamond ring online?"
If you are looking for the best online platform to buy your diamond engagement and wedding rings, you are at the perfect place.
Today we are going to share with you our favourite diamond bridal jewelry company and why you should totally shop there for your engagement rings and wedding bands.
Allow us to introduce you to James Allen!
James Allen is a gorgeous diamond bridal jewelry company that was founded by four creative minds and has been helping brides and grooms to find the perfect diamond ring since 2006.
James Allen's mission:
To offer consumers online the highest quality diamonds and largest selection at the best price.
They really do and we can't wait to show you why you should check James Allen out.
Without further ado, here we go!
12 reasons why James Allen is the best place to shop for your diamond engagement rings and wedding rings online:
1. 360° View of Your Diamond Ring
They call it the '360° Diamond Display Technology™' which allows you to have a much better experience in choosing and buying your diamond rings online.
All of the JA diamonds are photographed from every angle with 15x or greater magnification so you can really see "the diamond's beauty, shape, cut, color, clarity and sparkle like never before".
Wow, isn't that just the coolest thing ever?
More than that, this technology has caught the attention of many diamond manufacturers from all over the world, meaning James Allen has the first pick of the best gems.
Ok, that's huge because that basically means JA gets to see the gems first before other diamond company and choose only the best for their customers a.k.a you!
2. Virtual Engagement Ring Try On
What we love about James Allen is that you get to see how the diamond ring looks on your finger without actually going to a showroom.
Yes, that's right! You can see how the engagement ring looks on your finger at the comfort of your own home.
Want to give it a go?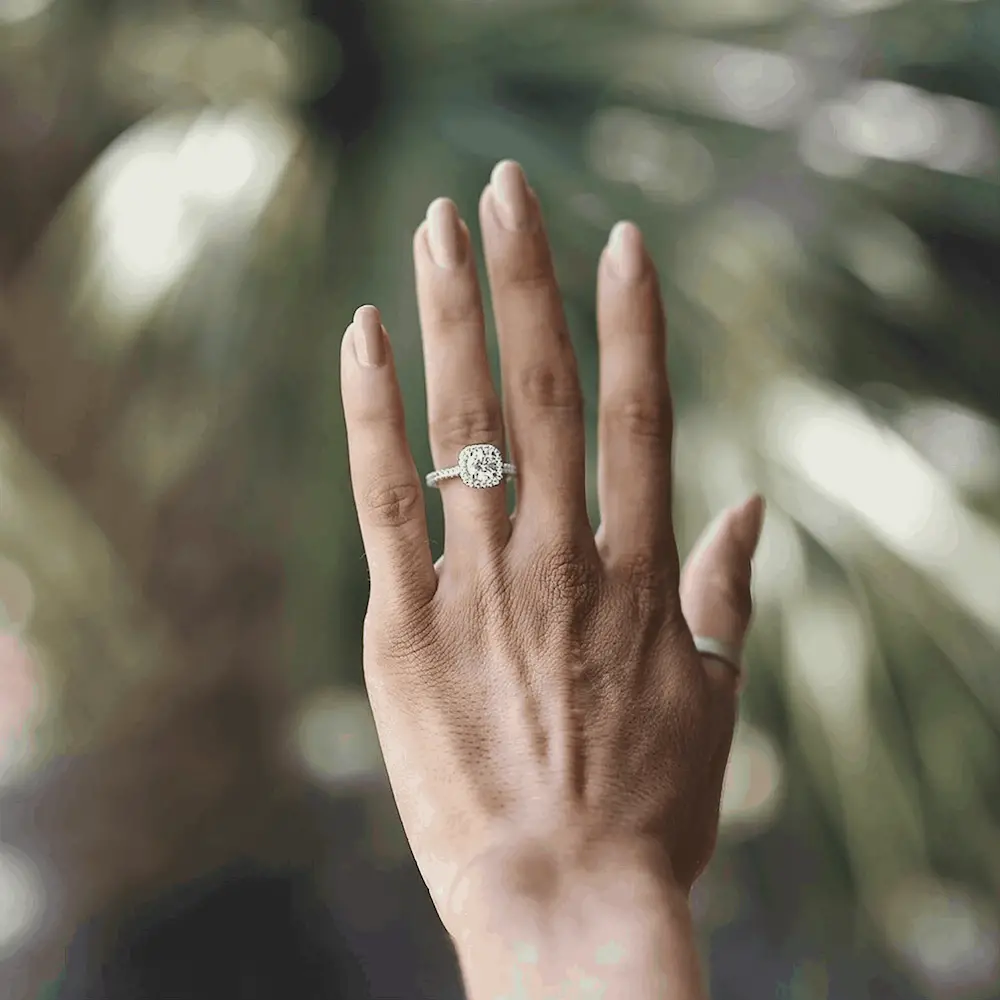 IG: @joandkemp
Make sure you are using the 'virtual engagement ring try on' function on your phone and take any rings off your fingers for a better experience.
3. Design Your Engagement Ring Your Way
You can create your dream engagement ring at James Allen with your own imagination. All you need to do is start with a setting and diamond and you are good to go!
Alternatively if you have absolutely no idea where to start with designing an engagement ring, you can get inspired with previous brides' rings here.
Let them know what you want and they will design your very own special ring for you.
4. GIA, AGS and IGI Certified
Yes their rings are all GIA, AGS and IGI Certified. If you don't speak diamond, it just means that they are certified by the TOP 3 grading laboratories.
That's all. That's all you need to know that you are paying for the real deal!
You May Also Like: How to Choose a Good Diamond Ring
5. Diamond Price Match Guarantee
Here's another reason to go for James Allen's diamond rings as they offer a diamond price match guarantee.
How amazing is that?
James Allen strives to offer diamonds at the best prices. If you've found a comparable diamond for less, they will happily honour the price as long as it fulfils their Diamond Price Match criteria which you can check out here.
6. Free Engraving
IG: @vivianmaarie
JA offers free engraving on a selection of engagement rings and wedding bands.
If your favourite diamond ring is available for free engraving, you will be able to select it as an option at checkout. You can choose to have any alpha-numeric combination up to 20 characters in length.
7. 60-Day Free Resizing
If for some reason, the engagement ring or wedding band isn't fitting properly. You can have your engagement ring and wedding band sent back and get it resized for once in the first 60 days of purchase.
*Free resizing isn't available for eternity bands and alternative metals.
8. 24/7 Customer Service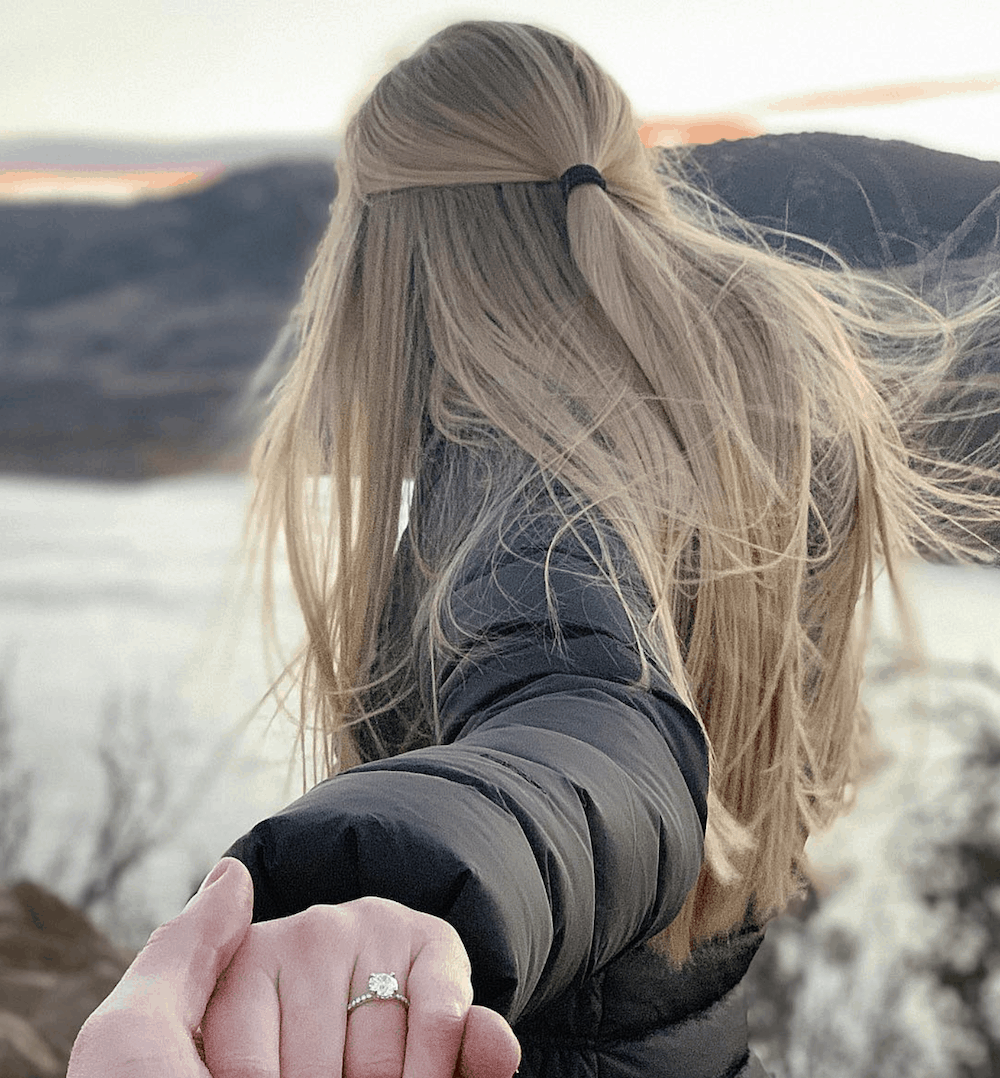 IG: @katrinarcombs + @tuck_creasy
James Allen has a 24/7 customer service so you can contact them anytime of the day with your "blinging" questions.
You can either call, email or message their friendly customer service.
Not only that, they also have an interactive Real-Time Diamond Inspection service where an industry expert can share their screen with you and walk you through the things you need to know about your favourite diamonds in super zoom magnification.
This service is definitely the first of its kind in the diamond industry!
9. 30-Day Return
If for some reason, you aren't happy with your purchase, you can return the ring back to James Allen for a 100% full refund within the first 30 day of purchase.
However, we honestly doubt you would need to do that as they have such a high customer satisfaction 🙂
IG: @verman20 + @hoy_its_joy + @luckystudios.ca
10. Lifetime Warranty
Every JA diamond ring also has a Lifetime Warranty which includes free prong tightening, re-polishing, rhodium plating and cleaning services.
This definitely gives you peace of mind when going diamond ring shopping online, right?
IG: @carlaramzz
11. Special Financing Options
If you are wanting payment plans for your diamond ring purchase, JA has got you covered! They offer special financing options like 6 months and 24 months for you so make sure you check that out!
You May Also Like: 30+ REALLY GORGEOUS Diamond Engagement and Wedding Rings
12. Free Shipping Worldwide
IG: @carrierad
Yes, you heard it! Free Shipping Worldwide!
No matter where you are in the world, James Allen can ship your favourite diamond ring to you and it won't cost you anything.
Every diamond ring is securely packaged and sent to you. Not only is it free shipping, they are also fast and fully insured so you can sit back and relax.
Bonus: James Allen Customers LOVE Them!!
See for yourself what they say about James Allen engagement rings!
For more testimonials, check out their website here.


Those are just a few reasons why James Allen is the best place to shop for your diamond engagement rings and wedding rings online.
So, what did you think? 🙂 Did you find anything you love from James Allen?
Let us know in the comments below your favourite James Allen diamond ring x
For more diamond engagement ring ideas, check out this blog post.
Related Posts:
Looking for the perfect diamond ring?