All too often, wedding preparation can become separated by gender. With bachelor and bachelorette parties strictly separated, planning and prep often go the same way, with the groom going his way and the bride going hers.
But there's no reason this has to be the case, and particularly not when it comes to the wedding shower! After all, your marriage is about both of you, and you should be able to celebrate and prepare together. You will likely have plenty of friends in common who you would want there with you, boys and girls, and a coed wedding shower is the best way to do this. It's also a good way for the bride to celebrate with her male friends, and the groom with his female friends!
All this being said, much of the advice about planning a wedding shower still focuses on single-sex events. So we thought we would step in with a little help. So before you get into the complexities of planning the big day, or organising a romantic cruise for your honeymoon, here are a few tips for having the best coed wedding shower.
Without further ado, here are our 5 tips for having the best coed wedding shower!
1, Guest List
A coed wedding shower liberates your guest list! This is now no longer just a list of your female relatives and closest girlfriends, you can now invite pretty much whoever you like! So, in comes your best mate from college, those cousins who always make you laugh, a couple of uncles, your 'work husband'… and don't forget all your partner's friends and family too. You will obviously have to keep an eye on the list to make sure it doesn't get out of control, but you have far more freedom with a coed wedding shower than with a girls-only event.
2, Party Games
Arguably the best bit about the wedding shower is the party games, and for a coed shower it's time to be creative! You will probably want to get rid of some of the really girly games and activities… Although adding a gender-swap aspect to something like Toilet Paper Gown can be absolutely hilarious! Otherwise, pick some fun activities that you can do as couples, as well as a few games like The Newlywed Game, Mr & Mrs, wedding-themed Charades or Pictionary. You can be as creative as you like, after all, it's your party!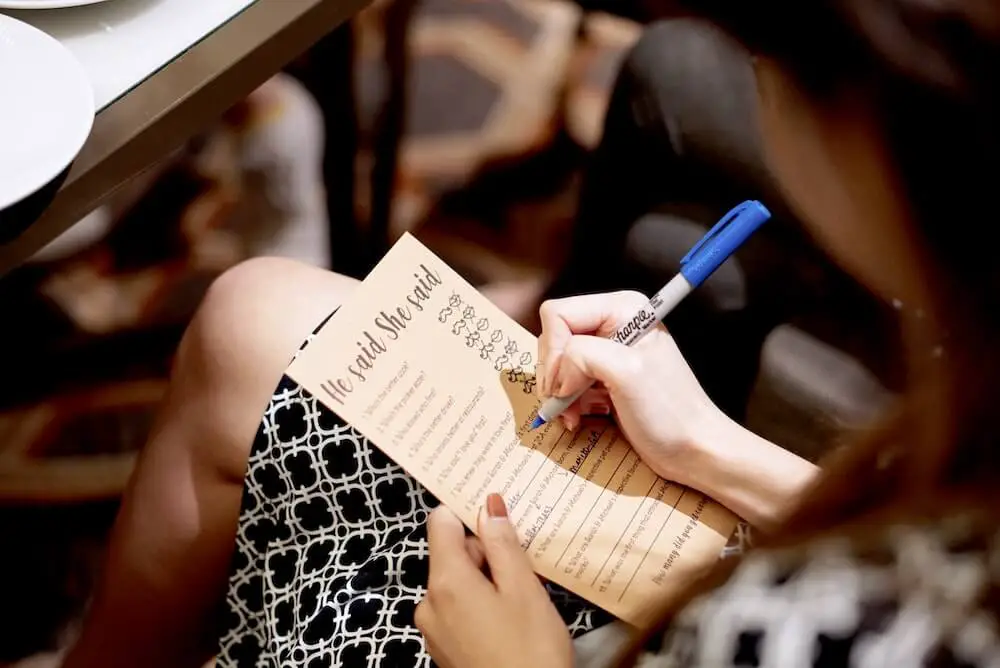 3, Gifts Opening
Coed wedding showers tend to be much larger affairs, as the guest list has double the number of potential invitees, and people often come with their other half. This means that sitting down and opening all the gifts individually during the party is probably not feasible. It's usually a good idea to leave opening your wedding shower gifts until later, so everyone has enough time to mingle and enjoy themselves.
4, Shower Theme
There are far fewer rules when it comes to a coed wedding shower, so you can feel free to relax… or unleash your creative side, whichever you prefer! The important thing here is to make the shower theme as welcoming and inclusive as possible. You can keep things simple with something classic, like a brunch, a sit-down dinner, or a cocktail and canapes affair, or you can take it a little bit further by adding in a specific theme that fits your personal tastes – outdoorsy, sporty, sophisticated, etc.
5, Venue
Your choice of venue doesn't change much when planning a coed wedding shower compared to an all-girls event. The only thing you will need to consider is that with a larger guest list, the event will likely be a bit bigger, and you might need to find a larger room to accommodate all your friends and family!
There you have it, our 5 tips for having the best coed wedding shower for you and your person. We hope that encourages you to take the plunge and throw a coed wedding shower if you have been on the fence about it. Go on and celebrate with your loved ones, boys and girls!
Related Posts:
Looking for a wishing well card box?