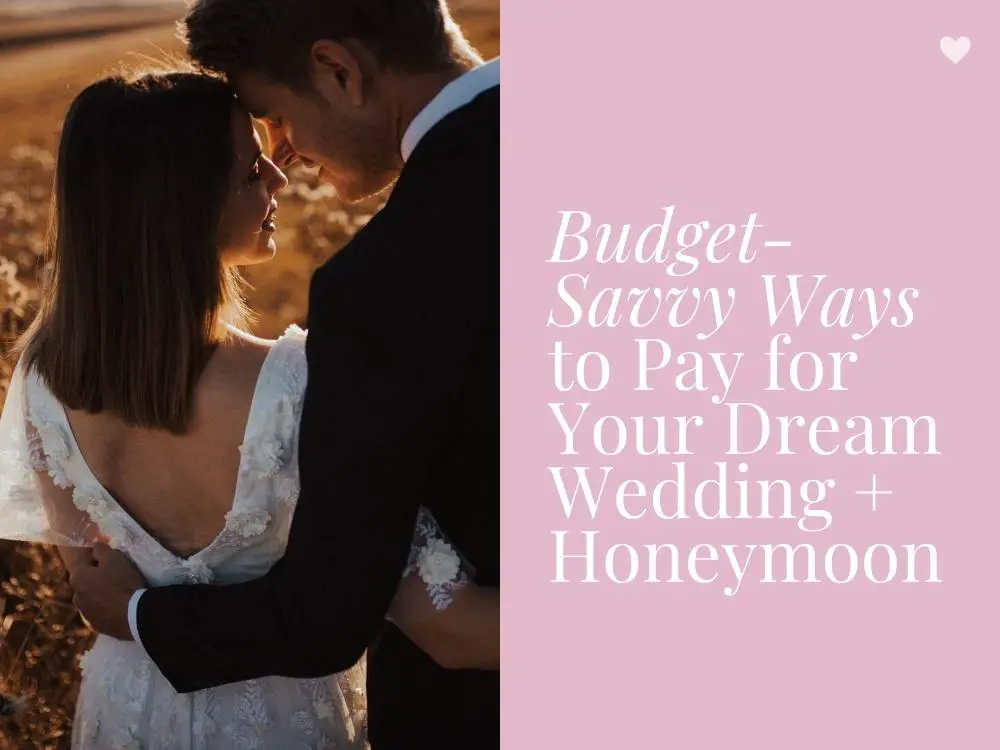 Congratulations on your engagement! Now comes the fun (and stressful) part– planning your wedding and honeymoon. It's no secret that a wedding and honeymoon are very expensive. The average cost of a wedding in 2021 was $28,000. When you combine that with the $4,800 average cost of a honeymoon, you are looking at a large chunk of money. This amount can be intimidating, but if you take the time to plan out your budget, look into different funding options, as well as cut some costs down the line, you will have no problem paying for your dream wedding and honeymoon.
1, Establish and Allocate Your Budget
Your budget is going to be the roadmap to success when planning your wedding, especially if you are looking to save on costs during the process. The first step is to figure out how much you have to spend in total. Include any savings as well as any outside funding that you'll be receiving from parents or other family members. It's also important to factor in any financing options as well, which we will discuss in detail later. Remember, just because you have the money, does not mean that you need to spend it all. Many couples get caught up in the planning process and end up spending their entire budget on things that they might not actually need. It's important to stay focused when planning your wedding so that you can keep a clear vision of your overall budgetary goals.
When allocating your budget you will want to include things like venue, catering, decor, vendors, honeymoon, and wedding attire, just to name a few. This is a great time to evaluate what is most important to you for your big day as well as establish where you can cut down on costs.
2, Explore Financing Options
Weddings are expensive; there's really no way around it. Sometimes, no matter how much you save or how much help you receive, you still won't be able to make ends meet. Luckily there are some great financing options to help you in a pinch.
Utilise Your Home's Equity
If you and your partner already own a home, you might be able to take advantage of a Home Equity Line of Credit (HELOC). A HELOC allows you to borrow money against the equity that you have built in your home as a line of credit. You can borrow the money as needed, and you are able to use it for whatever you want.
Use Credit Cards Responsibly
Using credit cards for large purchases can be intimidating, especially if you are not financially ready to pay them back in full before the interest kicks in. When used responsibly, credit cards can be a useful tool to help you in funding your wedding without breaking the bank. Make sure to look for a card that offers a no-interest introductory period. This allows you time to pay them back before you must pay interest fees.
3, Cut Back on Costs
Once you have established your budget and looked into all of your financing options, you will need to take a look at where you can cut down on costs overall. Some ways to cut down on costs include:
Consider Eloping
Eloping is probably the best option for a budget-friendly wedding as it can cost a fraction of what a traditional wedding costs. You can choose to invite a very small number of guests and have your wedding, reception, and honeymoon all in one location. Eloping is a great way for couples to not break the bank, but still have an intimate and unforgettable wedding.
Cut Down on Wedding Guests
Cutting back on your guest list is a quick and cost-effective way to lower the price of your wedding. Rather than invite your entire extended family, you can opt to only include close friends and family on your guest list, greatly reducing overall costs.
DIY Where You Can
Rather than pay a vendor for all of your decorations, why not get crafty and make your own? You can even go as far as making your own bouquet. There are a ton of DIY wedding ideas to get your creativity flowing. Grab your wedding party and some wine and spend a fun night making your own decorations. This will give your wedding a much more personal touch as well.
Change the Date
If your wedding date is not set in stone, consider changing your date to a less expensive month. The peak wedding season is summer, and with that comes higher prices. The least expensive months to get married are January, March, April, and November. Choosing one of these months can get you a much better deal on a venue. You should also look into having your wedding on a Friday or Sunday rather than a Saturday, as these days tend to have cheaper rates as well.
Look into a Backyard Wedding
Finally, look into having a backyard wedding to really cut down on overall costs. Paying for a venue is usually the largest portion of your budget, so you can really save some money if you cut that out altogether. A backyard wedding allows you complete freedom to create your dream wedding venue. The only downside here is that you are responsible for everything that a more traditional venue would supply, such as catering, seating, tables, tents, etc.
Your dream wedding doesn't have to break the bank. We hope you enjoyed this blog post and are inspired to explore a more budget-friendly wedding! Let us know in the comments below how you have been saving for your wedding and honeymoon.
Related Posts:
Looking for the perfect white dress?