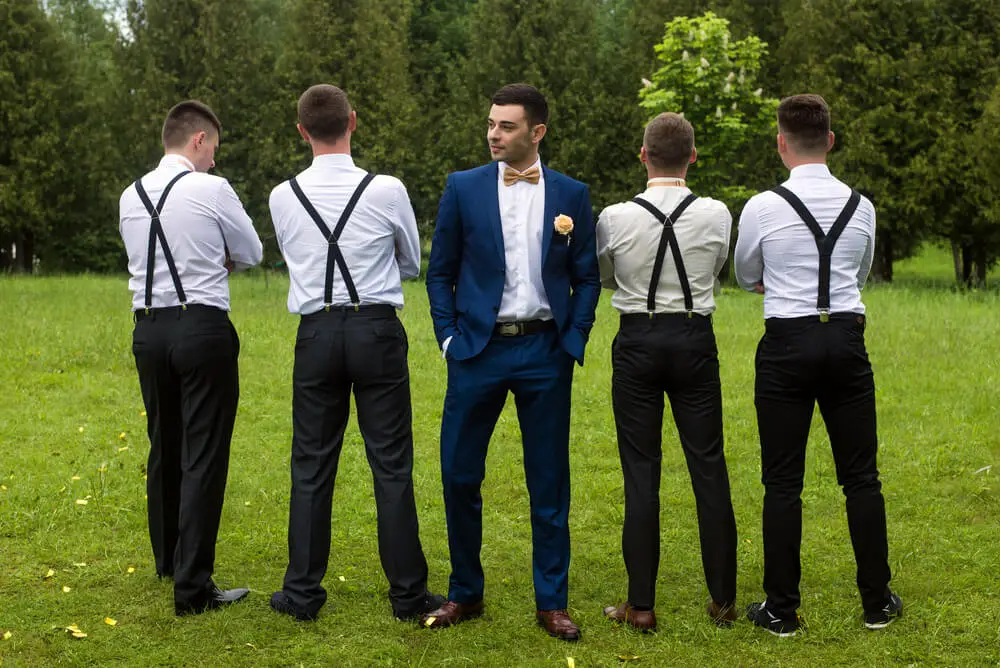 Have you ever looked at old wedding photos and cringed at the look of your outfit? Or have you ever been invited to a wedding and then worried about what to wear? This blog post will hopefully save you from that dilemma.
A wedding is a lively occasion that should be reflected in your attire. Nothing gives you confidence like an outfit that's well put together. Follow these practical guest tips when picking what to wear to a wedding.
3 Things To Know when Choosing Your Wedding Guest Attire for Men
1, Time of the Wedding
Different times of the day will call for different outfits. It's important to pay attention to that little detail first before going outfit shopping.
For example, a wedding scheduled for 4pm followed by a reception will call for a tuxedo. In most cases, a dark-colored tuxedo is ideal.
You can choose between a pleated or non-pleated shirt to go with a jacket lapel tuxedo matched with a bow tie. More tips on selecting the perfect tie can be found in this Bespoke Unit guide.
On the other hand, a tuxedo isn't the right choice if the wedding is a daytime function. Instead, you want to wear a well-fitting suit. Some wedding themes allow for an optional black-tie dress code. That means you have a chance to wear a suit that isn't necessarily black.
Meanwhile, if you're a fashion-forward guy, you can wear a burgundy suit or any other dark-colored suit. You can also add a velvet bow tie for that chic look that would still look ideal for an evening wedding event.
2, Wedding Venue
The next important detail on an invitation would be to look at the type of wedding venue you're going to.
Indoor weddings require that you dress formally. However, you can get away with a semi-formal outfit for outdoor weddings. If you're unsure what to wear, you can choose a tuxedo as the look cuts across both indoor and outdoor venues.
Beach weddings, on the other hand, come with a more laid-back code of dressing. A pair of slacks, a linen shirt, chinos, or even khakis can complete your look. It would be best to accessorize with a pair of suspenders, cufflinks, and a stylish belt to get that classy look.
For destination weddings, you can wear lighter colors simply because most of them are held in the tropics or warmer locations. If you're not comfortable with bright-colored suits, you may decide to wear a light gray suit and a matching white shirt and accessories.
3, The Wedding Feel
Most couples envision how they'd like their wedding to look and feel. It could be a sunset wedding by the beach, a fairytale wedding, or a 1930's inspired wedding.
If possible, find out the wedding theme in advance or a specific dress code is required and decide whether the outfit you plan on wearing fits into it. Most of the time you should be able to see that info on the invitation or the couple's wedding website.
If the couple chooses a sporty theme, it would be unnecessary to wear a tuxedo. Find something in your closet that corresponds to the wedding theme, so you don't take the attention away from the bride and groom.
The last thing you want is to show up for a wedding dressed inappropriately.
Ideally, it's best to determine if you're going with a classic or a trendy look.
Fashion fads fade with time before making a comeback. Therefore, it would help if you chose something timeless. Once you've decided what to wear based on the pointers above, the following information will help complete your look.
Fashion Accessories
Whether it's a vintage watch, a leather belt, a pocket square, cufflinks, or a cravat, make sure you accessorize in moderation. Accessories accentuate your outfit and enhance your overall look. Over-accessorizing will leave you looking like a celebrity wannabe and might leave a wrong impression.
Choose The Right Shirt
Don't wear a T-shirt. Movie celebrities may have pulled off the look, but trying it can be catastrophic. Get a proper collared shirt, whether it's to be worn with khaki pants or your tuxedo.
Wedding Etiquette
Even though you're sharply dressed at the wedding, no one will remember your impeccable style if you don't practice proper etiquette. The only memory they'll have of you is an ill-behaved gentleman.
If you want to make a good impression at a wedding, it's in your best interest to brush up on proper wedding etiquette. Don't do anything that takes the attention away from the bride and groom. It's their special day after all; give them the spotlight!
These 3 tips above, coupled with your personal preference and style, can help you choose the right outfit. Pick something that brings out your best features and personality. However, it's important to remember not to outshine the groom and groomsmen. Be a gentleman both in your dressing and behavior.
We hope this blog post was helpful to you on choosing your wedding guest outfit for the next special event.
Related Posts:
Looking for a nice men's watch?