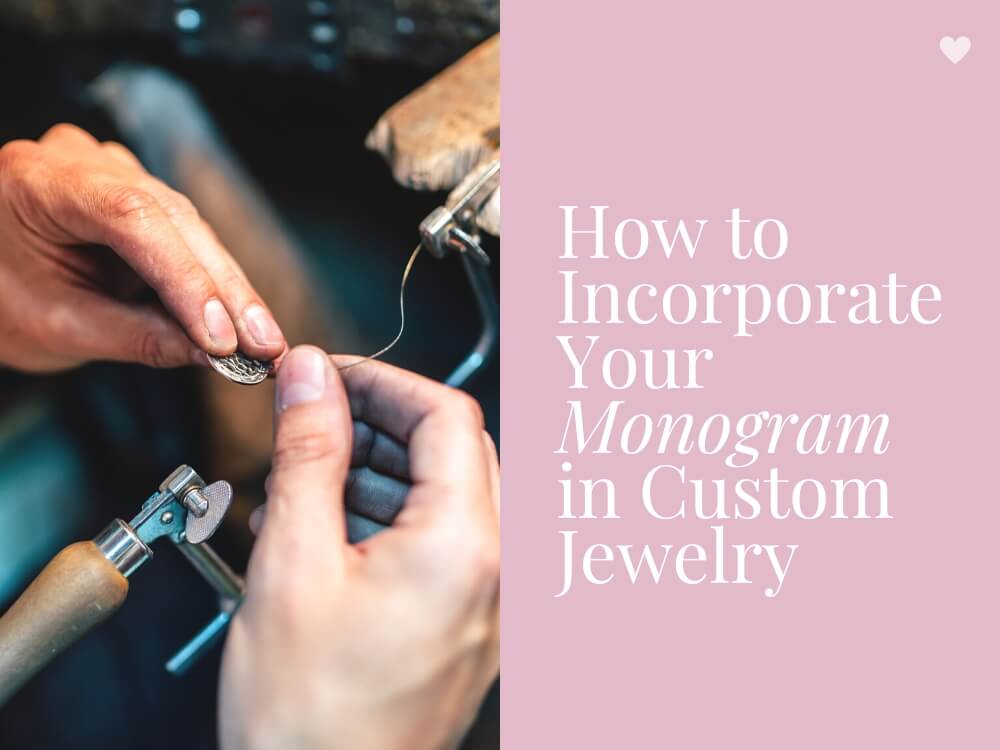 You may have seen photos of beautifully elegant and timeless custom jewelry pieces with exquisitely detailed monograms. Customizing your jewelry with your monogram is easy – and for that showstopping addition to any ensemble – it's well worth the effort. In this blog post, we'll walk you through everything you need to know about incorporating a stunning monogram into unique jewelry pieces.
If you're wondering how to get your own one-of-a-kind piece with a unique embellishment, read on and learn how YOU can create personalized statement accessories that will make heads turn!
1, Choose a Monogram Design
The first step to creating custom jewelry with a monogram is deciding what kind of design you'd like. There are dozens of options, but for starters, try browsing through an online collection of pre-made designs that you can customize with your initials.
Look for elegant lines and classic fonts, such as serifs or scripts, that will fit in with the style of jewelry you plan to make.
When selecting a design, ensure it has enough space to incorporate all the letters in your monogram. For example, if you have a three-letter monogram (like "ABC"), you'll want to find something that can accommodate those three characters without overcrowding the design.
You should also take the intended use of your custom jewelry into account. If you're creating a piece for a special occasion, like a wedding band or anniversary gift, it's best to choose something with a timeless look and feel.
2, Select Your Materials
There's no limit on the kinds of materials you can use for custom jewelry with a monogram. Whether it's silver, gold, brass, or something unique – the choice is yours. However, many people choose sterling silver or 14k gold-filled pieces for added durability and a timeless look.
Additionally, consider what shape and size you'd like your piece to be. The shape may vary depending on the pieces you want. For example, choose a round or square shape if you want sapphire earrings.
You can create monogram jewelry in all shapes and forms, so the possibilities are endless. Before finalizing the design, be sure to research the type of material you choose and its properties.
3, Choose a Jeweler
When creating custom jewelry with a monogram, you'll want to be sure the jeweler you choose is experienced and reputable. Look for reviews, speak to past customers, and ask questions about their process before making your decision.
You should also know the techniques used to engrave or etch a monogram into metal. Make sure the jeweler you select is well-versed in these methods and can execute your design flawlessly.
4, Select the Materials and Techniques
Once you've chosen the right jeweler, you'll need to decide what materials and techniques you'd like used for your custom jewelry. For example, if you want diamonds embedded into your piece, make sure that's something the jeweler can do. Additionally, if you're looking for an exceptional finish or texture on the metal, ask the jeweler about their various methods.
You can also discuss adding a special engraving or gemstone to your piece for a more personal touch. This is a great way to add an extra level of personalization and make the jewelry even more meaningful. Diamonds and other precious stones can also represent special milestones or anniversaries.
5, Check for Quality
One thing with custom jewelry is that quality is key. Make sure to thoroughly inspect your piece upon completion and double-check the monogram to ensure it's centered and evenly spaced. Additionally, ask the jeweler to provide a certificate of authenticity or warranty for added assurance.
If you have a piece made from precious metals, you'll also want to ensure it's stamped with the jeweler's mark or trademark. This is an additional guarantee that your custom jewelry is made from genuine materials and crafted following the highest standards.
Creating custom jewelry with a monogram is a great way to show off your style. With the right materials, design, and jewelry, you can create stunning pieces that represent your identity. So, don't hesitate to make your one-of-a-kind statement accessories with a beautiful monogram today!
Related Posts:
Looking for the perfect diamond ring?