Just got your engagement photos done? Bet they're so freaking amazing! And now you're thinking to yourself… Surely there are ways you can use them other than just having them sitting in your photo album. We've got you covered with some photo wedding invitation ideas and why you should totally go for them!
A lot of couples take engagement photos because it is the "engaged" thing to do!
We're big fans of dressing up, having fun and getting photos taken as a couple… But, what do you do with all those photos after the engagement session? Surely you can do more than just putting them in a frame or an album…
What do you say we use your engagement photos to create your wedding invitation?
Without further ado, let's get into it!
3 Reasons Why You Should Go For A Photo Wedding Invitation Instead:
1. Add A Personal Touch

Engagement Photography: Evermotion Photography
"I feel like a photo adds more of a personal feel, especially since we were doing a more simple beach style wedding with only close friends and family."

–Alexa
Photo wedding invitations are a lot more personal and one of a kind. It's like "inviting your friends face to face", Bali bride Stefie says.
We couldn't agree with her more! It really adds another dimension to inviting your loved ones to your big day!
You May Also Like: A Connection Session: Stefie and Tor's Prewedding Shoot, Bali

Engagement Photography: Hannah Faye Photography
And, this is especially true for couples who are inviting their friends from overseas!
It no doubt brings a smile to your guest's face when they first open your wedding invitation… There is more personalities in a photo wedding invitation because your photos reflect more of you two as a couple.
You May Also Like: 5 Most Gorgeous Photo Wedding Invitations Online
2. Get Your Guests Excited About Your Big Day
We imagine you want your guests to be as excited about your wedding as you and your partner are! Trust us, they're more excited seeing both of your faces than pretty flowers and fancy fonts.
P.S. Nothing wrong with the above things because we're suckers for them too!
"I have had nothing but positive responses regarding my photo wedding invites. People stated that knowing the type of people we are that best captured that."

–Lisa
Engagement Photography: Jessica Noelle Photography
"I loved the idea of something personal, something that felt like us I guess. We aren't really formal/fancy people and this felt right. 

I made the decision to go this route but my husband loved the idea as well. We had nothing but positive comments, people actually didn't want to send the rsvp cards back because they wanted them to keep and put on their refrigerators :)"

–Erin
That's definitely a good problem to have when your wedding guests don't want to send your RSVP card back because they want to keep it themselves lol
Your engagement photos give your guests a glimpse of what your wedding will be like.
If you and your partner are a fun and adventurous couple, make sure your engagement photographer capture that!
You May Also Like: 9 Amazing Photo Wedding Invitations Made Out of Selfies
3. Stay Out of the Bin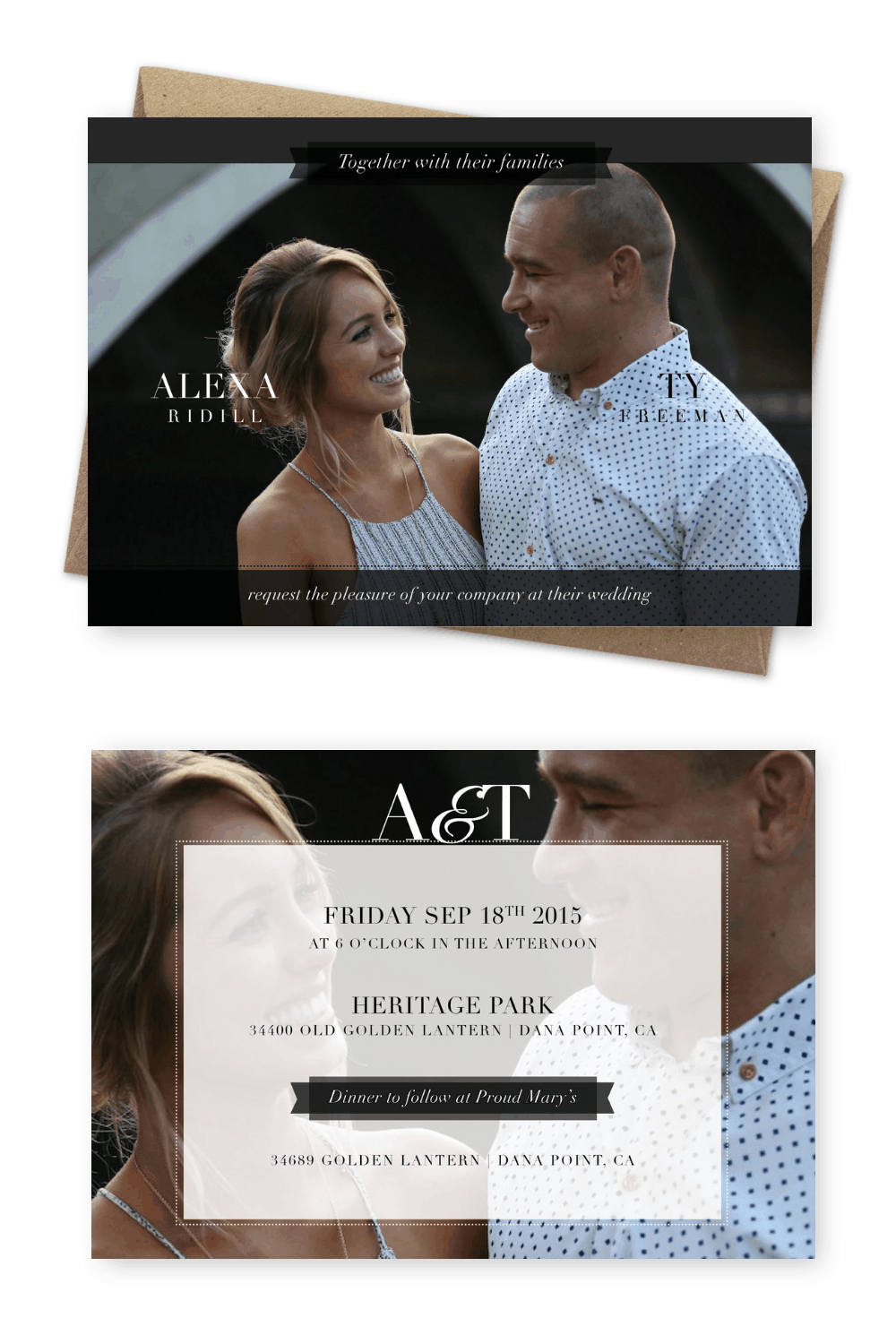 Engagement Photography: Gibby Photography Studios
Despite the fact that most invitations go straight to the bin, so many of our brides have told us that their guests still have their photo wedding invitations on their fridge YEARS LATER!
"Everyone loved the invites and said the elegant simplicity fit my husband and I perfectly. Some even still have them hanging on the fridge!"

–Alexa
How amazing is that!?
Just think about all the time, effort and money you've spent on them, we're guessing you'd want your wedding invitations to last for a long time, right?
Imagine a photo wedding invitation that makes your guests' day and it's something they actually want to keep forever!
Engagement Photography: David Saltiel
Proposal Photography: By Danny Photography
Love Robert and Kelly's photo wedding invitation! It's so lovely to share your proposal photos with your friends and family, especially if it was only between you two at the time! Such special moments that will last a long time. 
What did you think about the idea of turning your engagement photo into a wedding invitation?
Hope these photo wedding invitation ideas were helpful to you. Let us know what you think in the comments below.
Related Posts:
Just got engaged?
Create your wedding invitations with us! Get $10 OFF your order at checkout now!
Shop All
Featured Photo: Evermotion Photography | Wedding Invitations and RSVP Cards: For the Love of Stationery