"Do I have to use professional photos on my save the dates and wedding invitations?" – we are so glad you asked that…
If you're not looking to get professional engagement photos done, that's all good. Your wedding invitations can still look absolutely amazing!
Have you thought about using what you already have?
A photo taken by a friend or even a selfie!?
Yes, that's right!
If you can't be bothered or don't have time to get professional photos taken, we can also work with what you've already got on your phone.
Your wedding invitations will look just as amazing!
We love when couples decide to use their selfies as their wedding invitations because it makes it extra special.
Ok time to check out these STUNNING photo wedding invitations and see how these lovely couples did it and how you can also turn your selfies into wedding invitations!
9 Amazing Photo Wedding Invitations Made Out of Selfies:
1, Selfie Wedding Invite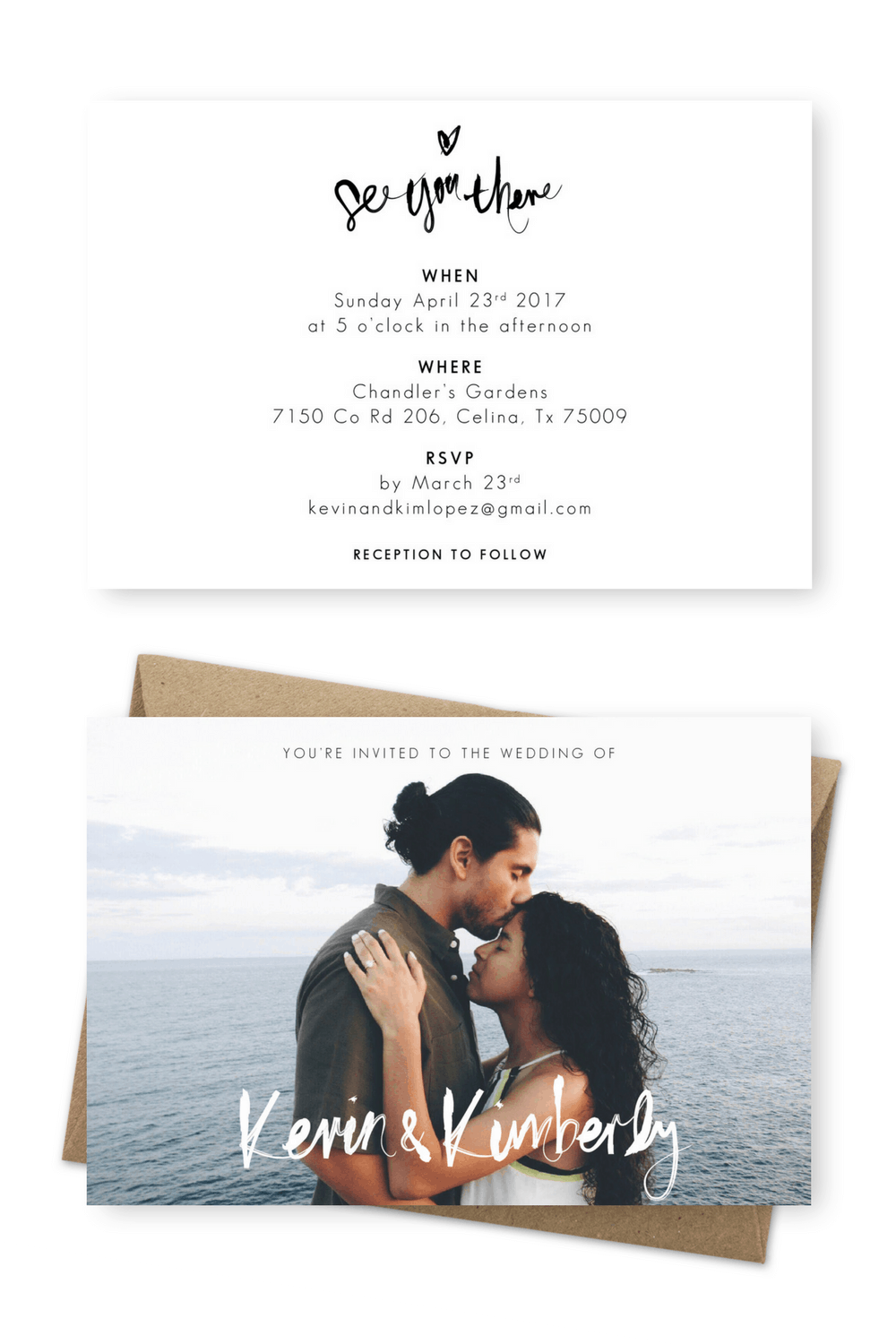 Kevin and Kimberly
Wedding Invitation: For the Love of Stationery
This photo was taken by Kim's sister and how magnificent does it look? 🙂
2, Selfie Wedding Invitation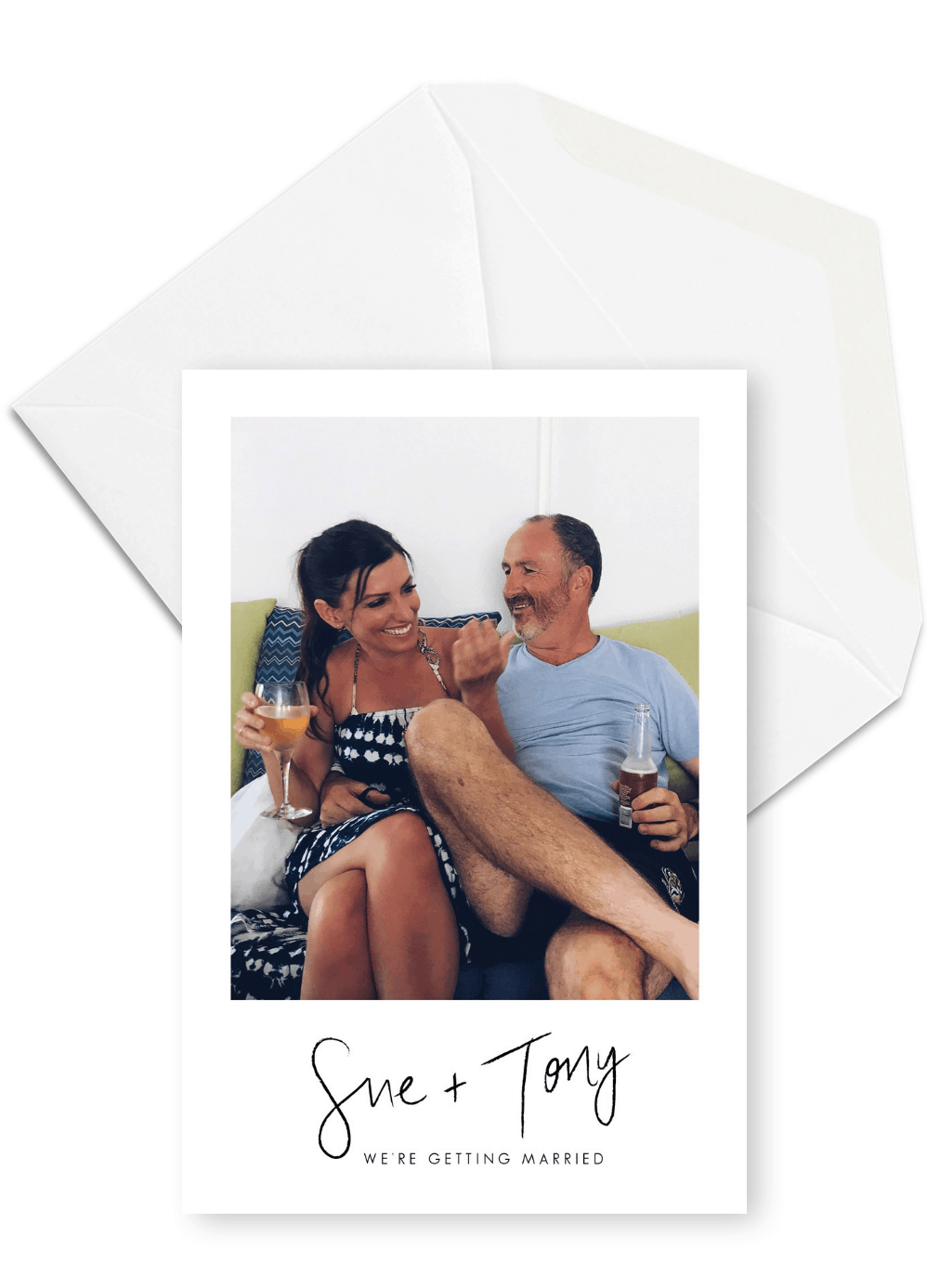 Sue and Tony
Wedding Invitation: For the Love of Stationery
We love the story behind this photo because these two don't actually like getting their photos taken. This candid photo was taken by Sue's son and none of them even knew about it until afterwards. We love it even more that they decided to use it as their wedding invitation despite they both "hate photos".
3, Selfie Invitation for Weddings
Aidan and Fe
Wedding Invitation: For the Love of Stationery
"Oh that's so cute!! I love it thank you so much!!! :)"
Fe
Beautiful bride Fe wanted to have a love heart next to her name to finish it off which is just too cute hehe.. We really enjoyed designing this wedding invitation together because the little details really gave it a sense of personal touch.
4, Wedding Invitation with Selfies
Ado and Courts
Wedding Invitation: For the Love of Stationery
What you don't know is that this photo was taken on a DSLR in selfie style… It's not an easy thing to do and Ado made it so breezy!
We also love what they had on the front of their wedding invitation. Because it's truly "another thing off the bucket list" when you find the one you love and say yes to forever with each other.
5, Photo Wedding Invites with Selfies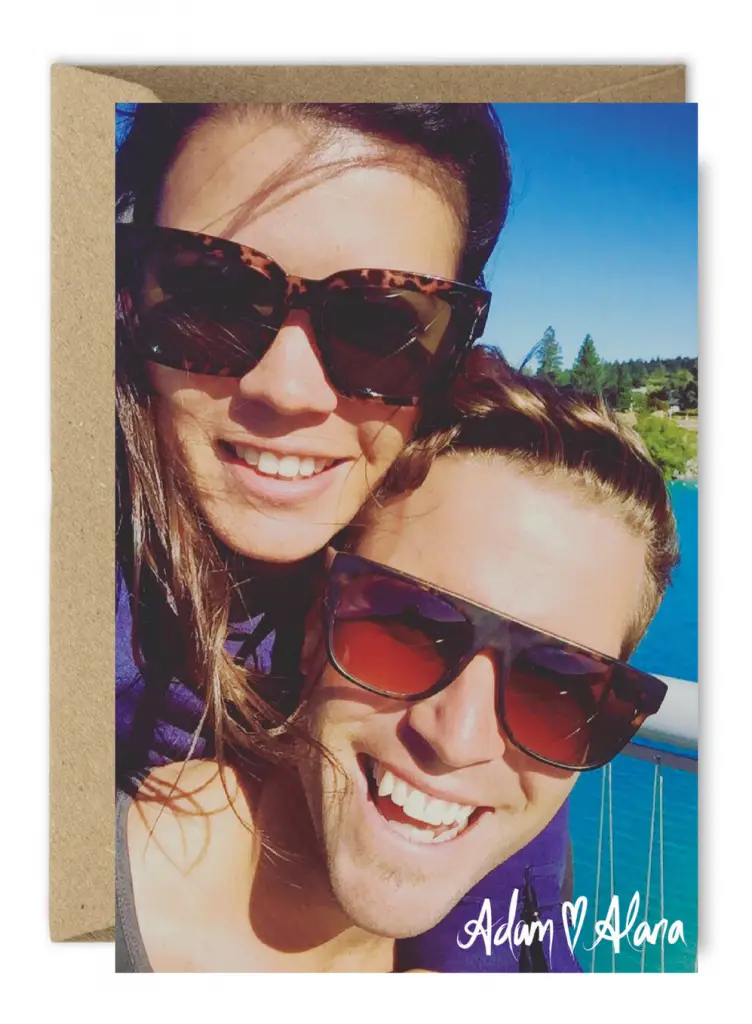 Adam and Alana
Wedding Invitation: For the Love of Stationery
We absolutely adore Adam and Alana's selfie wedding invitation!
We love how the blue and purple in the photo work so perfectly with each other. Not to mention that the couple's smiles are just contagious 🙂
6, Selfie Elopement Announcement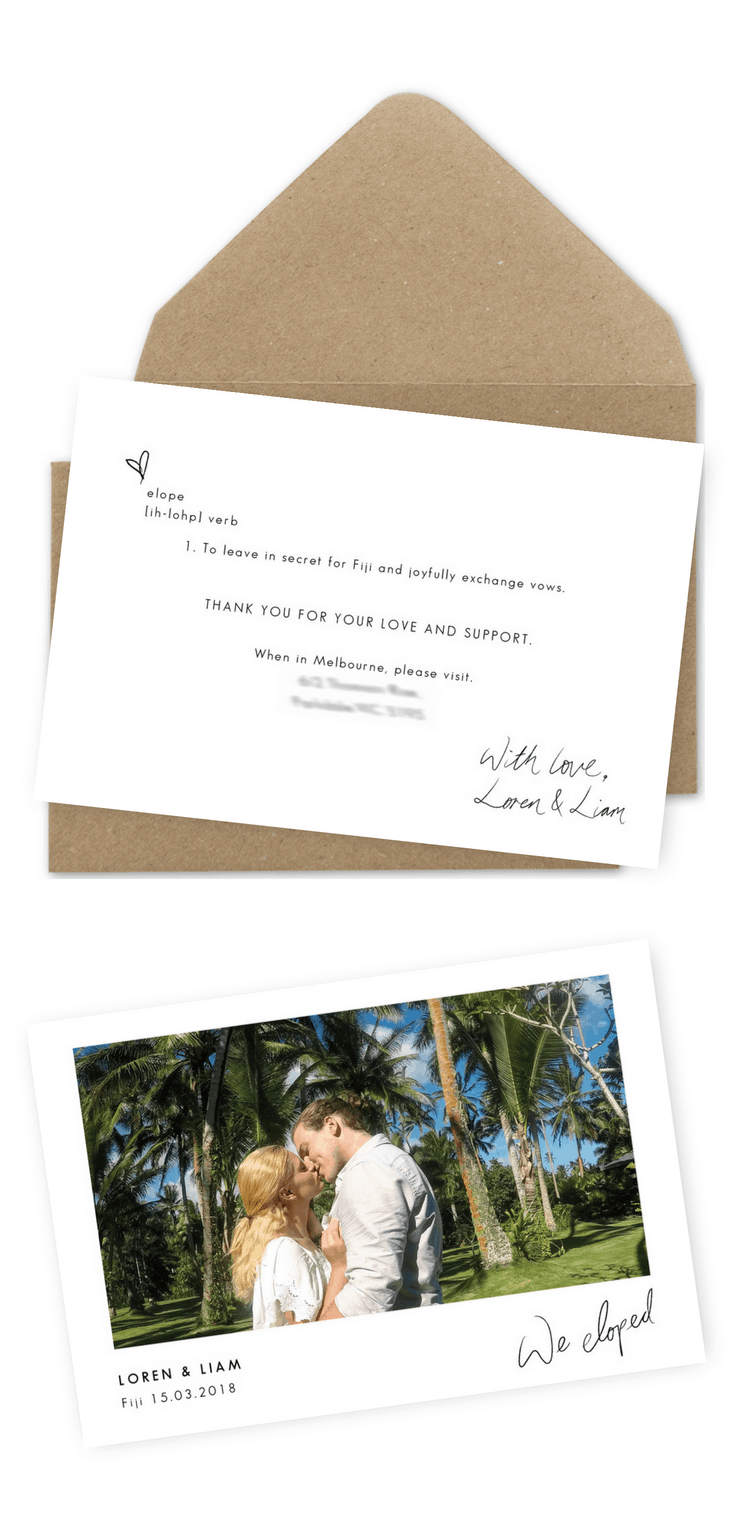 Loren and Liam
Elopement Announcement: For the Love of Stationery
Ok, this was actually an elopement announcement but how amazing does it look? 🙂
You are probably thinking how is this a selfie?
Well, Loren and Liam actually used a Go-Pro to get this photo taken and it look pretty awesome!!
7, Selfie Wedding Photo Invitation
Tanner and Jennifer
Wedding Invitation: For the Love of Stationery
Another personal favourite…
So much fun designing this destination wedding invitation with Jennifer and Tanner!
The beach photo at the back is SO tempting and captivating…
No doubt their guests immediately feel like they have been teleported to a stunning holiday destination… How could you not say YES!?
And that line "Pack your bags!" – Oh how exciting! OK TAKE US NOW!!
8, Selfie Wedding Invitation Card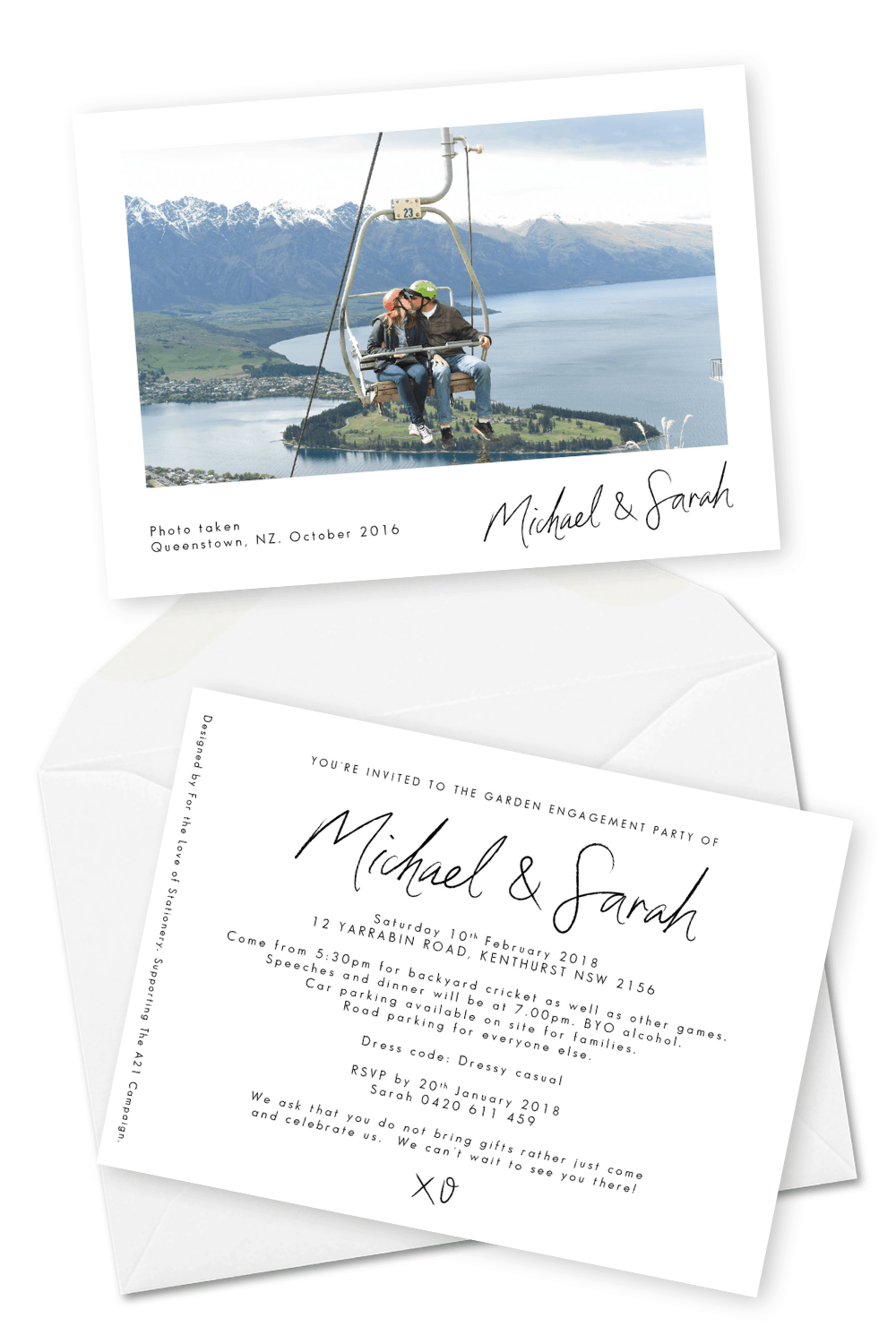 Michael and Sarah
Wedding Invitation: For the Love of Stationery
Oh we love this photo and the story behind it! Michael and Sarah used a photo from their snow trip. They only had to go on the chair lift 3 times to get the perfect shot. Ha who's counting!? 😛
9, Selfie Wedding Invitation
Ricky and Elley
Wedding Invitation: For the Love of Stationery
Ricky and Elley are the cutest! They wanted a photo in front of the waterfall during their hike and who would have thought that this photo (taken by a stranger lol) ended up being on their wedding invitation?
What did you think about having your selfies as wedding invitations? Pretty amazing, right?
If you like this post, share this with your friends especially those who just got engaged 🙂
Related Posts:
Looking for the perfect white dress?
Wedding Invitations designed by For the Love of Stationery