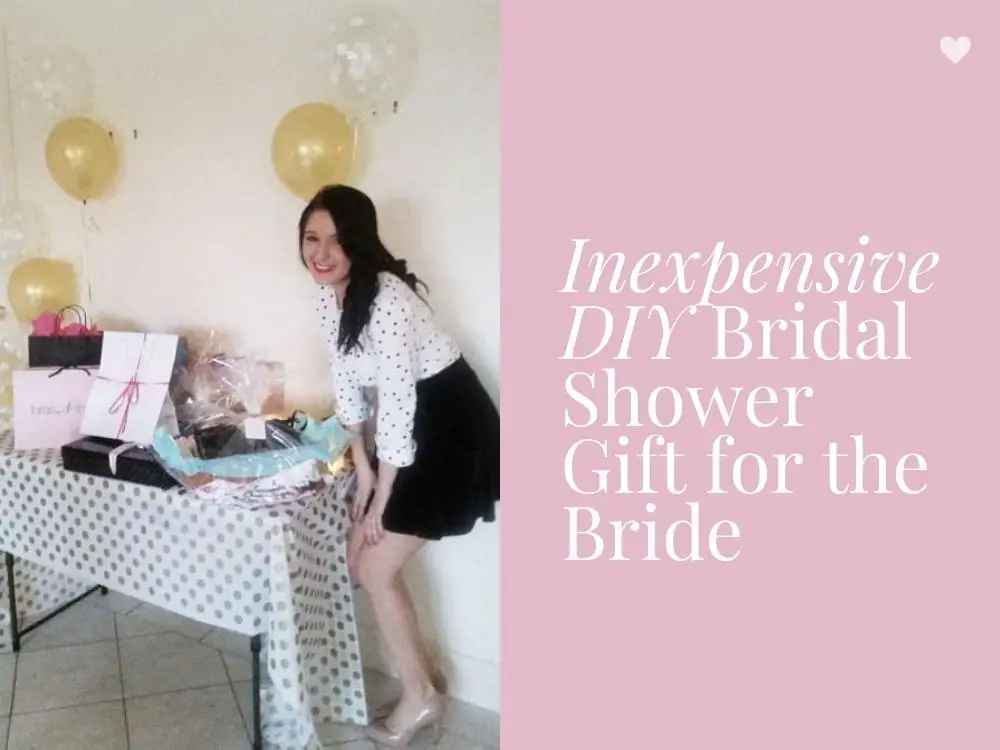 "What do you get a bride for her bridal shower?" – This question was in the forefront of Phoebe and I's mind for a few weeks thinking what to get my beloved friend Tonya for her bridal shower.
We wanted to get her something that is memorable and special. You know something personal.
We FINALLY came up with a DIY idea to put together a cute lingerie pack for her. No one can have too many undies, right? 😛
Needless to say we both really enjoyed this DIY project. I thought I would post it here so you could get inspired to creating something special for your bride-to-be friends too!
Before we get started, I had these pouches/muslin bags (whatever you like to call them) at home. The theme of the bridal shower was polka dots and just so happen they had polka dots on them too! YAY!
FTC disclosure: This post contains affiliate links, which means we may receive a commission for purchases made through the links.
A few things you will need for this DIY Bridal Shower Gift:
1, Lingerie
Victoria's Secret
Victoria's Secret
Nasty Gal
Nordstrom
2, Pouches/Muslin bags
Michaels
3, Alphabet and Numbers Stamp Set
Michaels
4, Cello wrap
Michaels
5, Twine
Michaels
6, Gift tag
Michaels
7, Wooden box
Michaels
8, Tiffany blue tissue paper
Michaels
I've linked you to the above products you can purchase online for a very affordable price to create this DIY bridal shower gift.
We came up with a few sayings for the pouches…
"Lace for Days"

"Can't Be Tamed"

"Baby Just Say Yes"

"Kiss Me Baby"
We also did one that says "A Pair of Shorts" to play on her new last name 🙂
As you can see, we were trying to come up with some "cute, cool and sexy" sayings for the pouches. Haha I'm sure you could come up with something even more awesome!
Let me know in the comments below what you've come up with 😛
We thought these pouches would be super cute for her to take on her honeymoon… It couldn't have been more fun and easy!
The hardest part of doing these pouches was making sure the letters look straight on the pouches! Being a perfectionist, I was so paranoid of having all the letters aligned with each other but they actually look quite cool a bit crooked!
We both laughed a little when we came up with this "Can't be tamed" pouch!
Miley Cyrus would be so proud lol How could we forget a sexy leopard print? We actually got her a full set of this leopard lingerie!
You might be wondering what we used the wooden box for. The pouches wouldn't just sit still so we needed something to support them and basically made it look amazing!
We also thought that the wooden box would be cute as an additional decor in her new home. You know, indoor plants, storage etc.
To add a touch of something blue, we had a sheet of Tiffany blue tissue paper to make it more fun and colourful!
Last but not least, a gift isn't complete until it is cello wrapped + twine attached with a cute gift tag that says Oh darling, let's be adventurers.
SO what did you think about this DIY bridal shower gift for the bride?
Are you going to do it?
Loved celebrating this polka dot beauty today! Less than 3 weeks till she gets hitched! Love you Miss Tonya!
XO
Related Posts:
Looking for a cute floral print dress?