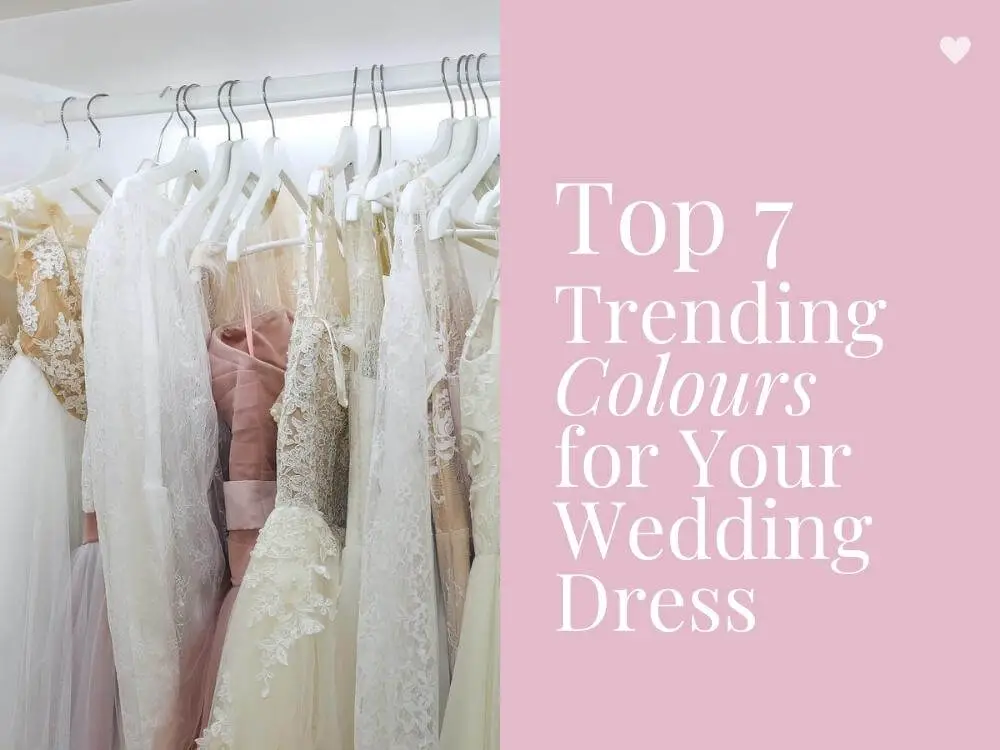 Wedding fashion is developing very rapidly. There is no you-must-do-it-this-way anymore! The choice of a wedding dress depends on the taste, preferences, and requests of the bride.
The traditional colour of a bridal gown is considered to be white – the colour of purity and innocence. However, today the manufacturers of wedding dresses are not limited to shades of white. First, this colour does not suit everyone, and secondly, the wedding traditions of our ancestors have long given way to fashion trends.
Today the trend is coloured wedding dresses, delicate and incredibly feminine! There is a growing demand for dresses in shades of pink, powder, mint, and sky blue. Due to the soft tones, these dresses look romantic, luxurious, and if the style allows, they are also suitable for weddings.
The snow-white wedding dress remains an immortal classic. But for originality and exclusivity, different coloured bridal gowns are being adapted by many brides. When choosing the perfect wedding dress for you, keep in mind that its colour should be to your face and skin tone.
Without any further ado, let's get into it!
Top 7 Trending Colours for Your Wedding Dress:
1, White Wedding Dresses
First of all, we cannot miss the most classic option for a wedding. Yes, white wedding dress, this colour animates purity, kindness, and innocence. If you want to be portrayed as a gentle and feminine bride, wear a white wedding dress on your day. A white wedding dress is a classic and you can never go wrong with it. It's a safe choice and you only need to pick the dress style you want. During the winter months, white is very suitable since it looks exceptionally lovely with the snow, but in spring or autumn, you can try to match the colour of nature to fit into its scales.
2, Ivory Wedding Dresses
Many different shades can be described as "wedding white". Ivory is one of them and is sometimes called "off-white". It differs from white in tone and has a refined yellowish hue and a lot of undertones, which can be distinguished only by looking live. This ivory colour is used in different styles and silhouettes. If you want to avoid looking washed out by the harsh white colour, an ivory wedding dress may be a great option for you as it will create a bit of contrast between the dress and your skin tone.
3, Cream Wedding Dresses
A cream wedding dress is another alternative to white. Creamy or powdery – neutral colours, which is a gorgeous colour that suits many people. Shades – cold and warm – allow you to choose the most optimal option.
If you want to look the most enchanting on your wedding day, you can try a cream-coloured satin dress. Depending on your personal preferences, cream bridal gowns made of silk, lace, organza, tulle will look oh-so-gorgeous! As for the style, there are no restrictions since the creamy and powdery colour goes well with almost all shades, which greatly adds to its popularity. A powdery wedding dress – the personification of tenderness and purity – looks very majestic and unusual.
4, Red Wedding Dresses
Looking for something a little out of the ordinary? Choosing a red wedding dress for your big day may be for you. Some cultures, like Chinese and Indian, already have red as one of their traditional colours on wedding day. An original and expressive dress will emphasise the style and beauty of its owner. It was created for those who choose originality, courage and act following their feelings and emotions. If you are tired of the usual looking wedding dresses that have become all too common, give red wedding dresses a try!
5, Blue Wedding Dresses
Heavenly blue is soft and soothing. It serves as a great contrast to everything that is tiring and bright. After all, it is not for nothing that the bird of happiness is precisely blue. Light blue is associated with peace, hope, purity, and motherhood. At the same time, blue can act as a symbol of carelessness and fun.
According to the Western tradition, the bride simply needs to wear "something blue" for the wedding so that love and fidelity always reign in marriage. Did you know that many Disney cartoon characters are often portrayed in blue gowns? If you want to really feel like a princess on the day, you can opt in for a light blue wedding dress. A dress with a blue tint will give you that fabulous wedding image, to feel like a "happily ever after" ending!
6, Green Wedding Dresses
This colour represents new beginnings and it's a wonderful colour for any brides who are down-to-earth and want something totally refreshing. A green wedding dress is also elegant – yes, but more suitable for a ball than for a wedding. Yet this is the choice of brides who strive for individuality and are ready to move away from tradition – and move away at a solid distance! A sage colour bridal gown sounds like a stunning dress option for your wedding day.
7, Yellow Wedding Dresses
Brides who have taken yellow into their wedding wardrobe hope for a happy marriage. The colour yellow represents cheerfulness and enthusiasm. If you are someone that wants to bring happiness and positivity wherever you go, a yellow wedding dress may just be for you! Being boring is not you at all because dullness is not in your vocabulary. You are always the life of the party because let's be honest 'the party don't start till I walk in' is your life mojo.
There you have it, we hope you enjoyed this blog post on the Top 7 Trending Colours for Your Wedding Dress. Let us know your favourite wedding dress colour in the comments below.
Related Posts:
Looking for the perfect white dress?