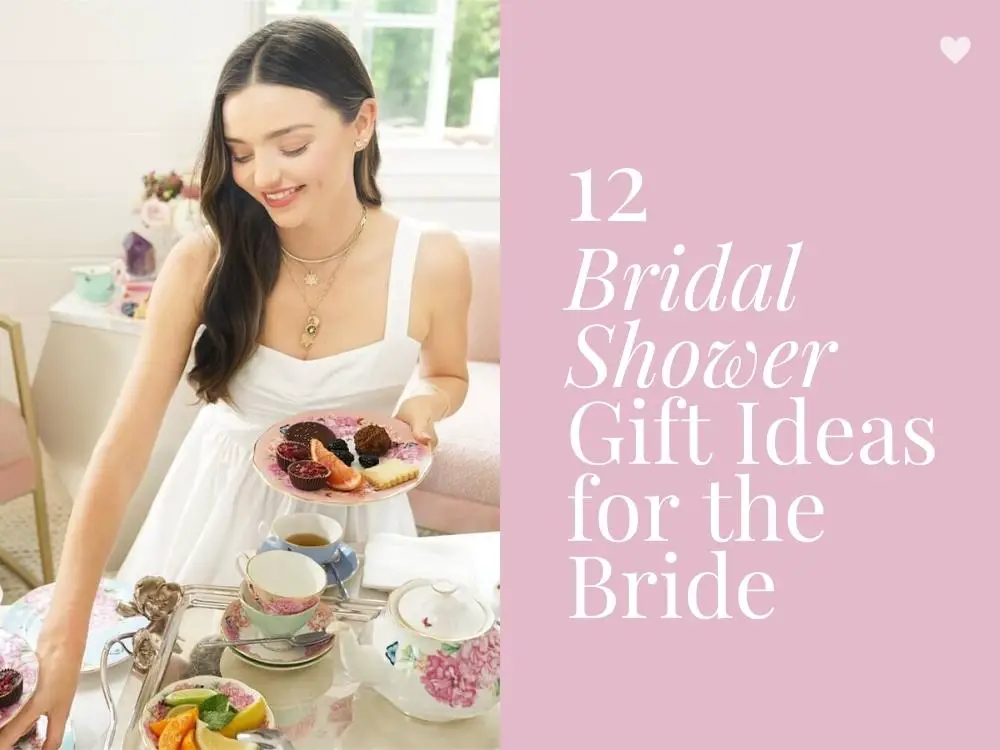 If you're looking for the perfect bridal shower gift for the bride-to-be, you'll love our list of kitchenware gifts. Something for her to start her married life as a wifey. Whether it's a cute floral tea set she can enjoy herself or a plate set she can use for dinner with her new hubby, we're all for practical gifts that she'll absolutely be able to use for her new home.
Wondering what to bring as a gift to a bridal shower? We've put together a list of our favourite kitchen tea gift ideas for the bride.
Without further ado, here we go!
FTC disclosure: This post contains affiliate links, which means we may receive a commission for purchases made through the links.
Bridal Shower Gift Ideas for Brides who Love Tea Parties
1, Butterfly Bloom Tea for One
This tea set is perfect for the bride who loves having high tea and she can have it all she wants at her own home.
2, Royal Albert Miranda Kerr Friendship Plates, Set of 4
These friendship plates are so gorgeous for your bride to host her tea party! Miranda also makes them look super irresistible here…
3, White 7pc Bakeware Set
Is your bride friend a baker? She'll love this bakeware set for all her delicious baked goods! Who knows you may be invited back for some taste testing…
4, Butterfly Bloom Sandwich Tray
Whether she's a lover of sandwiches, scones or muffins, this stunning butterfly tray will make her afternoon tea dream come true!
5, With Love Gold Cake Knife & Server
If your bride friends love to make cakes, she might like this cake knife and server set for her new home!
6, Anthemion Grey Cream & Sugar
Fancy something luxurious? This cream and sugar set will take her high tea to the next level!
Kitchen Tea Gift Ideas for Brides who Love Dinner Parties
1, Wedgwood White 16pc Set
Sometimes less is more so if you're looking for a simple yet practical set, this "crisp, clean white ware" is perfect!
2, 1815 16 Piece Set Mixed
How awesome is this colourful plate set for the bride-to-be? Dinner parties in the future are all set!
3, Blue 16 Piece Dinner Set
Maybe you're looking for a gift that's "something blue". Check out this gorgeous dinner set from the Gordon Ramsay Maze Collection that will help your party-loving friend serve her dinner guests!
4, 1815 Blue 16 Piece Dinner Set
Another gorgeous dinner set with a touch of blue for your bride-to-be making it the perfect bridal shower gift!
5, Blue Dots 16 Piece Dinner Set
Continuing with the something blue, this dinner set is awesome for brides who appreciate vibrant colours in her kitchen.
6, Ellen DeGeneres Blue Love Accent Plates (Set of 4)
Looking for something unique? Your bride friend will love these accent plates from the Ellen DeGeneres Blue Love collection for serving salad or dessert! Aren't they the cutest?
There you have it, we hope you love these bridal shower gift ideas for brides! Let us know what you've decided to get your bride-to-be friend!
Related Posts:
Looking for a cute floral print dress?
Featured photo: Royal Albert