Your wedding day is one of the most significant events of your life, and every detail should reflect the love and romance shared between you and your partner. As a timeless symbol of love and beauty, roses have long been associated with weddings and are the perfect choice to create a romantic and enchanting atmosphere.
But before you start exploring rose delivery in Brisbane or anywhere in your location, it's best to know how you'll incorporate them into your wedding theme. Fortunately, this article is your guide. Read on!
1, Captivating Floral Invitations
Your wedding invitations serve as the first glimpse into the magic of your special day, and incorporating roses into the design can add a touch of enchantment and romance. It's the perfect choice for captivating floral invitations that leave a lasting impression on your guests.
To achieve this, consider working with a talented designer who can bring your vision to life. Delicate rose motifs gracefully adorning the corners or borders of the invitation cards can evoke a sense of elegance and sophistication. You may opt for intricate illustrations of blooming roses to add depth and texture to the design.
When it comes to colors, soft pastel hues or classic white can complement the theme of your wedding and enhance the overall aesthetic of the invitations. Blush pink, cream, or even a combination of pastel shades can evoke a sense of tender romance. Alternatively, a timeless monochromatic white with touches of greenery can exude elegance and purity.
While a single rose artfully placed on the wedding invitation can be striking in its simplicity, an intricate rose border can create an elaborate and enchanting frame for your wedding details. Adding green leaves or subtle vines can further enhance the floral arrangement, making it an exquisite work of art.
2, Romantic Aisle and Enchanting Altar
As you walk down the aisle to begin the next chapter of your life, create a magical path with rose petals. Choose from various colors to match your wedding theme, whether classic white, romantic blush or a vibrant mix of colors. This elegant touch will add a fairytale-like charm and fill the air with the delightful fragrance of roses, setting the perfect ambiance for your journey down the aisle toward a lifetime of love and happiness.
Make your wedding ceremony unforgettable at the altar by decorating it with an abundance of roses. Imagine a stunning arch entwined with fresh roses or a breathtaking backdrop of cascading blooms. This captivating display will frame your love as you exchange your vows, creating a breathtaking backdrop for your cherished memories and photographs. The enchanting altar adorned with roses will symbolize the love and beauty that blooms on your special day.
3, Romantic Bridal Bouquets
Of course, no wedding would be complete without the bride's bouquet and the bridesmaids' posies. Roses offer endless possibilities, allowing you to create bouquets that range from classic and elegant to whimsical and bohemian.
You can choose a monochromatic bouquet with a single rose variety or mix and match different colored roses for a vibrant and textured arrangement. The bridesmaids' bouquets can complement the bride's bouquet or feature a variation of rose colors to add depth to the overall theme.
Also, consider preserving your bridal bouquet to remember your wedding day. You can dry and frame the roses, transforming them into a beautiful keepsake that will evoke fond memories whenever you see them.
4, Dazzling Table Centerpieces
At your reception, you can transform the tables into a romantic wonderland with exquisite rose centerpieces. To do so, use tall, elegant vases filled with long-stemmed roses or low, lush arrangements in gold-rimmed glassware are both excellent choices. You can also incorporate other flowers and greenery to add dimension and interest, but the roses should be the focal point, symbolizing the blossoming love between you and your partner.
5, Garden-Themed Wedding Cake
The wedding cake provides a wonderful canvas to incorporate the rose theme into your celebration further. It's best to collaborate with your baker to design a stunning cake adorned with intricate sugar roses.
You can choose a cascade of delicate roses, an oversized bloom as the centerpiece, or a garden-inspired cake featuring artfully arranged blooms and greenery. This delightful creation serves as a delectable treat for your guests.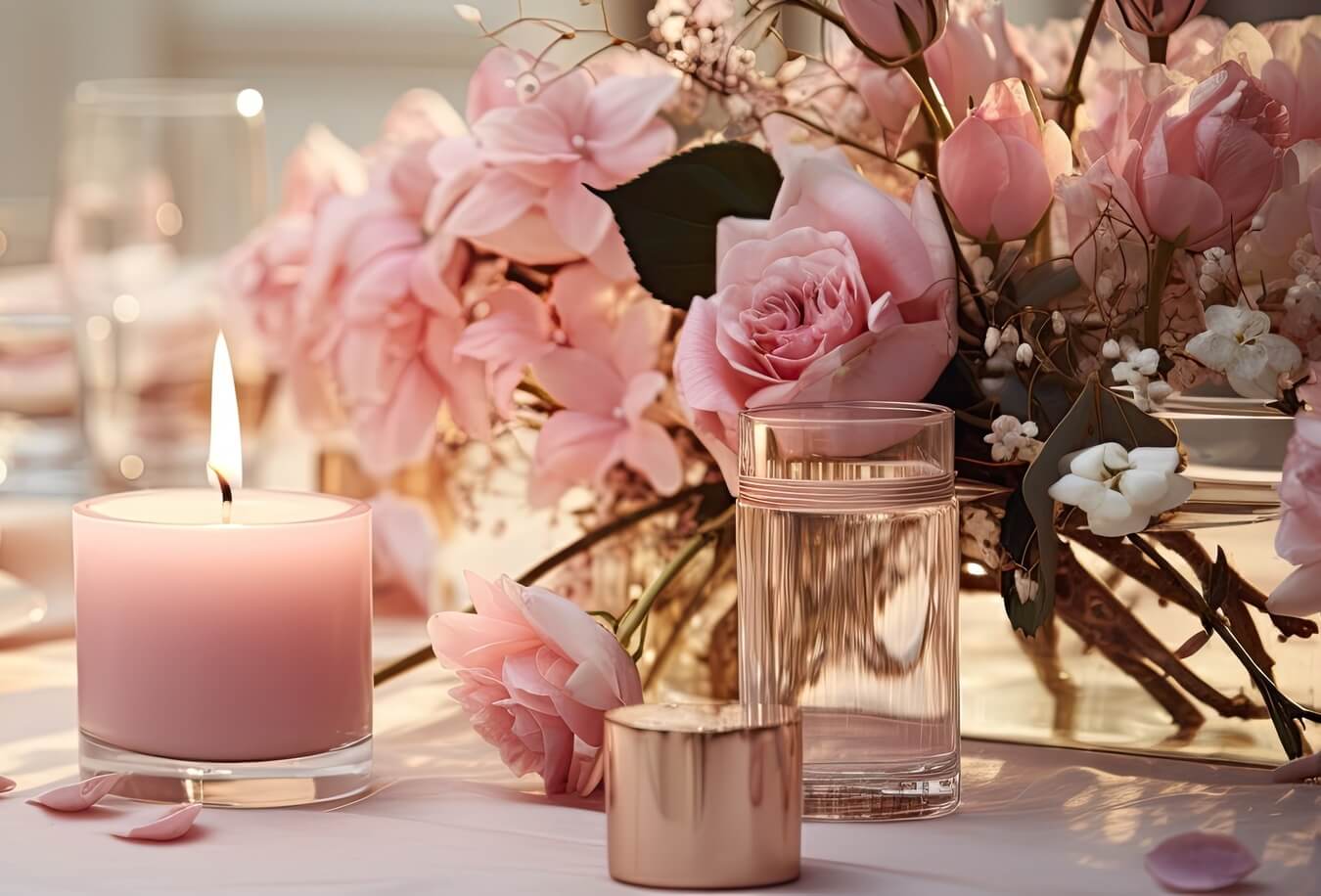 6, Sentimental Wedding Favors
Show your gratitude to your guests with heartwarming rose-themed wedding favors. Consider these delightful tokens of appreciation that will remind your loved ones of your special day:
Miniature Potted Rose Plants: Your guests can take these home and nurture them, creating a lasting memory of your union and symbolizing the blossoming love of your marriage.
Rose-Scented Candles: Infuse their homes with the sweet aroma of love, creating a cozy and sentimental ambiance that will bring back fond memories of your wedding day.
Rose-Infused Chocolates: Indulge their taste buds with delectable chocolates infused with the essence of roses, offering a delightful treat that represents the sweetness of your love and celebration.
These thoughtful gestures will leave a lasting impression on your wedding guests, conveying your appreciation for their presence in sharing your joyous celebration.
Incorporating roses into your wedding theme brings an undeniable sense of romance and elegance, creating an unforgettable experience for you and your guests. Roses offer endless possibilities to make your wedding day a true celebration of love.
Remember, it's best to hire reputable rose delivery services to ensure your special day is graced with the freshest and most beautiful blooms. Embrace the timeless beauty of roses and let your love bloom in full splendor on your wedding day.
So, how are you incorporating roses into your wedding? Let us know in the comments below.
Related Posts:
Looking for a cute floral print dress?
You May Also Like: Stunning Floral Wedding Inspiration Pinterest Board