Congratulations on your wedding!
Hope it was the most wonderful day ever
Now that your wedding is done and dusted, there is only one more thing left to do..
Oh yes the thank you cards!
FTC disclosure: This post contains affiliate links, which means I may receive a commission for purchases made through my links.
Have you been struggling with your thank you card wording?
You are probably thinking – What else can I say other than "thank you for coming!"?
You are here because you are looking for some wording ideas for your thank you cards.
Don't worry, that's exactly what you will get from this post.
Here's the deal..
It doesn't have to be extravagant. Or does it? 😛
When it comes to a thank you card, your friends and family would much rather reading something from the heart ❤
Try writing something that is more personal. Perhaps something they can relate to.
Ok let's get into it, here's my 5 wording ideas for your wedding thank you cards:
1. Keep it short & sweet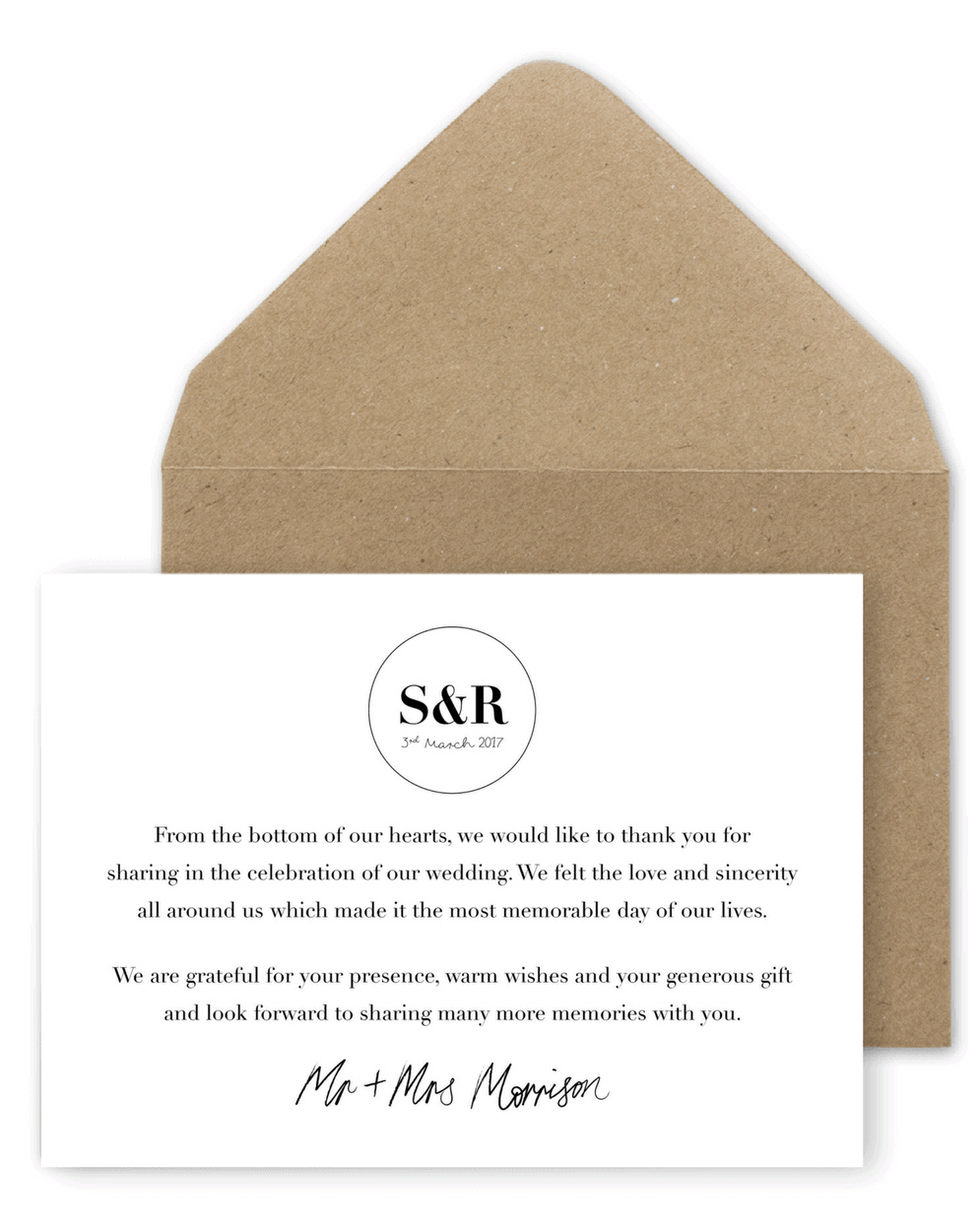 If you would like to keep your thank you message short and sweet, you can easily thank your guests for a few things in a single sentence.
Instead of saying how much you appreciate their presence at your wedding, warm wishes towards your marriage and generous gift to celebrate your new life as newly weds.
You can do this.

"From the bottom of our hearts, we would like to thank you for sharing in the celebration of our wedding. We felt the love and sincerity all around us which made it the most memorable day of our lives. 
We are grateful for your presence, warm wishes and your generous gift and look forward to sharing many more memories with you."
I love this wording because that pretty much sums it all up!
2. Bring them back to the wedding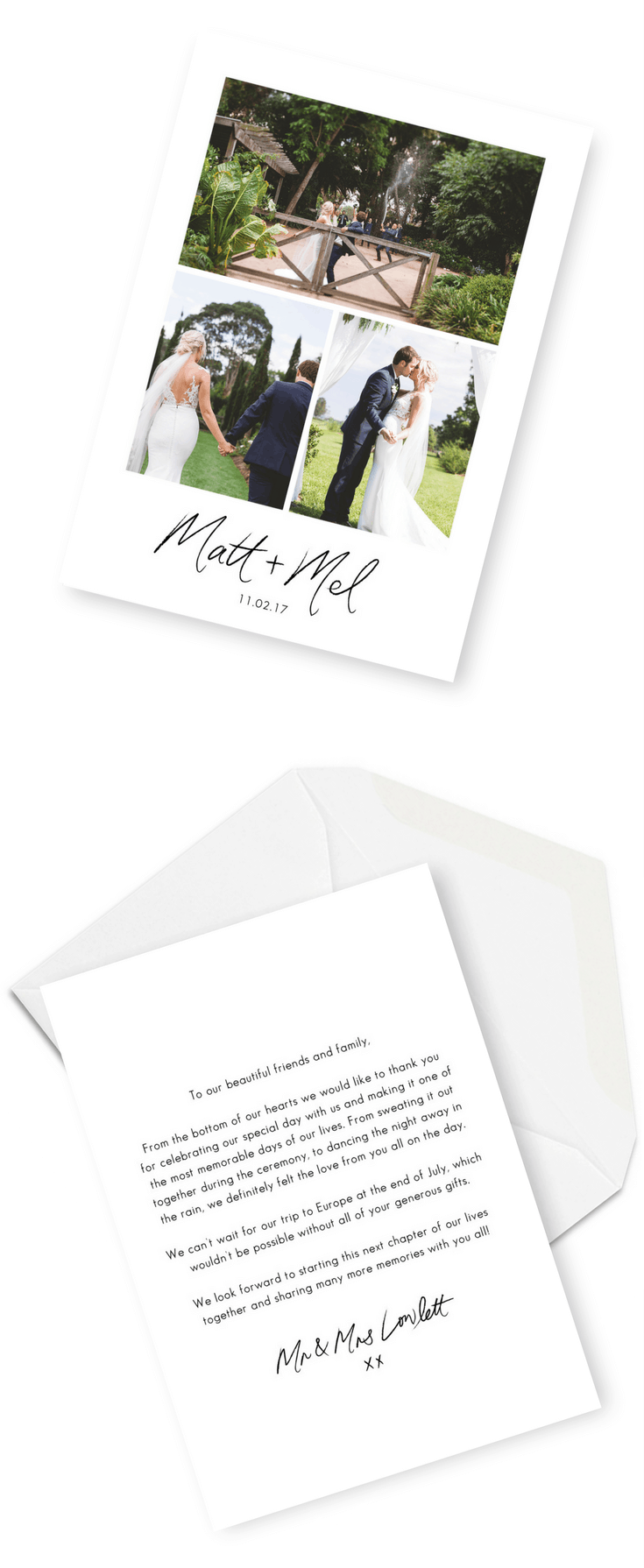 Photo credit: Kat Stanley Photography
This thank you card is real.
"From the bottom of our hearts we would like to thank you for celebrating our special day with us and making it the most memorable day of our lives. From sweating it out together during the ceremony, to dancing the night away in the rain, we definitely felt the love from you all on the day.
We can't wait for our trip to Europe at the end of July, which wouldn't be possible without all of your generous gifts.
We look forward to starting the next chapter of our lives together and sharing many more memories with you all!"
I love that The Lowletts shared a bit of the ups and downs from the wedding day!
You know what's even better?
Their friends and family actually shared those memories with the couple so I can just imagine them giggling and remembering those funny moments of sweating and dancing together on the day while reading this thank you message!
Let's send a thank you card to your guests that makes them feel something.
Anything hilarious happened on your wedding day?
Maybe something not-so-funny at the time (oops!) but would be a good laugh now? Those are the memories that will live forever so why not put it on paper to help your guests relive them.
3. Make them feel special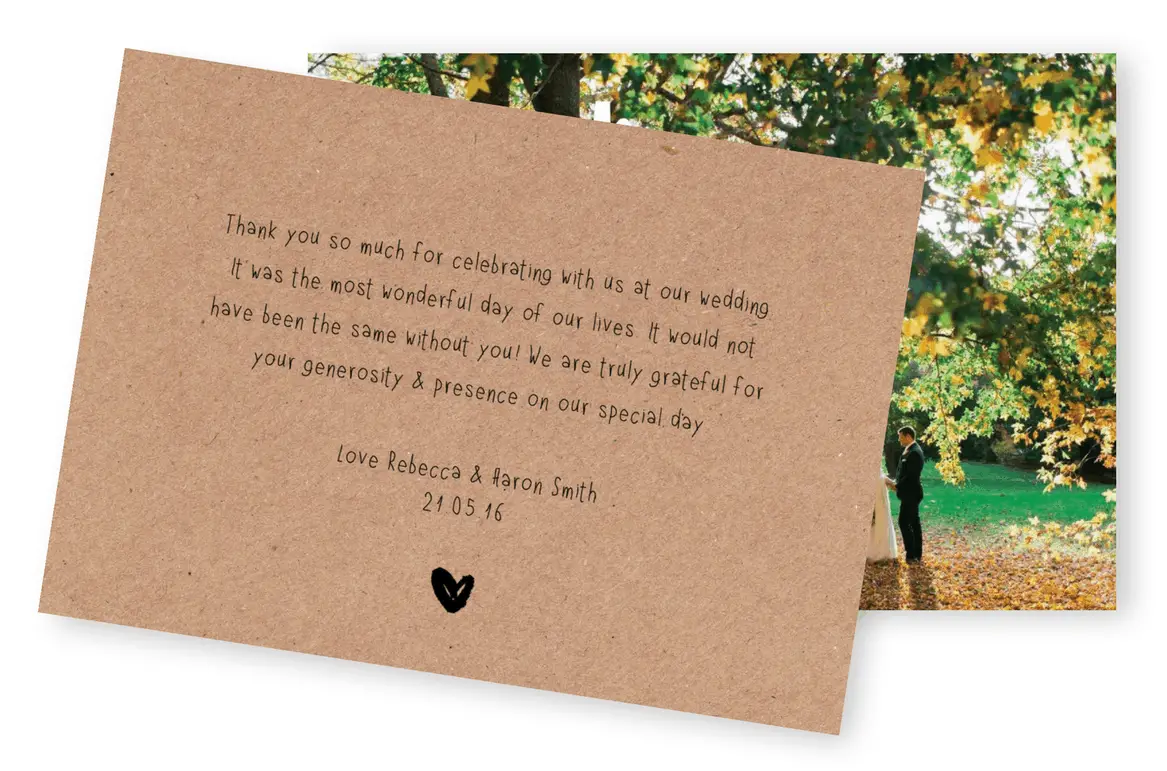 Photo credit: Tim Harris Photography
"Thank you so much for celebrating with us at our wedding. It was the most wonderful day of our lives. It would not have been the same without you! We are truly grateful for your generosity & presence on our special day."
This line surely makes them feel super special knowing that their presence was appreciated! This thank you message is perfect for thanking your guests for coming and celebrating with you at your wedding.
If you're also sending a thank you card to the guests who couldn't make it to your wedding, make sure you personalised another thank you message for them. Otherwise it would be a bit awkward for them to receive this message.
You can find thank you card wording ideas for guests who didn't attend later in this blog.
Keep reading on..
4. Show the love. (Get mushy!)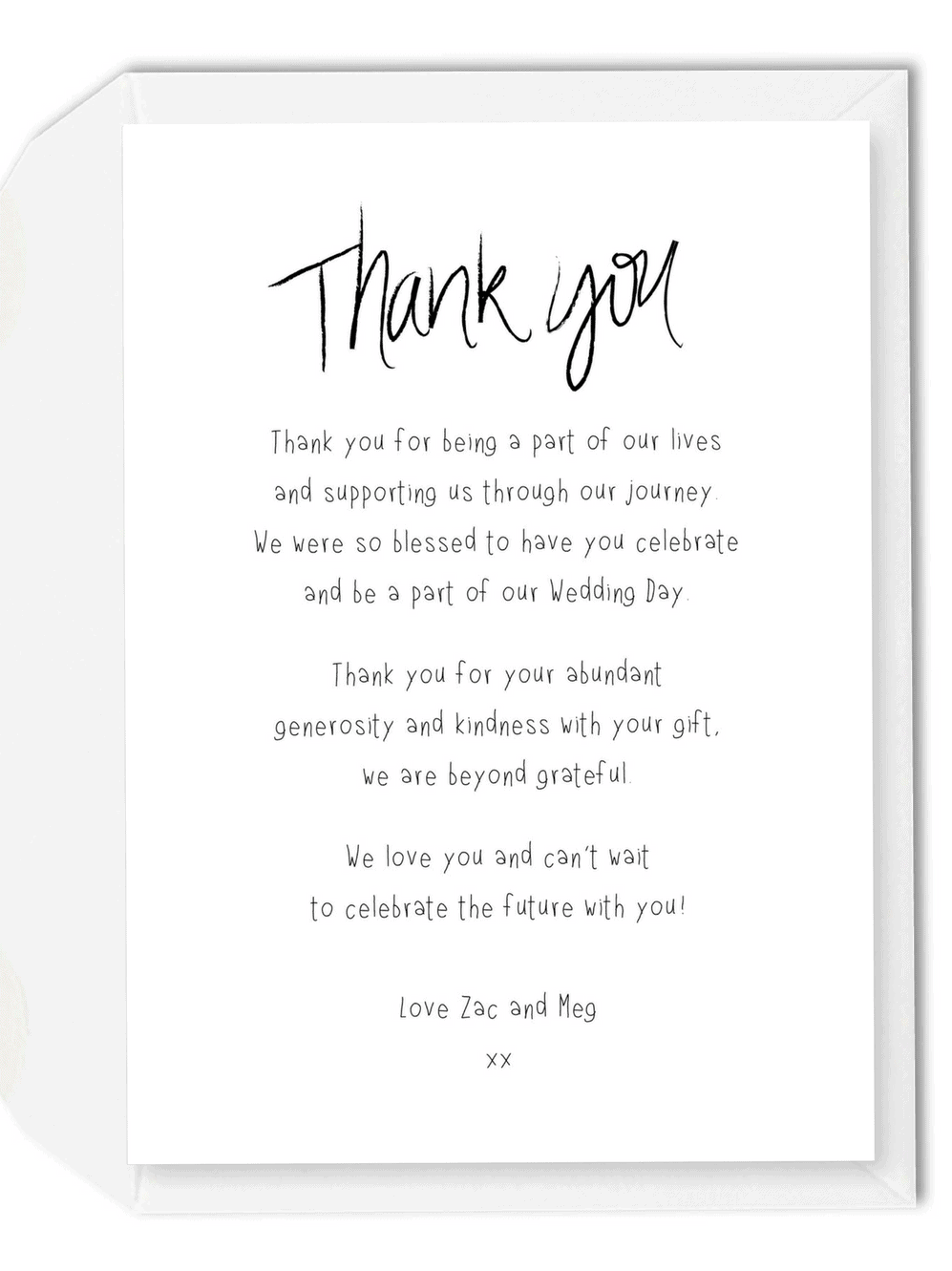 Oh yes, time to get mushy!
If you guys had a 'Romeo and Juliet' kind of love, perhaps there is a few people you need to really thank for being with you through the journey.
These are the people who has really been on your side and hey it's worth sending a personalised thank you message that is a bit mushy! 😛
"Thank you for being a part of our lives and supporting us through our journey. We were so blessed to have you celebrate and be a part of our Wedding day.
Thank you for your abundant generosity and kindness with your gift, we are beyond grateful.
We love you and can't wait to celebrate the future with you!"
I said mushy, not cringy..
You can say "We love you" in a thank you card if you really mean it.
Your forever friends will definitely appreciate such lovely words!
Send something to your forever friends that says "We love you and can't wait to celebrate the future with you!".
5. Never too late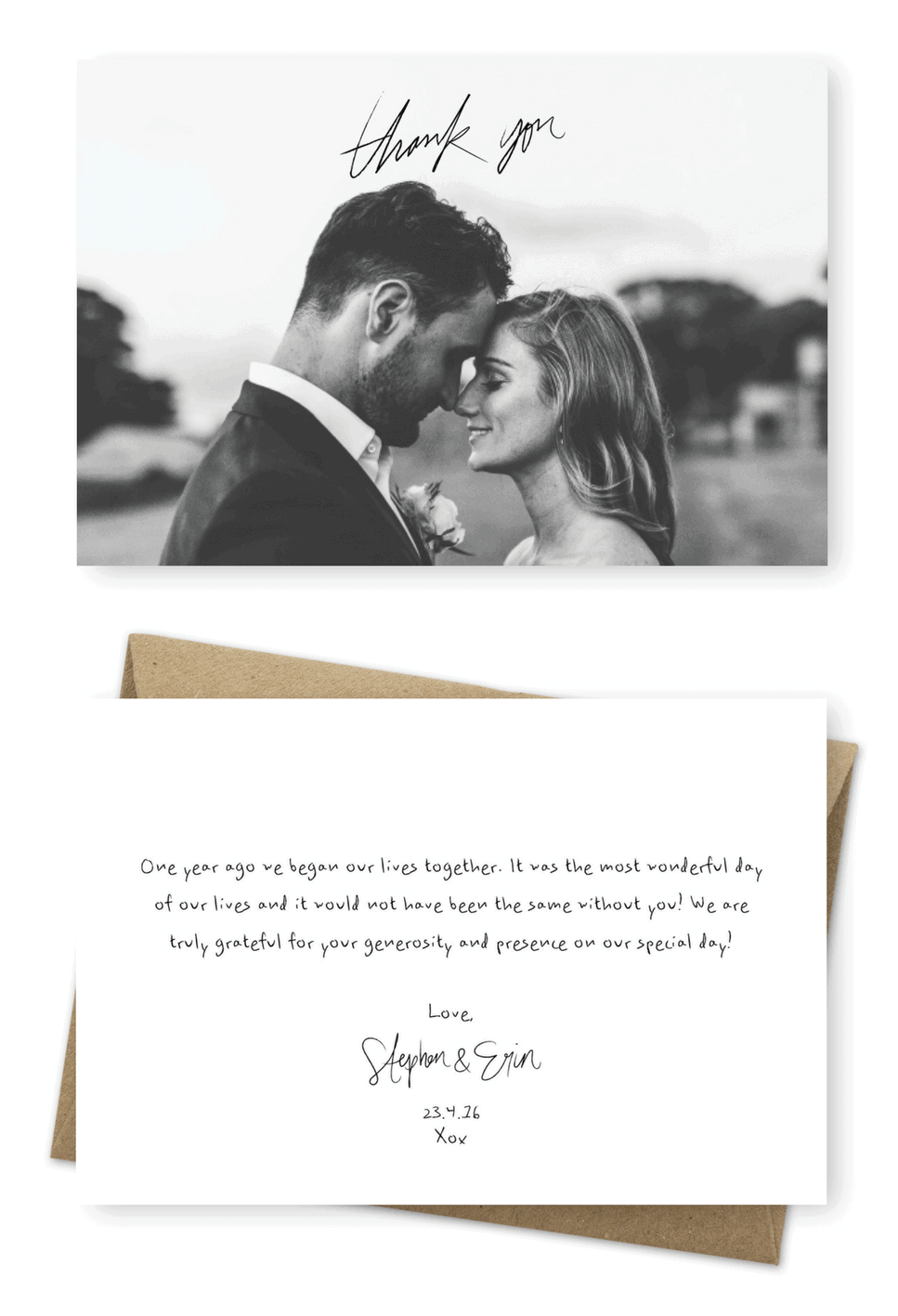 Photo credit: Zoe Morley Photography
Are you a bit late to the party of sending your thank you cards out to your friends and family?
Hey no biggie really

Don't feel embarrassed that you're only sending them a thank you card a year later.
Why?
Because it will be a lovely surprise for them to receive your thank you card now.
I promise you, it will make their day getting your thank you card on an uneventful day! People are so used to getting bills in the mail that a lovely thank you card really brightens their day. It will also help them relive your wonderful wedding day all over again!
"One year ago we began our lives together. It was the most wonderful day of our lives and it would not have been the same without you! We are truly grateful for your generosity and presence on our special day!"
I hope that was somehow helpful to you. Leave a comment below if it had helped you
For more thank you card wording ideas: 9 Wording Examples for Your Wedding Thank You Cards
Thank You Cards designed by For the Love of Stationery