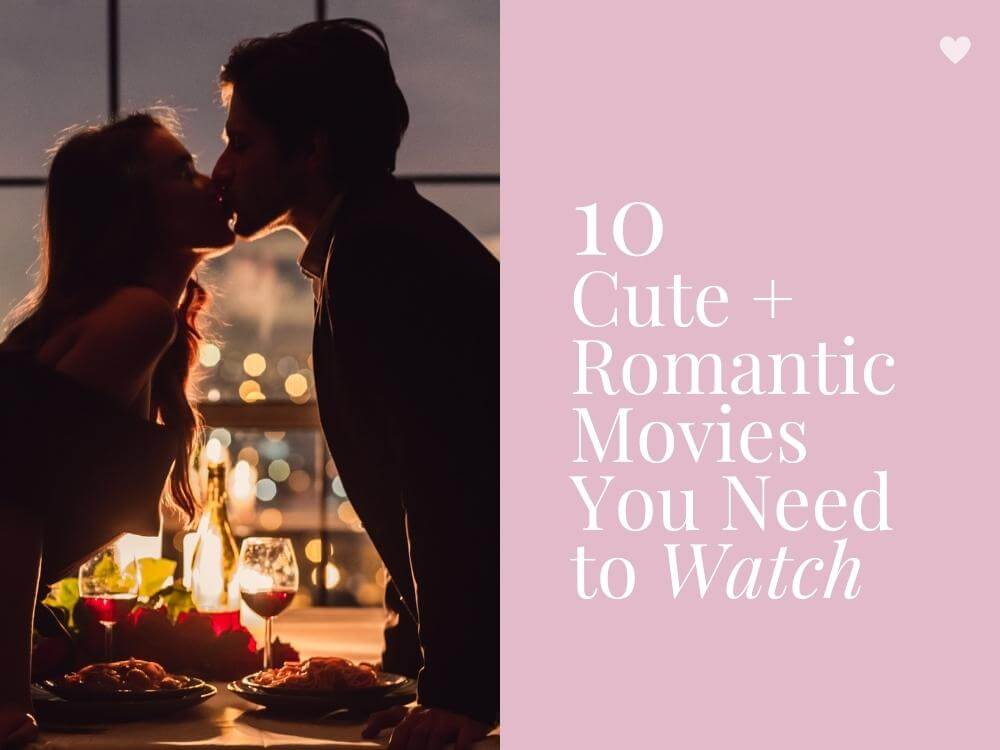 One of our favourite things to do on a Saturday night is to stay in and put on a cute romantic movie.
Yes, we are cheesy like that. Anyone else out there? Tell us we are not the only ones lol
Of course when winter time comes, it calls for an extra cup of hot chocolate and snuggies!
Since you are reading this blog post, you are probably looking for a cute romantic movie to watch right now. Look no further, we have got you covered with a mixture of classic, modern and foreign language romantic movies.
10 Cute Romantic Movies You Need to Watch:
1, Pretty Woman
If you are looking for a cute romantic movie from the 90s, you cannot look past the timeless classic Pretty Woman, starring Richard Gere and Julia Roberts. A beautiful love story between a rich, successful entrepreneur and a prostitute… Who would have thought two people from two completely different worlds could meet and fall in love!?
We absolutely adore this jewellery box closing scene, the excitement on the elevator operator's face, them walking out of the hotel with everyone staring… Apparently the jewellery box scene was a blooper and we are so glad they decided to use it. It's just a classic Pretty Woman scene! Her laugh is so contagious and sweet…
Cute Love Quotes from Pretty Woman:
"In case I forget to tell you later, I had a really good time tonight."
Vivian: "You're late."
Edward: "You're stunning."
Vivian: "You're forgiven."
"I'm gonna treat you so nice, you're never gonna wanna let me go."
2, One Day
If you want all the feels, you have to watch One Day, a 2009 novel written by British author David Nicholls. This beautiful romantic movie isn't your average fairytale love story, in fact, it's real (and in our opinion, unpredictable!). One Day is about the journey of two lifelong friends figuring out life and love and meeting one day every year to see how each other is going. Life sometimes just doesn't go the way you want it to and we will leave the rest for you to find out. All we can say is that Anne Hathaway and Jim Sturgess did an amazing job of playing both roles with different age ranges throughout the movie.
One Day is incredibly touching and will hopefully make you reflect on your own relationships in life. If you love them, just tell them. Don't take your loved ones for granted!
Cute Love Quotes from One Day:
"Whatever happens tomorrow, we had today; and I'll always remember it."
"You can live your whole life not realising that what you're looking for is right in front of you."
"If I can't talk to you, then what is the point of us?"
"The truly happy days tend not to involve so much organisation, are rarely so public or so expensive. The happy ones sneak up, unexpected."
3, Seducing Mr Perfect
If you are looking for a Korean melodrama, you may want to check out Seducing Mr Perfect. The story is about how two completely opposite people can fall in love, even with a language barrier and all. A car accident and a lie are what it took to put these two together and start their cute love story. The chemistry between Daniel Henney and Uhm Jung-hwa is so good that we may or may not have watched this movie over and over again!
This is a rather lighthearted Korean movie compared to the ones we have seen, but it's still so amazing and one of our faves! What's better than watching Daniel Henney play Mr Perfect, right?
Cute Love Quotes from Seducing Mr Perfect:
"He was screaming at me, but it sounded like a sweet whisper. What's wrong with me?"
"What's wrong?"
"You're in love with him, that's all."
"No, Dad. I'm not in love with him. I don't like him."
"Yeah? Then I guess he's in love with you."
"No, that can't be it, either."
"How do you know? Have you asked him?"
"I haven't, but anyway it can't be true. He's too cold to me."
"You silly girl. Words do not always express one's feelings. … People can lie with words but not with eyes."
4, 10 Things I Hate About You
If you haven't heard of 10 Things I Hate About You, where have you been? This 1999 rom-com teen movie, played by Heath Ledger and Julia Stiles, is a modern take on the famous Shakespeare play, The Taming of the Shrew. Another story that starts off with a lie but quickly turns into something real when the guy really gets to know the girl and… we will let you find out the rest.
Without spoiling too much, this poem reading part is our absolute favourite part of the movie, and it's oh so romantic! Sometimes you hate that person so much because you love them all the more, right?
This movie literally takes us back to our teenage years (oops, now we are showing our age!) and it's so bittersweet seeing Heath Ledger's beautiful face here. In saying that, if you haven't watched it, do yourself a favour and watch this classic!
Cute Love Quotes from 10 Things I Hate About You:
"I hate the way you talk to me, and the way you cut your hair.
I hate the way you drive my car. I hate it when you stare.
I hate your big dumb combat boots, and the way you read my mind.
I hate you so much it makes me sick; it even makes me rhyme.
I hate it, I hate the way you're always right. I hate it when you lie.
I hate it when you make me laugh, even worse when you make me cry.
I hate it when you're not around, and the fact that you didn't call.
But mostly I hate the way I don't hate you. Not even close, not even a little bit, not even at all."
5, Love, Rosie
Can a boy and a girl really just be friends? Love, Rosie is a romantic movie about two childhood best friends who cannot imagine themselves as a couple and parted ways because of life and career but later realised that they loved each other more than anything. Perhaps the best love really does start with a friendship!?
Love, Rosie is based on the 2004 novel Where Rainbows End written by Irish author Cecelia Ahern that became a major film in 2014. We fell in love with Lily Collins and Sam Clafin after watching this movie as both of them really brought the story to life. If you are wanting something heartwarming to watch, we highly recommended Love, Rosie!
Cute Love Quotes from Love, Rosie:
"You deserve someone who loves you with every single beat of his heart, someone who thinks about you constantly, someone who spends every minute of every day just wondering what you're doing, where you are, who you're with, and if you're OK.
You need someone who can help you reach your dreams and protect you from your fears. You need someone who will treat you with respect, love every part of you, especially your flaws.
You should be with someone who could make you happy, really happy, dancing on air happy."
You May Also Like: 22 Super Cute Love Quotes and Sayings (with FREE Digital Downloads)
6, The Holiday
If you are looking for a Christmas rom-com movie this festive season, we suggest watching The Holiday! This cute movie is played by a few of our favourites Cameron Diaz, Jude Law, Kate Winslet and Jack Black. The story starts off with two women from different countries swapping their houses for the holiday because of their relationship problems and both of them unexpectedly meet and fall in love with someone during their two weeks away.
This is our all-time favourite during the holiday season and what's not to love about watching Jude Law for hours and the "corny" romantic scenes throughout the movie, right?
Cute Love Quotes from The Holiday:
"I like corny. I'm looking for corny in my life."
"I can't figure out the mathematics of this, I just know I love you."
"So now I'm just gonna kiss you for the millionth time and say, 'Be seeing you'."
7, Somewhere in Time
Fancy an 80s romantic fantasy movie? Somewhere in Time is a captivating old-fashioned film about a writer being mesmerised by a vintage portrait of a famous actress back in the 1900s and he travels back "in time" to meet her through self-hypnosis. If you like time travel movies, you need to watch Somewhere in Time played by the amazing Christopher Reeve and Jane Seymour.
The soundtrack in this movie is just beautiful. We have a thing for time travel movies and this is definitely one for the books! Thanks Dad for recommending us this timeless classic 😛
Cute Love Quotes from Somewhere in Time:
"I want to be everything to you."
"You are."
8, The Longest Ride
If you want to watch a "feel good" movie that makes you think at the same time, give The Longest Ride a go! Scott Eastwood plays a very charming cowboy that sweeps art student Britt Robertson off her feet at a show, and with their worlds being so incredibly different, they try to figure out if it will work at all. Just like any other novel by Nicholas Sparks, this movie has a few valuable lessons about love and sacrifice for us to take home. This country-style movie has a combination of romantic comedy and action that will surely keep you captivated!
One of our favourites has to be the love story between Ira and Ruth during World War II. Even though it wasn't the main story in The Longest Ride (it really should have been!), we saw a glimpse of how they fought for their love time after time despite all the obstacles in life… and you can find out the ending yourself 😉
Cute Love Quotes from The Longest Ride:
"I just need to say something…I need to say something.
You know I fell in love with you the first time I saw you.
You're just the most amazing, beautiful girl I've ever met, and somehow…I don't know…somehow you chose me.
But how I loved you then it's…God… it's nothing compared to how I love you now. And I love you with everything inside me.
I think you should go. You see, I love you so much; I just want you to be happy, even if that happiness no longer includes me."
"If we'd never met, I think I would have known my life wasn't complete. And I would have wandered the world in search of you, even if I didn't know who I was looking for."
"After all, if there is a heaven, we will find each other again, for there is no heaven without you."
9, The Age of Adaline
In a world full of obsession over anti aging everything, who would have thought there's pain over not aging in life? The Age of Adaline is an absolutely beautiful romantic movie about a woman, who stops aging at 29 and has lived through decades, falls in love with a man whose family has something to do with her past and threatens to complicate things for her. Besides having Blake Lively and Michiel Huisman starred in this movie, Harrison Ford also plays a major role in creating the storyline. This time-travel fantasy film is full of suspense that leaves us wanting more, not to mention wonderful mother-daughter moments that put a smile on our faces.
Blake Lively's acting in this movie was so impeccable! The way she speaks and acts perfectly depicts the era she was from in this time travel movie. She did it with such grace and elegance we cannot imagine anyone else playing her character!
Cute Love Quotes from The Age of Adaline:
"Don't you miss having someone to love?"
"It's not the same when there's no growing old together. Without that, love is just heartbreak."
"First time I saw you, I knew I had to meet you. I didn't know when or how but I knew I wanted to."
10, La La Land
If you love good musical movies, you should check out La La Land, starring Emma Stone and Ryan Gosling. You can expect some good tunes and jazz vibes throughout the movie, and lots of dancing overall. The ups and downs of their love story are beautifully portrayed, showing the reality of life where sometimes you ought to choose between the pursuit of love and dreams for your own fulfilment.
La La Land is a remarkable and vibrant film with a heartwarming collection of soundtracks that will have you on repeat afterwards. As always, the chemistry between Emma Stone and Ryan Gosling is amazing so just go and watch it already!
Cute Love Quotes from La La Land:
"It's pretty strange that we keep running into each other."
"Maybe it means something."
"I doubt it."
"Yeah, I didn't think so."
"I'm always gonna love you."
"I'm always gonna love you, too."
P.S. We love the classics Titanic, A Walk to Remember, The Notebook but they are not on this list because we wanted to give you something a bit different 🙂 We definitely have had our fair share of crying for those tearjerker movies!
Anyways…
We hope you've enjoyed our list of 10 Cute Romantic Movies You Need to Watch.
What's your favourite romantic movie ever? Tell us in the comments below x
Related Posts: