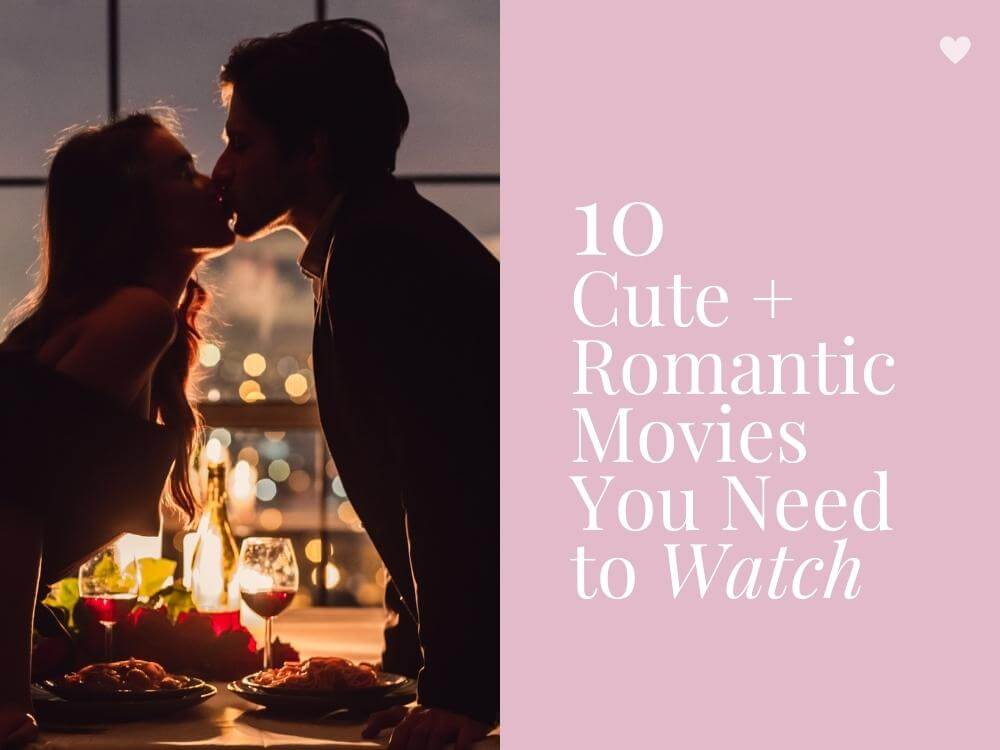 One of our favourite things to do on a Saturday night is to stay in and put on a cute romantic movie.
Yes, we're cheesy like that. Anyone else out there? Tell us we're not the only one lol
Of course when winter time comes, it calls for an extra cup of hot chocolate and snuggies!
Since you are reading this blog post, you are probably looking for a cute romantic movie to watch right now. Well look no further, we've got you covered with a mixture of classic, modern and foreign language romantic movies.
10 Cute Romantic Movies You Need to Watch:
1, Pretty Woman
We absolutely adore this jewellery box closing scene, the excitement on the elevator operator's face, them walking out of the hotel with everyone staring…
Apparently the jewellery box scene was a blooper and I'm so glad they decided to use it. It's just a classic Pretty Woman scene! Her laugh is just contagious and so sweet…
"In case I forget to tell you later, I had a really good time tonight."
Vivian: "You're late."
Edward: "You're stunning."
Vivian: "You're forgiven."
"I'm gonna treat you so nice, you're never gonna wanna let me go."
2, One Day
Absolutely loved this movie but we can't put ourselves through it again because (spoiler alert) it was just so damn sad!!
The moral of the story is to just tell them you love them if that's how you feel. Don't wait for a billion years to do that!
"Whatever happens tomorrow, we had today; and I'll always remember it."
"You can live your whole life not realising that what you're looking for is right in front of you."
"If I can't talk to you, then what is the point of us?"
"The truly happy days tend not to involve so much organisation, are rarely so public or so expensive. The happy ones sneak up, unexpected."
3, Seducing Mr Perfect
This is a rather light hearted Korean Drama compare to the ones we've seen but it's still so amazing and one of our faves! We've watched it so many times 😀
"He was screaming at me, but it sounded like a sweet whisper. What's wrong with me?"
"What's wrong?"
"You're in love with him, that's all."
"No, Dad. I'm not in love with him. I don't like him."
"Yeah? Then I guess he's in love with you."
"No, that can't be it, either."
"How do you know? Have you asked him?"
"I haven't, but anyway it can't be true. He's too cold to me."
"You silly girl. Words do not always express one's feelings. … People can lie with words but not with eyes."
4, 10 Things I Hate About You
This movie definitely takes us back to our teenage years and it makes us sad seeing Heath's beautiful face here. In saying that, if you haven't watched it, do yourself a favour and watch this classic!
"I hate the way you talk to me, and the way you cut your hair.
I hate the way you drive my car. I hate it when you stare.
I hate your big dumb combat boots, and the way you read my mind.
I hate you so much it makes me sick; it even makes me rhyme.
I hate it, I hate the way you're always right. I hate it when you lie.
I hate it when you make me laugh, even worse when you make me cry.
I hate it when you're not around, and the fact that you didn't call.
But mostly I hate the way I don't hate you. Not even close, not even a little bit, not even at all."
5, Love, Rosie
Can a boy and a girl really just be friends or in this case, best friends since childhood?
"You deserve someone who loves you with every single beat of his heart, someone who thinks about you constantly, someone who spends every minute of every day just wondering what you're doing, where you are, who you're with, and if you're OK.
You need someone who can help you reach your dreams and protect you from your fears. You need someone who will treat you with respect, love every part of you, especially your flaws.
You should be with someone who could make you happy, really happy, dancing on air happy."
You May Also Like: 22 Super Cute Love Quotes and Sayings (with FREE Digital Downloads)
6, Love Actually
This is our absolute favourite scene from Love Actually. It's so wrong but so romantic in so many levels.
"To me, you are perfect and my wasted heart with love you…"
"Tell her that you love her. You've got nothing to lose and you'll always regret it if you don't."
7, Somewhere in Time
The soundtrack in this movie is just beautiful. We have a thing for time traveling movies and this is definitely one for the book!
Thanks Dad for recommending us this classic 😛
"I want to be everything to you."
"You are."
8, The Longest Ride
This wasn't the main story in The Longest Ride but it really should have been! Such a beautiful love story between Ira and Ruth.
"I just need to say something…I need to say something.
You know I fell in love with you the first time I saw you.
You're just the most amazing, beautiful girl I've ever met, and somehow…I don't know…somehow you chose me.
But how I loved you then it's…God… it's nothing compared to how I love you now. And I love you with everything inside me.
I think you should go. You see, I love you so much; I just want you to be happy, even if that happiness no longer includes me."
"If we'd never met, I think I would have known my life wasn't complete. And I would have wandered the world in search of you, even if I didn't know who I was looking for."
"After all, if there is a heaven, we will find each other again, for there is no heaven without you."
9, The Age of Adaline
Ok, another stunning movie about love and time travelling.
Blake Lively's acting in this movie was so well done! (We just love her in general anyway lol)
The way she speaks and acts perfectly depicted the era she was from. She did it so wonderfully and elegantly.
"Don't you miss having someone to love?"
"It's not the same when there's no growing old together. Without that, love is just heartbreak."
"First time I saw you, I knew I had to meet you. I didn't know when or how but I knew I wanted to."
10, La La Land
This truly was a remarkable one showing the reality of life. Sometimes you ought to choose between the pursue of love and dreams for your own fulfilment.
We also love the soundtrack in this and have had it on repeat a few times now 😀 Definitely check it out if you haven't already!
"It's pretty strange that we keep running into each other."
"Maybe it means something."
"I doubt it."
"Yeah, I didn't think so."
"I'm always gonna love you."
"I'm always gonna love you, too."
P.S. We love the classics Titanic, A Walk to Remember, the Notebook but they are not on this list because we wanted to give you something a bit different 🙂 We definitely have had our fair share of crying for those tearjerker movies!
Anyways…
We hope you've enjoyed our list of 10 Cute Romantic Movies You Need to Watch.
What's your favourite romantic movie ever? Tell us in the comments below x
Related Posts:
Looking for a cute floral print dress?