When I say dream wedding.. I mean DREAM WEDDING! Everything from start to finish was what a lot of girls would want for their wedding day.
If anyone could pull off a dream wedding like this, it would be the one & only Irene. The fearless girl whom I have the privilege of knowing for years & crazy enough to jump off a plane together 4 years ago! Her attention to detail & strive for perfection made this wedding definitely one to remember.
Irene & Jacob's wedding was held at GrowWild Wildflower Farm in Alpine just over an hour drive from Sydney. It was a lovely drive down south & really enjoyed listening to Terri Savelle Foy's motivational podcast (seriously my fave when it comes to long drives!). I don't remember what I was listening to (as the wedding was 6 months ago now) but her podcasts always make me feel "ready to rule the world". Be sure to check her out!
Now back to the wedding.. I got there a little bit early to help out as Phoebe was already there to do her thing *hello event guru!*. I remembered a lot of walking between back doors, small hills & rocky roads making sure everything was ready to go! I know you are eager to check out the photos from the day! Here you go..
It was such a sweet moment when Irene walked in with her dad who got a bit teary as he was about to give his baby girl away. I always love the moment of a father giving his daughter's hand to the man standing at the other side of the altar. The Loved Ones captured this so beautifully.
From their engagement party invite, save the date, wedding invite, ceremony program, menu & anything in between, Irene had rose gold foiling & calligraphy in mind. Everything was so well planned which made it easier for us to turn her vision into a reality. You can see more of the matching stationery later in this post.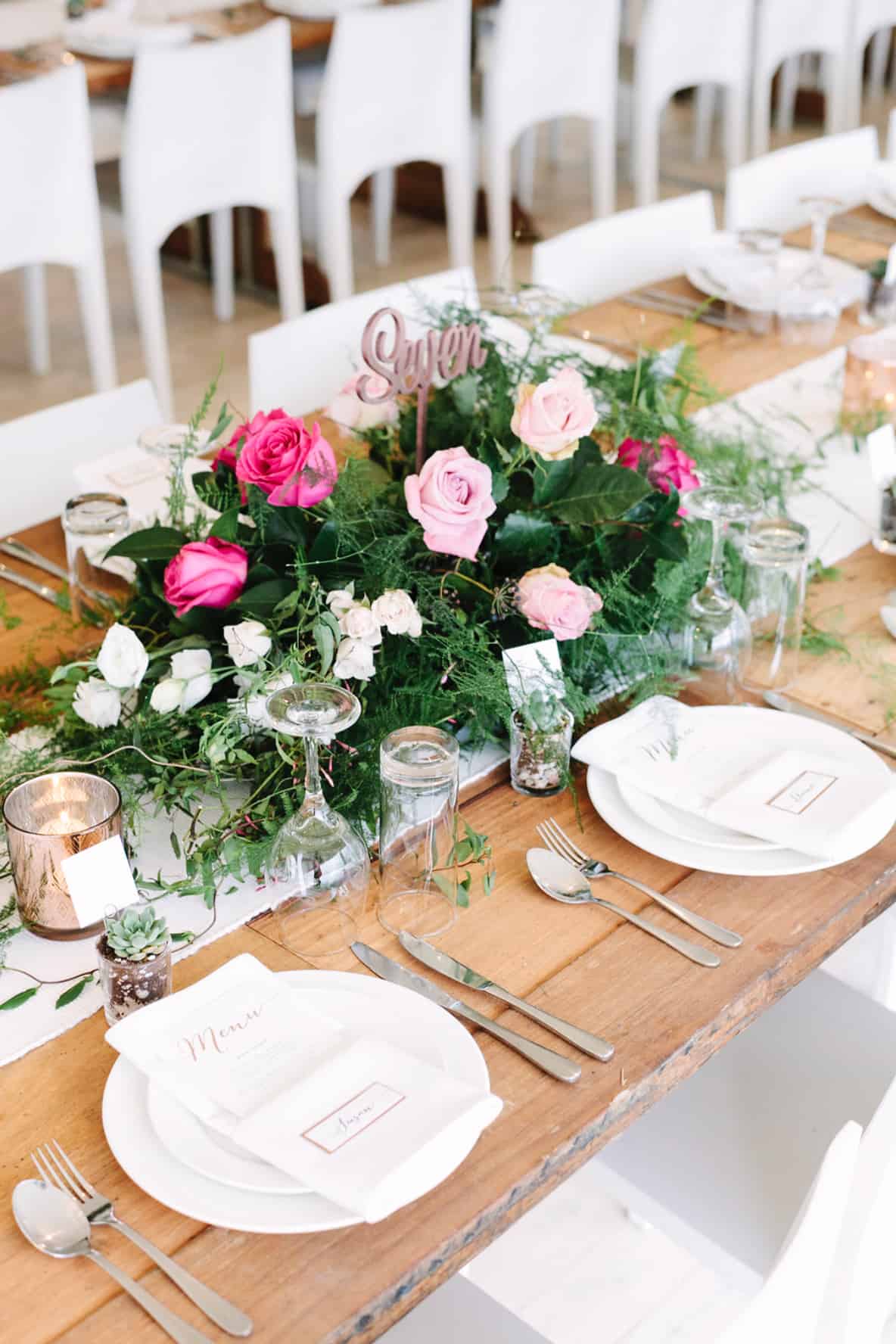 I absolutely adored the colour palette & styling of this wedding. The giant pink roses, lush greenery, pure white & a small touch of elegant rose gold..
The reception started off with hilarious & heartwarming stories of the couple, joyful conversations flew from guest to guest on the long wooden tables, being a dancer herself I expected some form of dance at the wedding but a dance off between the couple was beyond my imagination! I thoroughly enjoyed it!
As the wedding came to an end, the traditional Greek plate-smashing finished the night off with "Opa!" and the couple was farewelled with hugs, blessings & sparkles. Oh what a wedding to remember!
Be sure to check out the wedding highlights from the video below! I promise you will love it! x
Venue: GrowWild Wildflower Farm | Photography: The Loved Ones | Videography: Greater Visuals | Stationery: For the Love of Stationery | Bomboniere: Terrariums by Brooke