Did you just run away to say your I DOs?
Was it New Zealand? Alaska? Wherever it was.. Coming back from your elopement with just the two of you, you are probably looking to tell the world that – yup you guys just did it!
Time to gather your closest friends & family for a wedding celebration.. The party can be as casual as you want but your invitation needs to be as awesome as your elopement. Just saying! 😀
May your elopement announcement reflects how breathtaking your special day was. Because let's be honest, it was the most AMAZING day of your life, right?
So, without further ado, I'm so excited to show you these stunning wedding elopement invitations from couples all over the world.
Seriously they are to die for, brides are going CRAZY for these elopement announcements!!
Elopement Photography: Joel Allegretto
"I would give Vivian 10 out of 5 stars if I could. The process of working with this shop was a breeze. I felt like they genuinely cared about me as an individual and wish they didn't live so far so I could have their company on my day." – Rebecca
Elopement Photography: Dawn Thomson Photography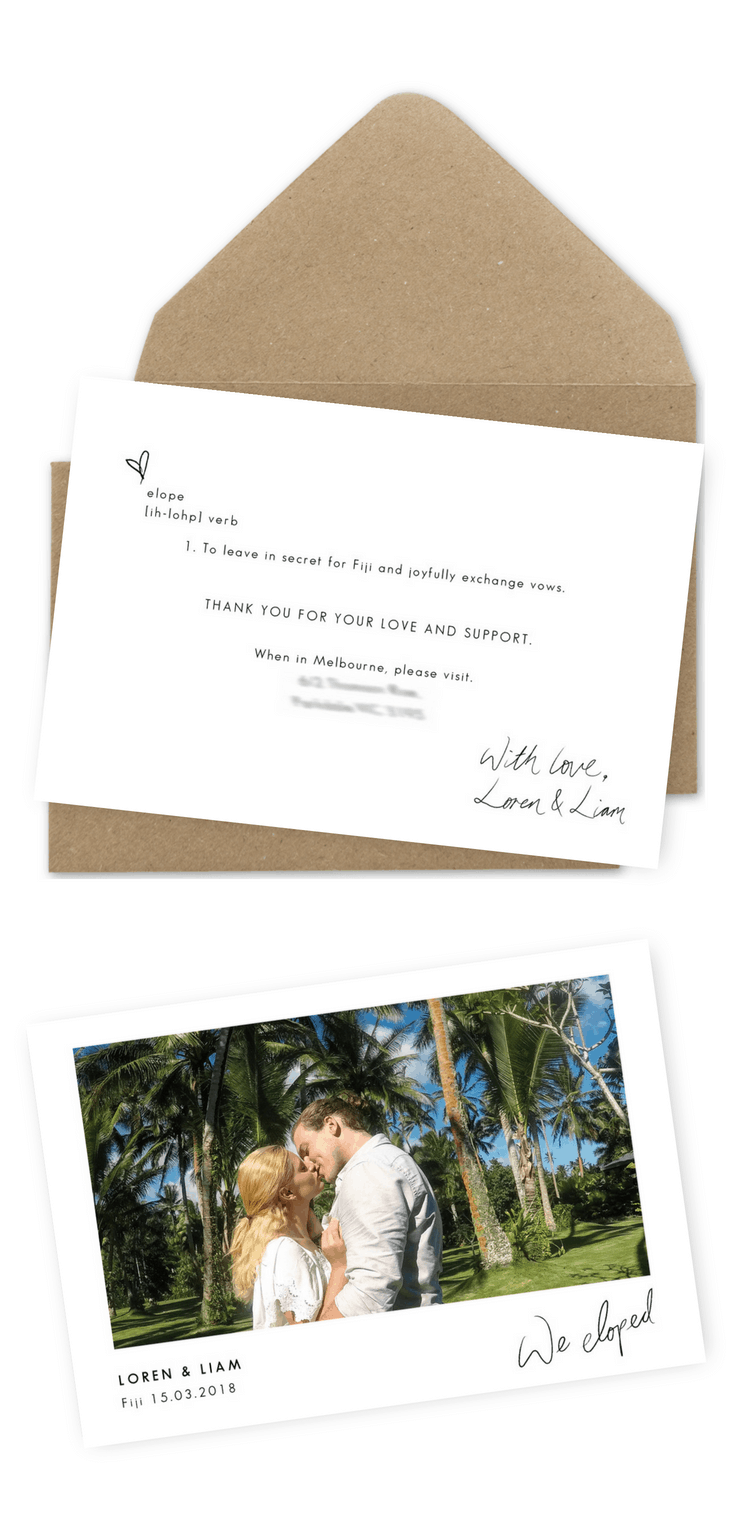 Go Pro is the best! These two took this gorgeous photo without anyone's help 😀
Honestly you can't even tell.. I just love it!!
But my favourite of it all is actually the back of the card where it shows the definition of 'elope' for Loren and Liam. It's super personal and something a bit different!
Elopement Photography: Stories by Ash
"We absolutely loved our invitations from For the Love of Stationery – they were just perfect & had so many compliments from our guests. Love your work and highly recommend your fantastic services." – Brooke
SO what did you think about these Elopement Announcement cards?
I hope you've enjoyed these gorgeous photo card designs..
If you are looking for something similar, you can pop your details in HERE and an info pack will be sent to you ❤
Elopement Announcements: For the Love of Stationery