More and more couples are choosing to elope rather than having a traditional wedding.
The reason why you are here is probably the fact that you've already eloped and are now looking for creative ways to announce your elopement!
Oh yes! You are at the perfect place
Let me show you the '7 Gorgeous Wedding Announcement Cards and Elopement Invitation Ideas':
1. Lauren + Matt

Photo credit: Mon Photography
"Yeah, we did, now let's celebrate! We look forward to celebrating this special occasion with our nearest and dearest!"
I love how simple Lauren and Matt's photo is. The way they look at each other in the eye. #RelationshipGoals
2. Abby + Zac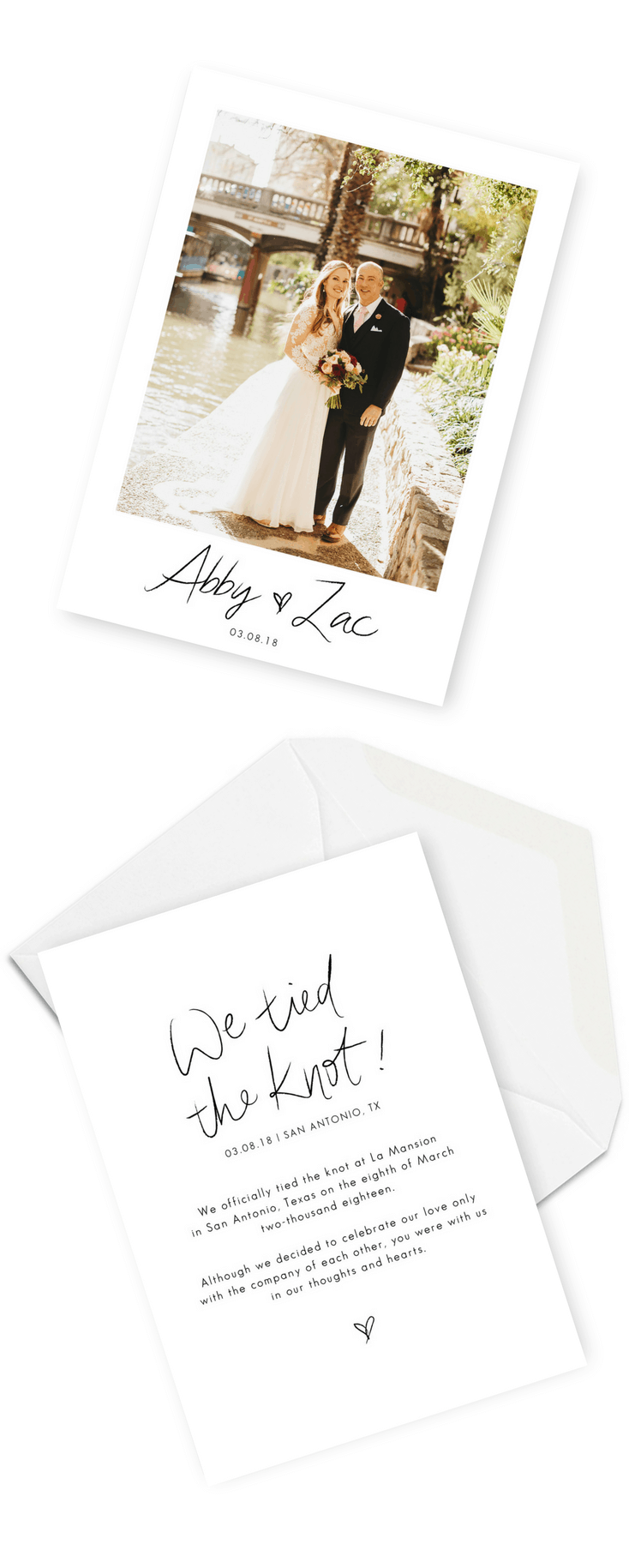 "We officially tied the knot at La Mansion in San Antonio, Texas on the eighth of March two-thousand eighteen.
Although we decided to celebrate our love only with the company of each other, you were with us in our thoughts and hearts."
What a gorgeous photo from Abby and Zac's elopement.. Love the warm tone and check out that dress!!
3. Paul + Michelle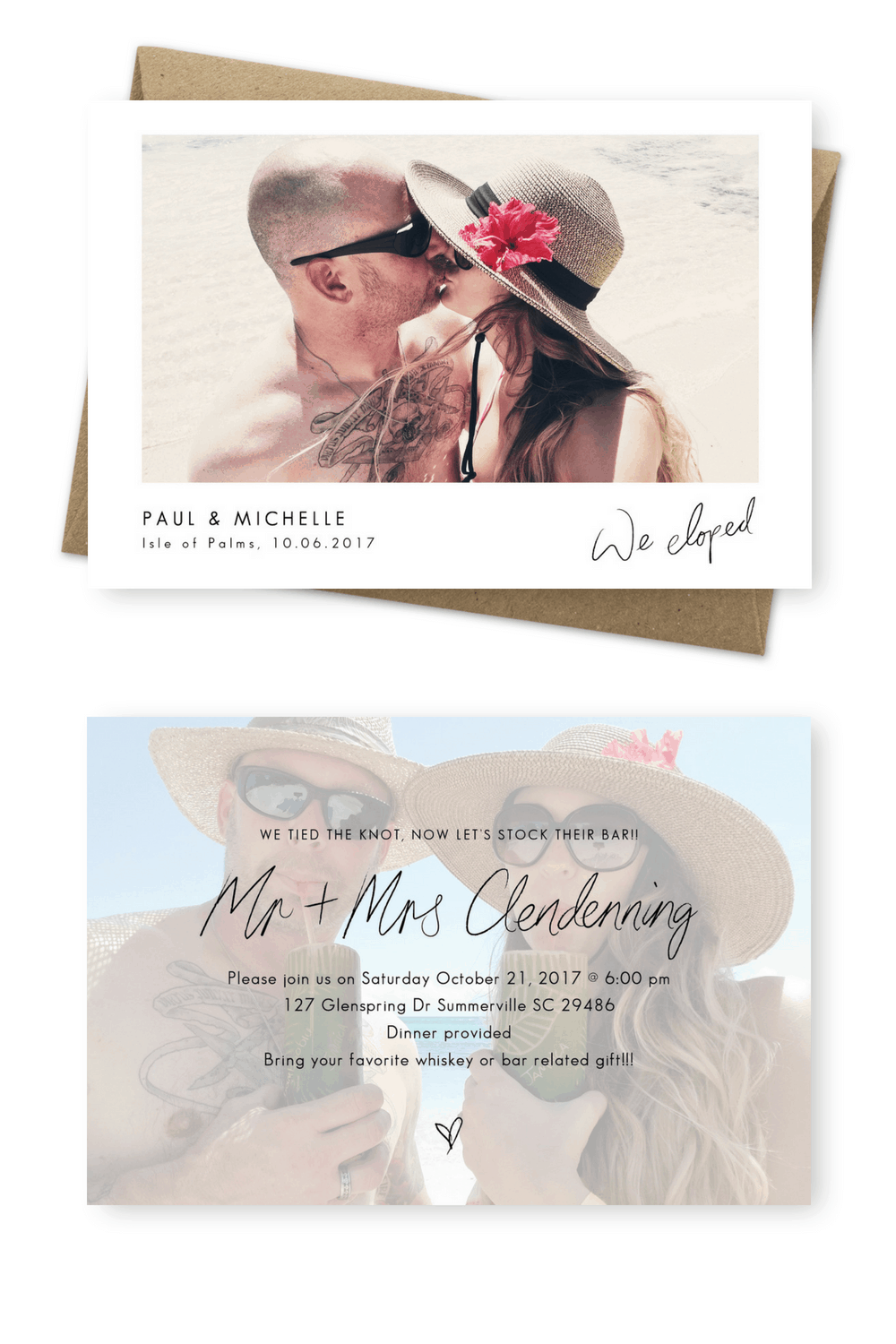 "We tied the knot, now let's stock the bar!! Bring your favorite whiskey or bar related gift!!!"
You don't always need to have professional photos for your elopement announcements. I love how Paul and Michelle just used their selfies. Candid shots are really something! Don't they just look gorgeous!?
4. Steph + Cory

Elopement photographer: Brianna Lee Photography
"After nine wonderful years together, we're thrilled to announce that we're officially husband and wife. While you were not there in person, you were there in our hearts.
And now our next adventure is about to begin with Baby Nestor due February 2019, we're excited to add a little more love to our family. We look forward to starting this next chapter of our lives together and sharing many more memories with you all."
I love how this gorgeous photo card doubles up as an elopement and baby announcement
Isn't it the cutest!?
5. Devin + Autumn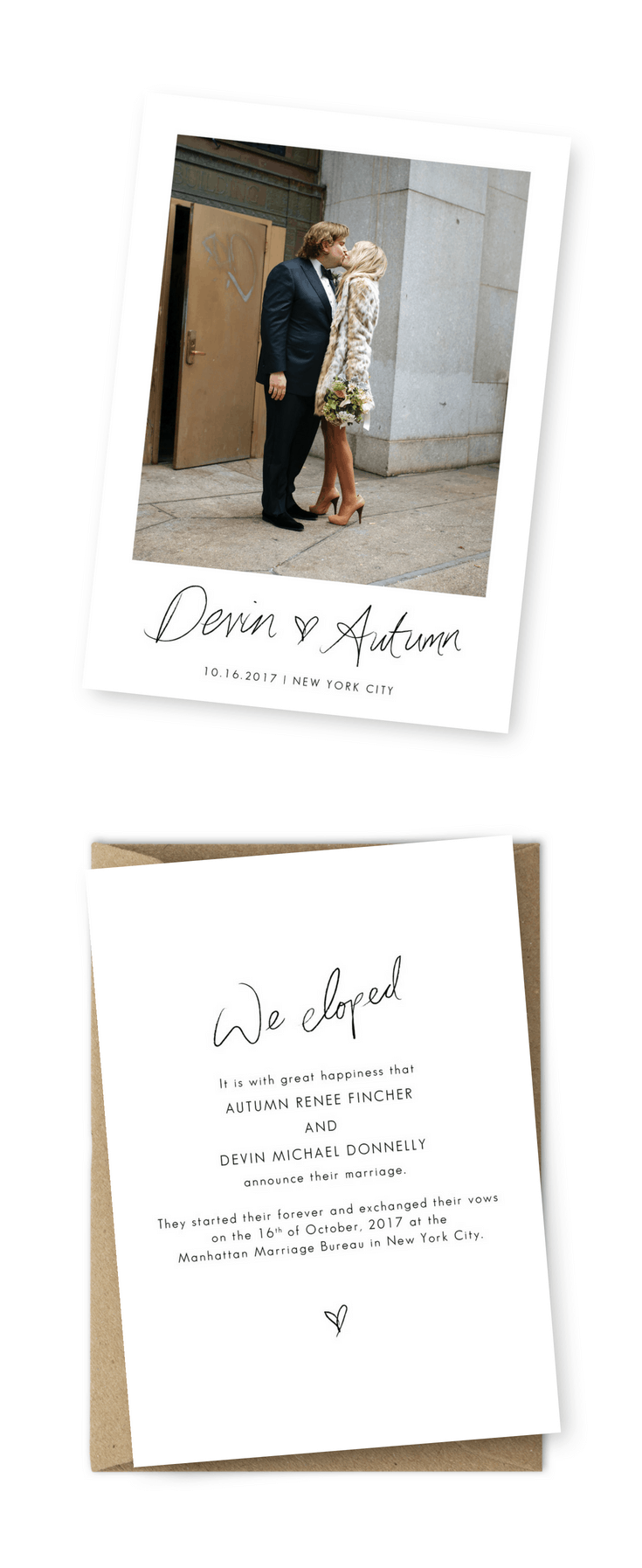 Elopement photographer: JC Lemon
"It is with great happiness that Autumn Renee Fincher and Devin Michael Donnelly announce their marriage.
They started their forever and exchanged their vows on the 16th of October, 2017 at the Manhattan Marriage Bureau in New York City. "
Something about Devin and Autumn's photo that just makes it so personal. I love how real and candid this shows elopement can be! These two wanted to get married and they just did it in their own way!
Elopement / getting married (whatever you want to call it), it is about two people coming together. Sometimes we overcomplicate things, don't we!?
6. Ben + Rachelle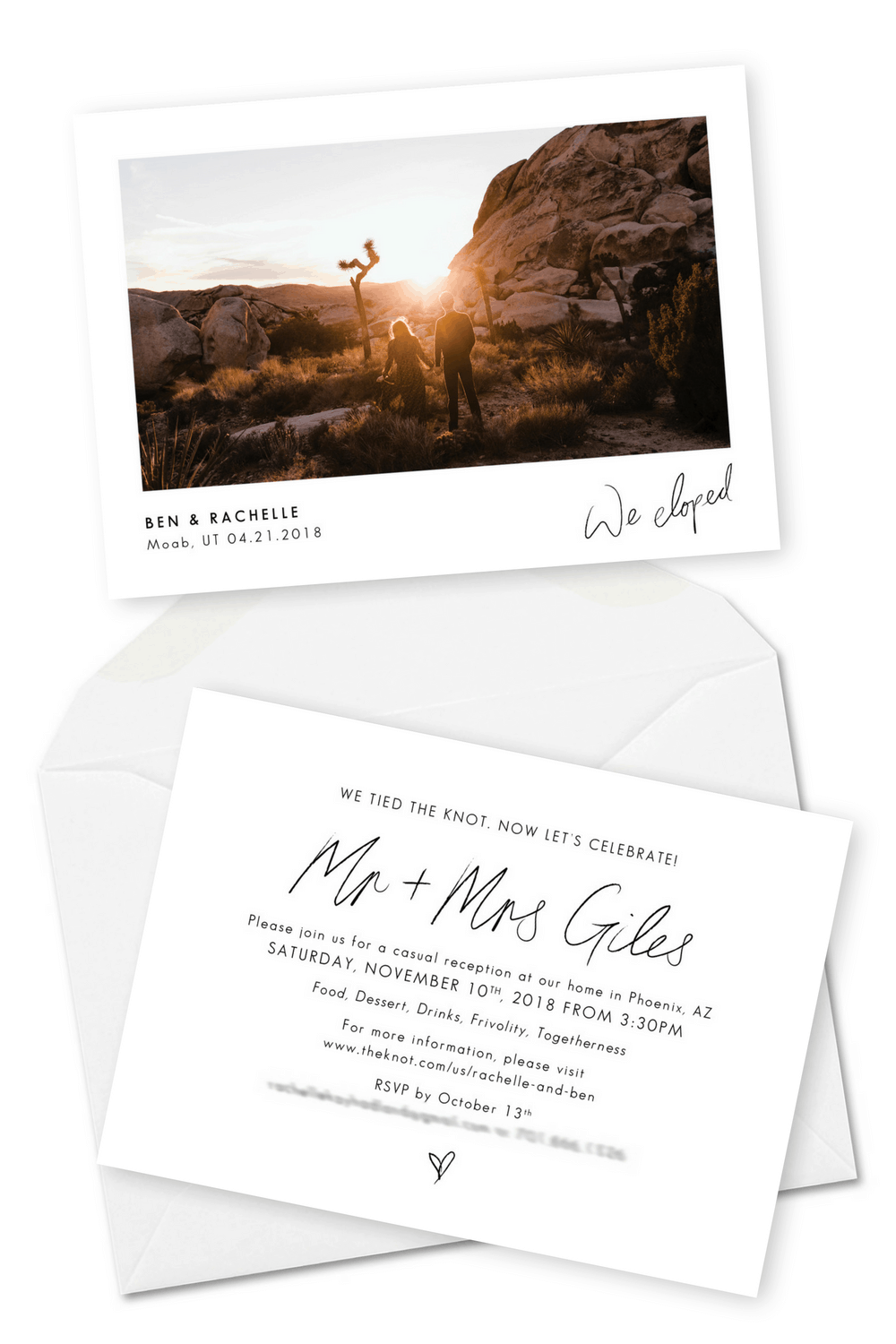 Adventurous wedding photographer: The Hearnes
"Food, Dessert, Drinks, Frivolity, Togetherness"
Ben and Rachelle had one of the best elopement photographers The Hearnes to capture their special day! This is definitely one to keep for the book. I just adore everything about their photoshoot.
Make sure you check out their gorgeous Moab UT elopement HERE.
7. Arden + Sergio
I love this little personalised elopement announcement for their friends and family.
"Because your love and friendship have made us who we are, we are very happy to share the news.
With the love in our hearts, and our girls by our side, we exchanged vows in a private ceremony on the twenty-fifth of February two thousand and eighteen in Dallas, Texas.
Although you were not there in person, you were there in our hearts."
What did you think about these wedding announcement cards and elopement invitation ideas?
I hope you've enjoyed these gorgeous elopement announcement card designs..
If you are here and you actually haven't quite eloped, perhaps you are thinking about eloping with your love.
Are you still considering that possibility?
Do you need a bit more convincing? 😛
Well let me help you. I've interviewed 3 brides about why they've chosen to elope instead of having a wedding. Make sure you read it HERE. 
Let me know if what you think!
Elopement Announcements designed by For the Love of Stationery