If you love your dogs, you will love this post.
Here I'm sharing my choice of '7 Adorable Puppies Walking Down the Aisle'..
They seriously made my day and I hope they will do the same to you!
"I think dogs are the most amazing creatures; they give unconditional love. For me, they are the role model for being alive."
—Gilda Radner
Ok here you go..
1,

Photo credit: Jacque Lynn Photography
This husky is absolutely gorgeous!! Love this winter vibe wedding
2,
OMG this little puppy is the cutest.. Watch out for the photo coming up next! It's seriously so adorable

Aww you can tell how much it loves its mummy!

Source by: Maggie Sottero
3,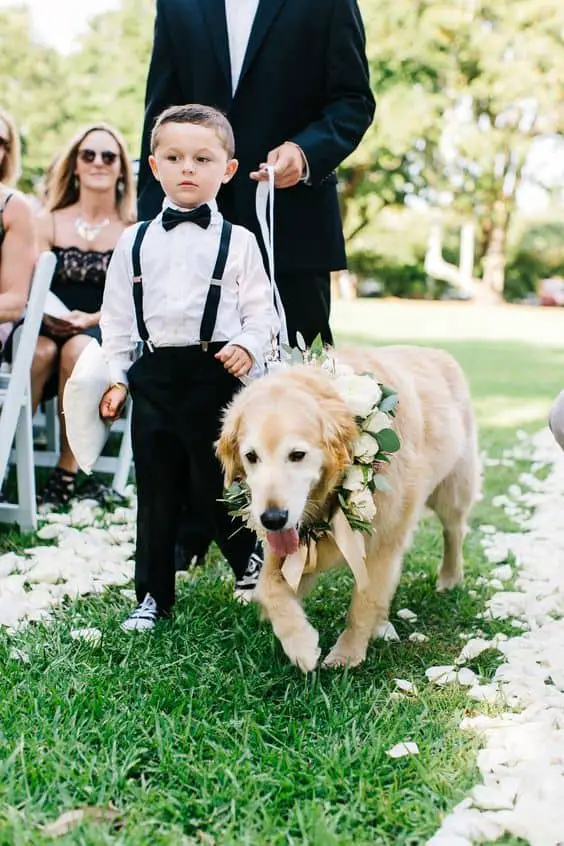 Source by: Borrowed & Blue Weddings
What a beautiful image of this golden retriever walking down the aisle with this cute ring bearer.. I'm sure both of them really made everyone's day!
4,

Photo credit: Lacie Hansen Photography
5,

Photo credit: Joann Arruda Photography
6,

Photo credit: Unknown
Ahhh.. So much cuteness in one photo! Just look at all their faces..
7,

Photo credit: Megan Kay Photography
I think this has to be my favourite! Its little face is so cuteeeee!! That specially made transportation though.. It's everything haha love it!
There you have it, my 7 Adorable Puppies Walking Down the Aisle.
What did you think? Are you having your puppy at your wedding? Tell me in the comments below