Can't believe it's been a few years already since my friend Stefie tied the knot with her love Torstein in Bali.
Unfortunately I couldn't make it to her beach wedding that year but it was so lovely to see all the stunning photos from her special day. Evermotion Photography did such a wonderful job capturing their love.
Today I thought I would put together a few beach wedding inspired thank you cards to make your day. I'm so in love with the different shades of blue across all these thank you cards.
P.S. I love a good beach wedding. The thought of not having to wear heels all day long makes me feel happy 😀 I guess that means now I don't have an excuse to not dance haha..
Anyways..
Here you go, 5 Gorgeous Beach Wedding Inspired Thank You Card Ideas For You:
1, Hannah + Chris
If you are thinking to write your own thank you message, this is just perfect!
Of course it's important to have a photo that gives you a decent amount of space to write on. I absolutely adore this "blue space".
However if the photo you love is a bit busy, we can always make the photo more transparent so you can still write on it.
What do you think?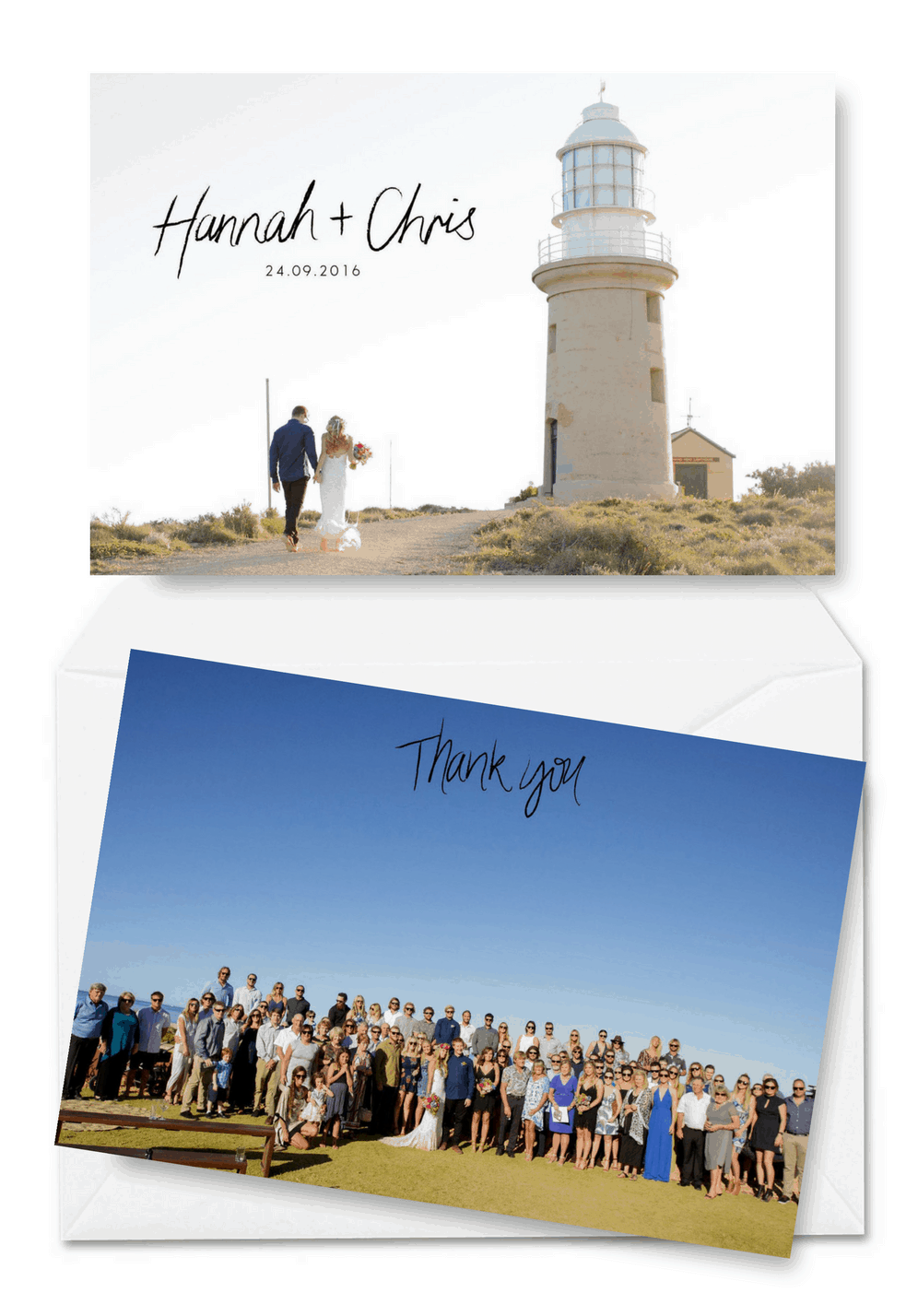 Wedding photographer: Blue Media Weddings
For some thank you card wording ideas: 5 Wording Ideas for Your Wedding Thank You Cards
2, Kristy + Matthew
So many brides have loved how simple and lovely this thank you card looks.
It totally shouts "nothing fancy, just love" letting the photo do all the talking. I mean why wouldn't you when your photographer has done such a wonderful job!?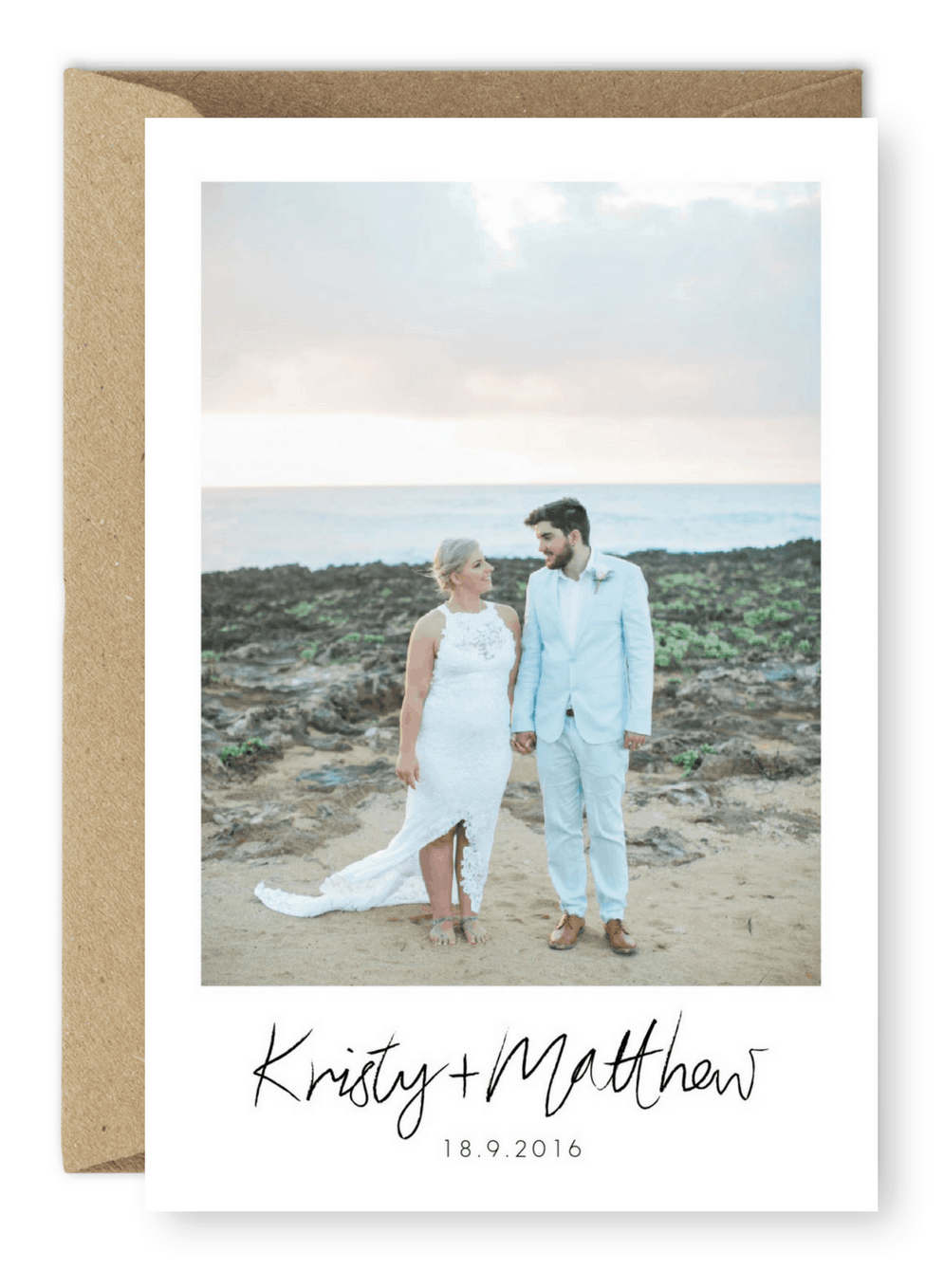 Destination wedding photographer: iFloyd Photography
3, Torstein + Stefie
This is one of my favourite beach wedding thank you card designs. I don't know why but its brush lettering really gives a feeling of boldness and you should be as bold as you can be when it comes to celebrating love.

Beach wedding photographer: Evermotion Photography
4, Vic + Dan
Aww this has to be the cutest thank you card ever!
I mean how could you not like it when there are puppies involved.
Hmm puppies at a wedding? Always a good idea I say.. With a similar approach as the first example, there is a lovely space up the top to include a thank you message.
Wedding photographer: Mark Conte Photography
For some cute wedding puppy surprise: 10 Most Adorable Puppies Walking Down the Aisle

5, Jimmy + Renee
Because sometimes you simply can't pick one photo from your wedding to make a thank you card for your guests.
Too many great memories from one day..
Perhaps you can pick 4 of your favourite photos to highlight your special day!

Wedding photographer: Matthew Mead Photography
So which one was your favourite design? I would love to know what you think of these beach wedding thank you cards.
If you love them, make sure you share this post with your friends.
Still waiting for your wedding photos? 4 Things You Can Do while Waiting for Your Professional Wedding Photos
Featured Photo: Evermotion Photography | Beach Wedding Thank You Cards : For the Love of Stationery