Photo source
When this bride was telling me how she plans to receive the RSVPs for her wedding, I realised that perhaps other brides may need help too.
Her intention was good but she was making it so much more complicated for herself and she didn't even know it.
All I wanted to do was scream – "OMG let me help you!"
So anyway if you are on the same struggle street where you are stressed out about how to get your RSVP back for your wedding and don't know what to do.
Pretty please, let me help you, ok?
Ok here you go, 3 ways to get your RSVP back for your wedding:
1, Make an email account for your wedding

Engagement photography: Madeleine Chiller
This is a great option if you want something 100% FREE.
Creating a Hotmail or Gmail account doesn't cost you a thing.
You can even use this email account for other wedding related things and create a 'RSVP' folder where you can keep all your responses in one place.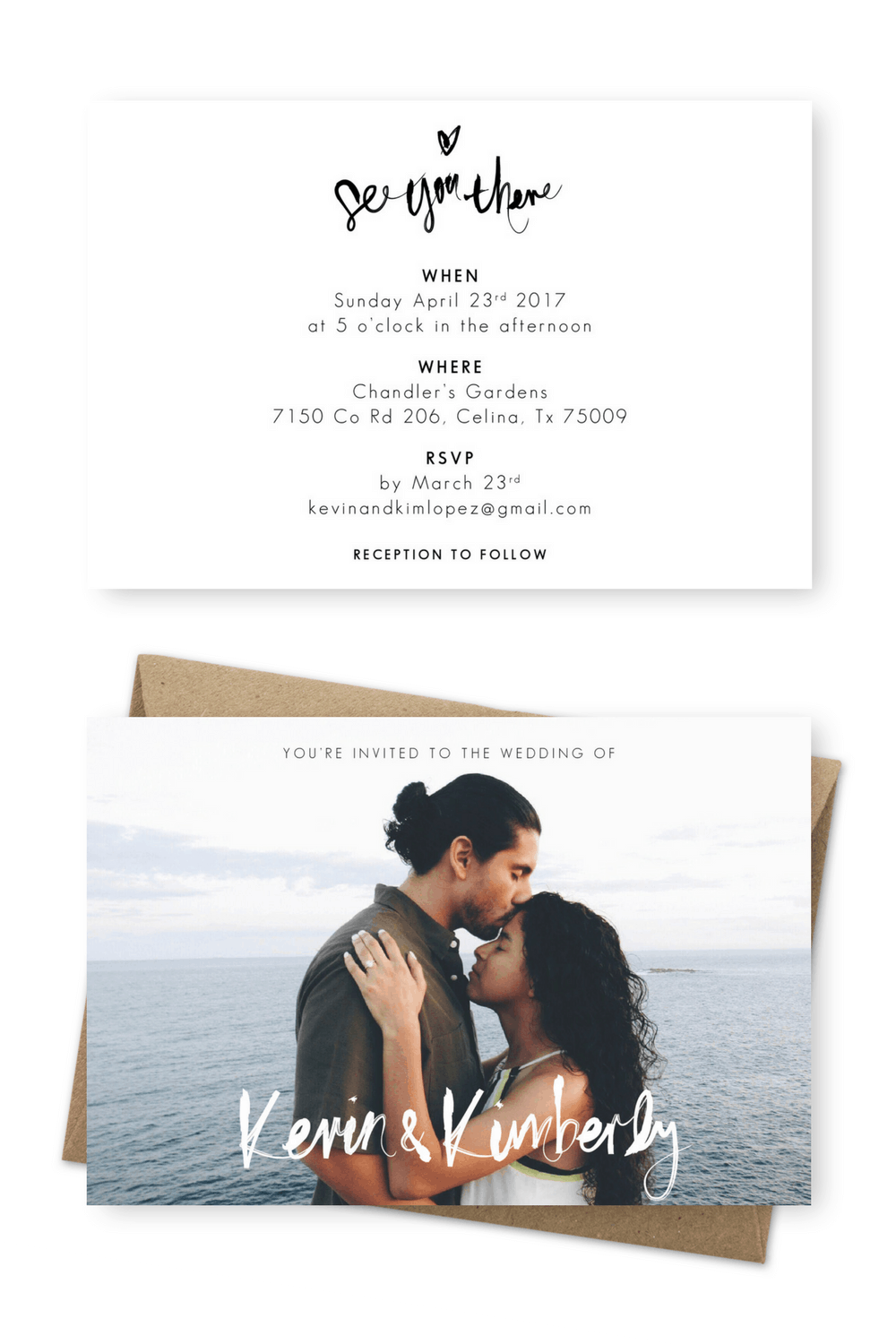 Photo credit: Katherine Garcia
Simply include your email address on your wedding invitation for your guests to RSVP.
Just like that, it can be as easy as you make it to be.
2, Turn your RSVP into a postcard
Guest what?
This will save you the cost of envelopes and printing, not to mention the time and effort if you were to write the address by hand.
Make it super easy for everyone by including your return address on the RSVP postcard.
Now all your guests need to do is tick yes/no, stick a stamp on and pop it in the postbox. You will receive your response within a few days!
To make it a fun RSVP card, you can even ask for their favourite dance floor song to get them excited for your special day. For example, say something like "I will dance if you play this song ________".
Oh by the way, don't forget about dietary requirements so you can accommodate the guests who might have food allergies etc.
3, Set up an online wedding website
This is so a 21st century way of getting your RSVPs back.
I mean, occasionally you may miss some of the older generation but almost everyone is on their phone these days. Just make sure you send your grandparents an actual RSVP card.
RSVPing online has never been easier for both parties, all your guests need to do is go to the link, fill in their details and click yes/no. Then it's only a few clicks away from getting your response back so you can move forward with the rest of your wedding planning.
Most of the online wedding websites are free, beautifully designed and very easy to use.
Here are some free online wedding websites you can check out:
RSVPify
My friend Irene and Jacob used RSVPify for their wedding last year and it only took a few minutes to set up!
RSVPify is 100% FREE for weddings up to 100 RSVPs.
With the Free Plan, you get to customize your url and event page to your wedding theme.
You also get the following features:
Collect meal preferences
Guest list management
Digital email invitations
Email notifications
Payments, gifts and donations
and more..
If you need to cater for more than 100 RSVPs, you can upgrade to their Premium Plan which is only $29 (one-time).
You get to custom the questions just the way you like it. You know, collect all the details you would like from your guests.
More than that, this upgraded plan also includes powerful premium features like:
Secondary events (e.g. rehearsal dinner, breakout sessions..)
Seating chart
Advanced customization
Personalized welcomes
Guest check-in
and more..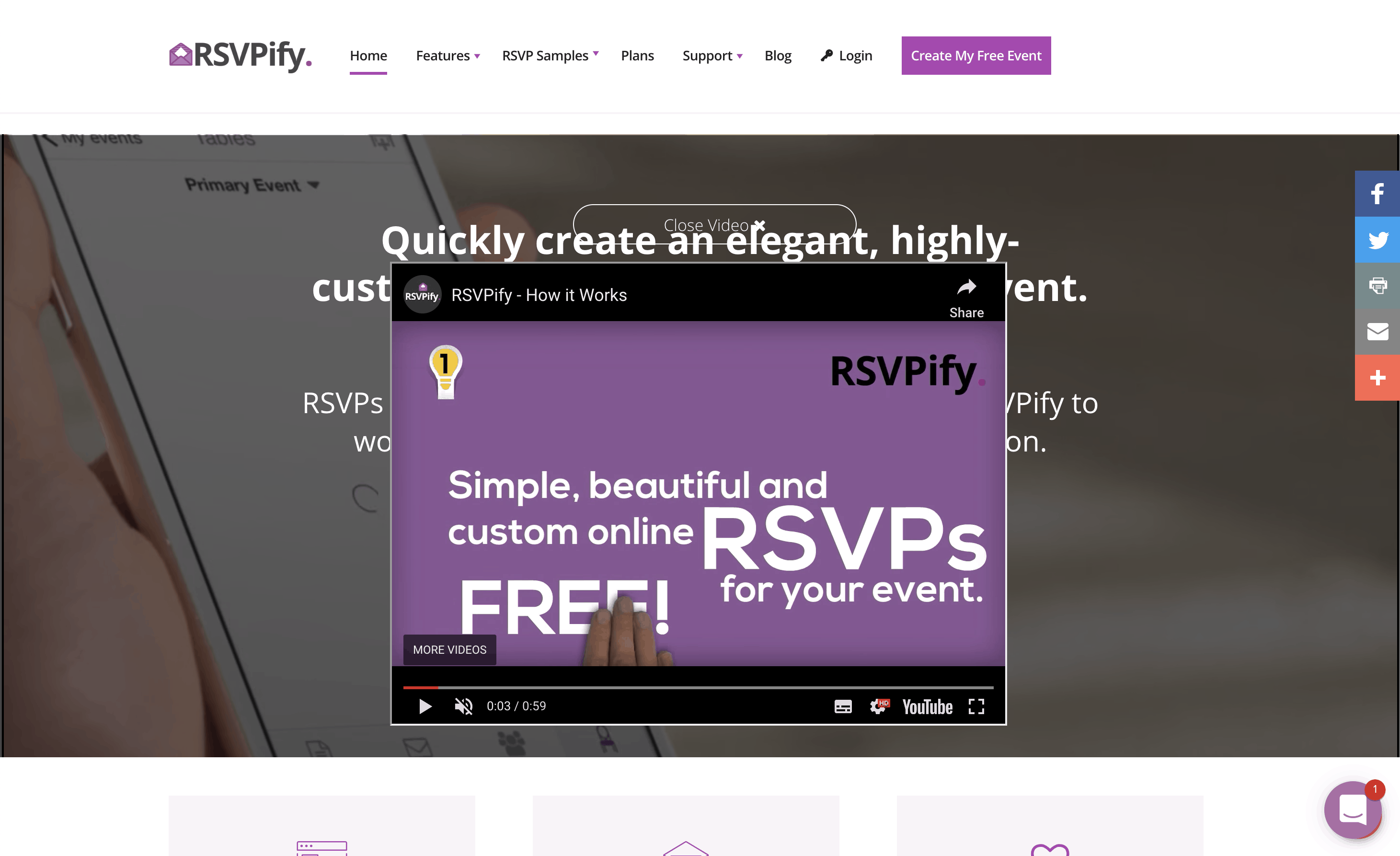 I love how they have a quick 'how it works' video for those of you who just need a bit of help before getting started..
Simple and beautiful.. just how I like it!
CLICK HERE to sign up for your free RSVPify account.
eWedding
If you are looking for an experienced online wedding website provider, eWedding is your person!
They have built over 800,000 wedding websites for couples around the world :O
That's just insane..
That's A LOT of weddings!!!
I love that you get to share your relationship timeline! I personally LOVE reading other people's love stories.
Questions like: When did you meet? When was your first kiss? When did he pop the question? 
eWedding is also 100% FREE with standard features.
A few cute website templates for you to choose from, which really takes the stress away from building a website yourself!
You can even receive text when your friends and family RSVP so you get instant responses.
If you are looking for more features and functionality, you can upgrade to their Premium plan for just $9 per month.
Their premium service includes the following:
Custom domain name (a.k.a url)
SMS texting
Exclusive template designs
and more..
Wait for it, there's more..
My favourite feature of all time is their Free Wedding Hashtag Generator.
As if this isn't the best for those of you who loves a good hashtag for everything!
CLICK HERE to start creating your FREE eWedding website.
Bonus tip for you:
A lot of brides make the mistake of putting the word "please" before "RSVP".
You don't have to say "Please RSVP".
The reason being the term RSVP actually means "please respond" from the French expression "répondez s'il vous plaît".
That means if you have "Please RSVP" on your card, you are technically saying "Please please respond" 😛
Although I understand that you do want them to pretty please just respond so you can move on with your wedding planning!!
Anyways..
I hope that this post has helped you somehow. Remember that wedding planning doesn't have to be stressful. Ask for help and enjoy the pre-wedded journey with your fiancé
x
For more tips on your guest list: My Number 1 Tip for Cutting Down Your Wedding Guest List